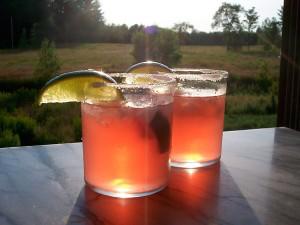 This 4th of July my husband, daughter and I enjoyed our small town's festivities together. We attended the parade that featured the regional first defenders, middle school marching band, a town truck – which deserved all of our applause for clearing roads and repairing culverts year-round, small local businesses, and a smattering of folks showing off their classic cars, horses, or bagpipe skills. After the parade everyone gathered at the school grounds for live music, lots of food, games, and vendor booths. The day finished, of course, with a big fireworks show at the ski resort on the mountain. The fireworks in town are always a good show, accompanied by the 40th Army Band, and they are attended by hundreds of locals and vacationers.
One of the attractions in the parade was for Smugglers' Notch Distillery, and it boasted a small sign that indicated "vodka tasting today." As humble as the sign was, it certainly caught our attention. Despite living in such a small town we tend to spend a lot of time outside it – many people who live here work and do major shopping outside our little village. We had heard very little of Smugglers' Notch Distillery until now. We would have to check it out.
After we enjoyed some vegetarian empanadas, bought up three bags full at the library's used book sale, and visited with some old friends, we stopped by for a tasting. As my daughter is not yet twenty-one, she simply waited patiently, perhaps interested at least in the renown this small company has already received.
Smugglers' Notch Distillery was formed by father and son team Ron and Jeremy Elliott, and is named after the locally famous Smugglers' Notch – a mountain pass through which smugglers traveled from Canada to the US. The brochure for Smugglers' Notch Distillery says of their vodka, "… the grains winter wheat and corn are sourced from Idaho, where the combination of light alluvial soil, cool nights, warm days, and snowmelt water creates a spectacular growing environment. The water for blending emanates from the Mount Mansfield watershed in northern Vermont. Together, the combination of these ingredients creates truly unique and exquisite vodka." Smugglers' Notch Distillery vodka has received the attention of enthusiasts and aficionados from around the world, garnering some top awards and recognition. And indeed, upon our first taste, we discovered an amazingly smooth and wonderfully full-flavored vodka.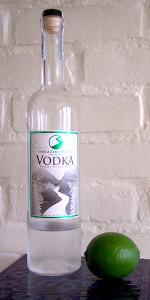 My husband and I tried it straight, and also decided on a recipe from the brochure to make that night. Since then we've been enjoying it in a variety of recipes, as well as simply straight up or with tonic and lime. I'm sharing one of the recipes that is particularly enjoyable on a hot summer evening. Give it a try, and if you ever have the opportunity to buy some Smugglers' Notch vodka, I encourage you to do so! You'll be treating yourself to some of the best vodka out there, as well as supporting a small business from a great place.
Nantucket Smuggler (adapt to your tastes!)
2 oz. Smugglers' Notch Vodka
6 oz. Nantucket Nectar's Pomegranate Pear Juice
1 Lime
Mediterranean Sea Salt
Combine the first two ingredients and a squeeze of a lime slice into a Boston Shaker containing cracked ice. Shake until well frosted. Coat the rim of a cocktail glass with a lime slice and dip into the Sea Salt to coat. Strain into martini glass.
Visit on the web: Smugglers' Notch Distillery