I may or may not have used shopping for wedding clothes and my weight loss as an excuse to buy some new clothes (and shoes, and a bag, and nail wraps). After hibernating all winter, I want bright colors and fun.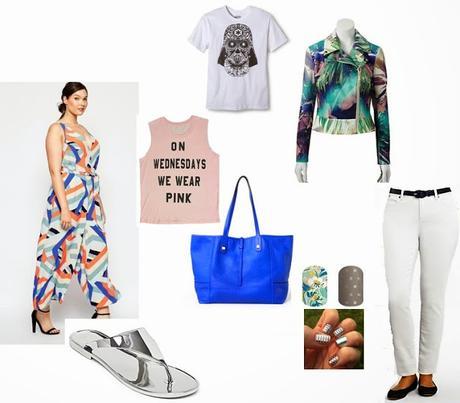 Jumpsuit - This beauty was my answer to a casual wedding. I wore it with some great silver jewelry from Stella & Dot and the silver sandals. I can also wear it with a white blazer and some pumps to work or with strappy sandals to another event.
Graphic Tees - My affection for fun, graphic tees is well known. These two are fun new additions and nods to two movies I love.
Tropical Print Moto Jacket - This jacket was an impulse buy, which I rarely do anymore. I'm sure it's going to get lots of use because I love it so much. The tropical print is a spring trend but it's a little different done in a moto jacket.

White Jeans - I had to replace the white jeans I donated, because they were too big. I scored a pair similar to these from the Talbots Outlet, for only $34.
Jamberry Nails - I hosted a little Jamberry party for my friends and had quite a few hostess credits. These are a few of the patterns I purchased with my credits. I have become a Jamberry devotee. They look great and last two weeks or more. You can't beat that!

Paris Market Tote - This bag is one of my favorites. I love that I can carry all of my items for work and it still looks chic. I also own it in black.  The black version is on sale for 50% off right now!
Silver Sandals - I needed a neutral pair of sandals that would work for an outdoor wedding but also stand up to wet grass and dirt. I've ruined several pairs of shoes because of poor yard conditions. These were perfect and a great find. I snagged these at Saks Off 5th for $30.