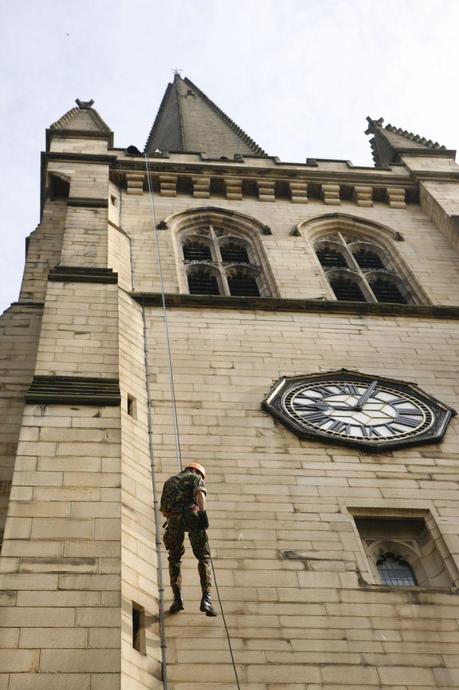 "It's worth sponsoring you, just to see your backside come down the side of that building," was the encouraging response from my co-worker when I told her about my forthcoming abseil down Wakefield Cathedral.
I have had flashes of the fireman's pole scene in the Bridget Jones movie going through my mind ever since she made the remark.
It's all in the name of charity of course. Wakefield Hospice will be benefiting from my plucky display of bravery in front of dozens of shoppers who will stop and stare and point and wonder why anybody right in their mind would choose to undertake such a challenge. Well, 'all in the name of charity' is the mantra which will go up and, hopefully, come down with me.
It's not the first time I've had the impulse to descend the side of a building via rope. I abseiled 100ft down the Royal Armouries building in Leeds some 10 years ago – again for charity. It's obviously taken me the past decade to forget that awful stomach lurching fear as you climb over the edge and take that glance to Earth below, legs shaking uncontrollably like a baby's as they attempt to take their weight on their own two tiny feet.
What is probably more unnerving is that this impending event is only the pre-amble to a 10,000ft skydive above Table Mountain in Cape Town in August. It was either that or a 200ft bungee jump – a choice given to me by my adrenalin-addicted little sister who seems to take great pleasure in my terror. I can see her freckled face, shiny white teeth, grinning at me as she tells me how much I will love it and I'll regret it if I don't do it – maybe it's one regret I can happily live with.
I can't even claim there is some sanity to my madness on this one because I'm not doing it for charity. I'm doing it for the pure and simple hell of it. And hell it will be. From the moment I step on that plane to Africa and the preceding days spent on safari, there will be that sick feeling of fear in the pit of my stomach. There will be moments when something steals my attention and the feeling is buried deep within but it will always be there and it will rear its frightening head time and again until the moment I quite literally take a leap of faith into the clouds.
So why put myself through these crazy experiences if they terrify me I hear you cry. Well, the truth is, there's nothing quite like the feeling of being able to say "I'VE DONE IT" afterwards. And, if Franklin Roosevelt is to be believed, the only thing I have to fear is fear itself – the parachute not opening, a rope not being secured, all that, well that just doesn't come in to it apparently. If you would like to sponsor me go to Just Giving now.