Blinked and we would have missed it! "What is that" I hear you say? A sign outside on the cobbled streets within the grounds of the
University of Greenwich
and the Painted Hall advertising a two course lunch at £14.95! Not bad at all!I have been a resident of Greenwich for many years and this little restaurant has escaped my notice for all this time! How is it possible?It is about 1.15pm on a Wednesday afternoon and my curiosity gets the better of me and we slip through the main entrance to uncover what is waiting behind closed doors underneath the Painted Hall.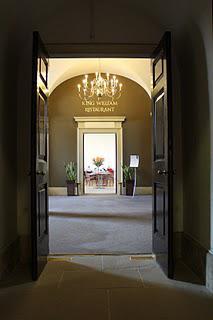 A Hidden Gem
With a turn to the right, we are greeted by a most charming entrance. It looks quite formal, but the room itself is bathed in sunlight, with its beautiful vaulted ceilings and wooden floors.You are greeted with the most amazing bouquet of flowers containing irises and snowdrops and the room gives way to an imposing golden chandelier. The walls are filled with black and white pictures/photographs charting historical events of Greenwich.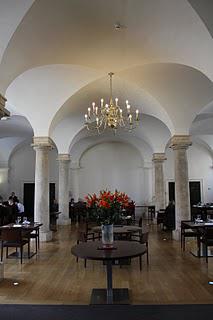 Inside the King William Restaurant
There are about 10-12 wooden tables in the room, dark in colour with similar dark coloured leather chairs.The tables are dressed well with the all important grey slate place mats (I have a penchant for these at the moment!)Although the room is impressive, it is not very busy at all, only two tables are occupied, albeit by bigger parties, which gives rise to the somewhat hushed atmosphere.The waitress happily escorts us to a table for two and presents us with the menu and a fairly extensive wine list.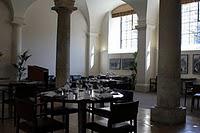 The light gives an airy feel to to the
 restaurant
The menu has a selection of 4 starters /main courses/desserts. A nice variation containing good options for vegetarians. The Beef Bourguignon with smoked paprika mash catches my eye but I am intrigued to try the Cauliflower and Jerusalem artichoke soup with truffle cream and because it is part of the daily set menu, we opt for that.The daily set menu comprises: 2 courses for £14.95 or 3 courses for £19.95I order the aforementioned soup and the OH orders the Smoked Applewood cheddar,spinach and pine nut tart. While we wait, we are served bread; poppy seed and sundried tomato. Ah! Isn't it so nice to be offered bread and know that you are not going to be charged any extra for it ? (Grr..it is one of my pet-hates).The soup arrives.While it is not so pleasing on the eye, it more than compensates by packing a punch in flavour! The smokiness of the Jerusalem artichoke is enveloped in "mushroomy" loveliness!  It has quite a thick consistency and so can be quite filling but I am not complaining. It is simply delicious!The tart is quite small and garnished with micro herbs.The pastry is quite light, the smoked Applewood cheddar is very subtle with the spinach adding moisture which miraculously avoids turning the tart soggy.I am also told that the centre is filled with capers (although, ahem, I wasn't offered a piece in the centre!).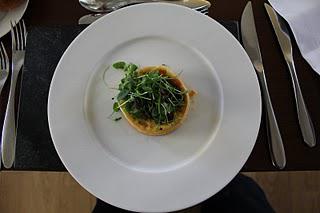 Smoked Applewood cheddar, spinach and pine nut tart
To follow, we both order the:Corn-fed chicken breast, lemon thyme, dauphinoise potatoes and soya beans.The chicken is beautifully moist and a joy to eat. The dauphinoise potatoes are flavoured with just the right amount of garlic, adding a pleasant aroma to the dish without it being too overpowering. The jus has a nice meaty flavour but could be further reduced to intensify the taste and to improve consistency. The soya beans, I would say, are there more to add a crunchy component to the dish than to give rise to different flavour, which is perfectly fine.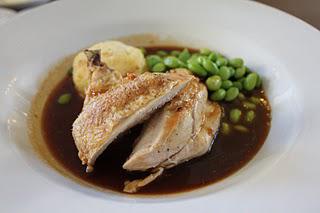 Corn-fed chicken with Dauphinoise potatoes and soya beans 
Not being used to eating so much at lunchtime, we pass on dessert and ask for the bill.
The service is good; attentive and polite and I engage in a little chit-chat with our waitress. She tells me that the restaurant is closing! What! Oh no! But I have only just found you King William Restaurant! Shock horror! Why? Then I almost answer the question myself "Is there not enough passing trade?"  Sadly, she agrees.Blast! I feel somewhat cheated by this news. If I, having lived in Greenwich for all this time have not stumbled across this little gem, then surely, there must be others in the same boat! I do feel that more could have been done to promote this great restaurant outwith the grounds of the Naval College.This is compounded by the fact it is only open for lunch Tuesday to Sunday. Such a shame!On further research, I understand that The King William Restaurant is changing as of
Monday 4th April 2011
to the King William Undercroft ; a new meeting and hospitality space. Alas! Another one bites the dust!
This means that you only have a few days left to experience lunch at the King William Restaurant in the Old Royal Naval College.
If you enjoy good quality food at very reasonable prices, then pay a visit toThe King William Restaurant in Greenwich
before
April 4 2011.
To reserve your table email 
[email protected]
or call 
020 8269 2131
.
Alternatively book via toptable.
Tell them MeLikeyUK sent you!
Enjoy x