If you saw this appetizer plate on a buffet table, would you think to yourself, "Now there's a healthy appetizer!"
I'm guessing, probably not.
Most of us think a "healthy appetizer" means the crudite platter, the fruit platter, or maybe the platter of lean meats we can top our cucumber slices with. I have a different idea of what a plate of healthy bites might look like.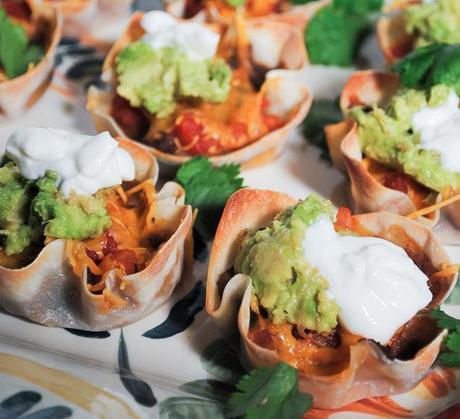 I see no need to feel deprived when everyone else is indulging, so I contribute my own portion controlled appetizer to the party, and no one knows the difference.
I fill wonton wrappers (there's my portion control), with non-fat re-fried beans (loads of fiber and flavor), chunky tomato salsa (virtually no calories, and there's my veggies), and low fat shredded cheese (got my dairy and cheesy goodness).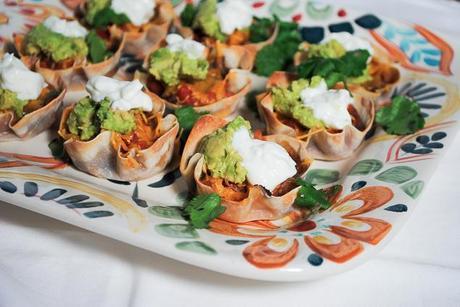 Mashed avocado (who can resist this hearty healthy fruit) tops the works, along with a dollop of low fat sour cream, and fresh cilantro.
I can have a few of these cheesy Mexican bites, be completely happy, and still have room for the crudite platter.
Now this is my idea of a healthy appetizer!
~Kristi

Mexican Bean and Salsa Wonton Cup Appetizers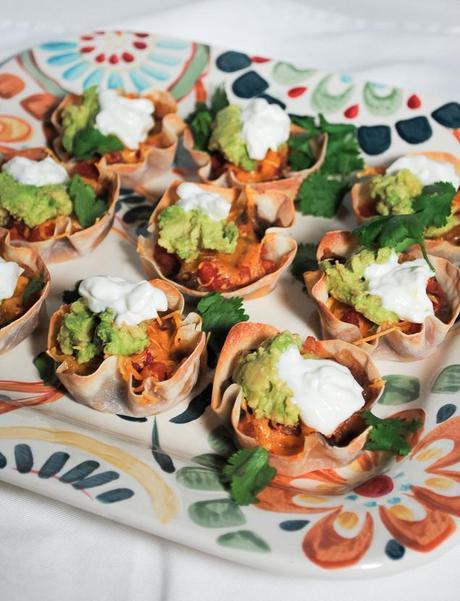 Print
Prep time 20 mins Cook time 25 mins Total time 45 mins   Wonton cups filled with re-fried beans, salsa and cheese, then topped with avocado, sour cream and cilantro. Author:
Kristi RImkus
Recipe type:
Appetizer
Serves:
12
Ingredients
12 ea wonton wrappers, trim corners off to make rounds
12 tablespoons vegetarian refried beans
12 tablespoons chunky salsa
12 tablespoons low fat cheddar cheese
1 large avocado, cored and mashed
12 teaspoons low fat sour cream
6 tablespoons cilantro, chopped
Instructions
Preheat the oven to 350 degrees.
Prepare wontons by trimming off the corners to turn them into rounds, then gently place into muffin tins.
Fill eat wonton with 1 tablespoon refried beans, 1 tablespoon salsa and 1 tablespoon cheese.
Bake for 20 - 25 minutes until wonton is lightly browned and cheese is melted and bubbly.
Serve with avocado, sour cream and cilantro.
Notes Food energy: 76kcal
Saturated fatty acids: 0.96g
Monounsaturated fatty acids: 1.46g
Polyunsaturated fatty acids: 0.35g
Total fat: 2.78g
Calories from fat: 24
Cholesterol: 4mg
Carbohydrate, by difference: 8.93g
Total dietary fiber: 1.86g
Protein: 3.90g
Total lipid (fat): 3.06g
Water: 45.20g
Ash: 1.28g
Total sugars: 0.66g
Calcium: 49mg
Iron: 0.69mg
Magnesium: 14mg
Phosphorus: 72mg
Potassium: 174mg
Sodium: 251mg
Wordpress Recipe Plugin by

EasyRecipe
3.2.2807
Sign up for my weekly newsletter and get Ten Tips to Skinny Up Your Meals ebook free!