Happy Humpday! Is it gray and rainy where you are? It's really balmy here in New York today, but I'm going to see if I can get out for a little walk today.   
Yesterday I had two hospital follow-up appointments, one with the dermatologist and one with the infectious disease specialist. The dermatological team really helped diagnose me when I was in the ICU; the rash that broke out all over my body was biopsied and tested, and determined to be a symptom of bacterial meningitis by the way it responded to different medications. While the rash was all over my body (eyelids, fingers, everything) it's now mostly gone, and the only parts of me that still look a bit "off" are my arms and legs. (I'll spare you the visuals.) Still, everything is healing really nicely and the dermatologist was quite pleased.
The infectious disease specialist is a really smart man; I felt like I was on House by having him on my team! He's also the one who prescribes my IV antibiotics, the precautionary antibiotics I was on for pneumonia (I have a very minor case of bronchitis), and the nurse's visits. So he's also the doctor who gets the results from my blood work. Well, yesterday when my dad and I went in to see him, the doctor had just gotten the lab results from my most recent nurse's visit on Monday. And somehow… all of my nutrient, vitamin, and mineral levels have gone back to normal!!! My white blood cell count was high when I went home (22,000 as opposed to 10,000) but that's gone way down, too. And… I've already made a full recovery. How nuts is that?! A lot can happen in two weeks!
Yes, I'm still weak, but that's just my body readjusting and resetting itself again the way it would after any old illness. So once I'm off the antibiotics (next week), he wants me to start exercising again and rebuilding my strength. It's really amazing how quickly muscles atrophy when you're sedentary. My muscles have literally all disappeared! I joke that I'm now a "paper pancake," if ya catch my drift

. So, I'll have a lot of work to do to get strong (and put on some weight) again, but I'm going to take it slowly to make sure I don't injure myself or take on too much too soon. Every day I'm going to walk a little more; my dad and I walked about six city blocks yesterday between appointments. I put my gym membership on hold for a month, but starting next weeks I'm going to do some light strength-training exercises and a bit of yoga. I think yoga- and even meditation, if I can quiet my mind enough- would be really good for me right now.
Between appointments, we took advantage of being on the Upper East Side and checked out The Green Bean Cafe, a really cute vegan hole-in-the-wall I've been meaning to check out for months.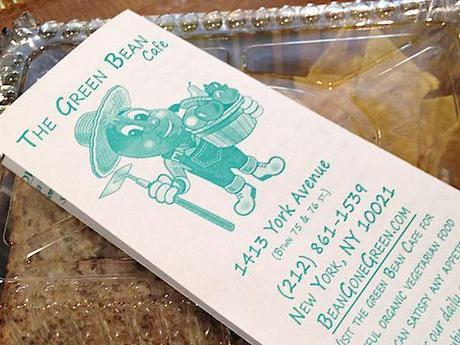 It's really eclectic but cute inside, with stuffed animals and gauze butterflies hanging from the ceiling. You can choose from an extensive list of juices, smoothies and coffee drinks, as well as homemade nut milks; there's a hot and cold salad bar that's measured by weight; there's also quite a large menu with hot breakfast/ brunch, hot and cold sandwiches and wraps, pizza, salads, hot entrées and raw plates.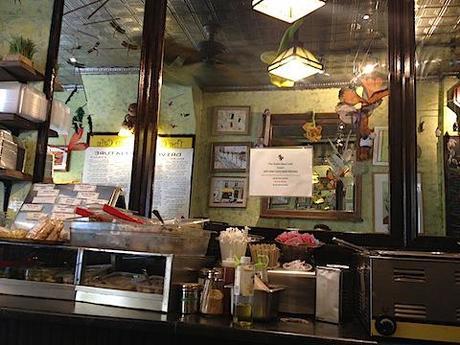 As usual, I got "crazy eyes" as soon as I walked in… we ordered a lot of stuff. My dad ordered the hot special: polenta stew with mushrooms, chard, peppers and tomato. I loved the texture! I'm going to try and recreate it sometime soon.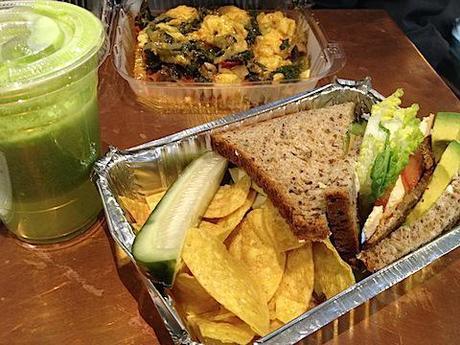 I started with a big green juice (my new expensive habit): Sweet Barbara Green with celery, cucumber, spinach, kale, parsley, lemon, apple and ginger. I've been digging this combo lately. To eat, I had the (huge) Tofu Club on Seven Grain: steamed tofu, tempeh bacon, avocado, vegan cheddar, tomato, romaine and mayo. I don't know why, but I've been craving a big, cold sandwich with lots of lettuce, tomato, and mayo lately. This hit the spot!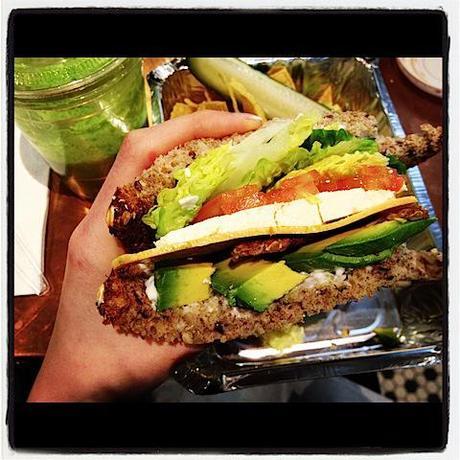 We haven't been cooking much lately, so I also picked up some dinner for later. This was another comforting, simple, delicious dish that I would love to recreate soon. The Organic Layers of the Land came with black beans, polenta and millet, sweet potato, and steamed greens.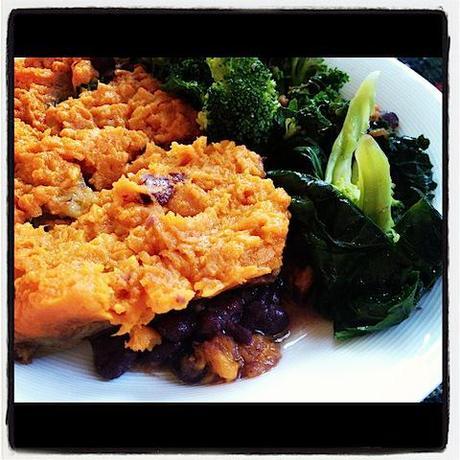 For lunch and dinner desserts, I brought home a gluten-free chocolate chip cookie (not so memorable) and a black-and-white cupcake. The cupcake was really good, but definitely didn't taste like a big ole Magnolia whopper with fluffy cake and whipped frosting. It reminded me of a Babycakes cupcake, made with cornmeal or applesauce.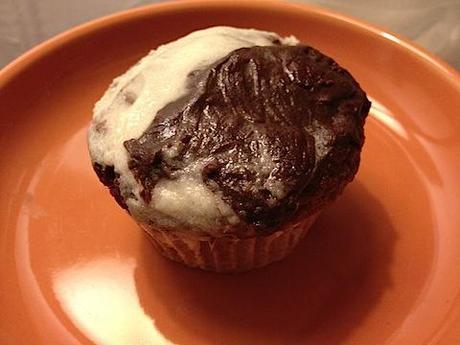 Speaking of sweet treats, one of my friends brought over this delectable book the other night called Paris, My Sweet.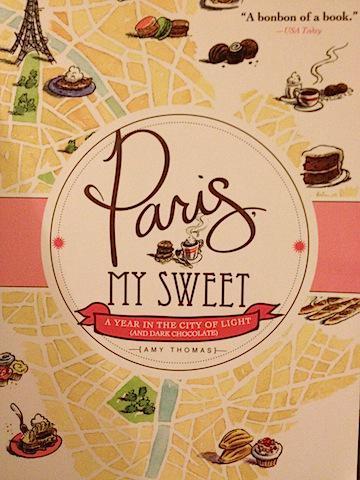 It's written my Amy Thomas, author of the new-to-me blog Sweet Freak, and is about her move from New York to Paris to write copy for Louis Vuitton… and eat her way through every bakery in town. I LOVE it so far… it's kicking up my need to return to Paris ASAP, and, of course, I'm fantasizing about all of the puff pastry and macarons and chocolat à l'Africain and truffles and bonbons and everything in between.
Le sigh.
If you could pick up and go ANYWHERE right now, where would you go?