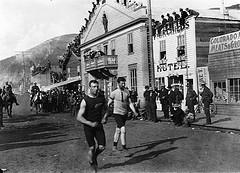 Image by Musée McCord Museum via Flickr
"Arriving at one goal is the starting point to another." ~John Dewey
New week and end of month all together –
Monday's make me happy because our goals are renewed – there's a whole new week ahead – yet we still have two days on the calendar for January –
So I'm doing a mini start – a get ready to get ready and it feels fantastic – a new week – into a new month – with a two day head start – it's like being in front in a foot race.
What do you want to accomplish this week? In our early morning calls everyone states 3 things they will do this week to be accountable for. – What about you? Have you decided on something? If so who can you share it with to help you succeed?
You create your day by the way you think – Make it magnificent!
Blessings, Shawna
www.ShawnaSchuh.com
Advertisement