Choosing the Perfect Engagement Ring:


A Guest Post By Claire Windon/Sorella 
Jewelry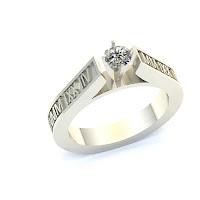 When Claire emailed me saying that she would like to write a Sorella jewelry inspired post for Vita di Moda, the first thought I had was a guide on the perfect engagement ring. Being engaged myself - and totally in love with my own engagement ring(s) - I felt it would be a suitable and nice touch for the blog. I also know just how nerve wracking my fiance found the whole engagement ring shopping experience, so here you go lads: a little guide to choosing the right ring for your better other half!
Choosing the perfect engagement ring for the woman you love is a big decision – and so it should be! Getting married is one of the most life-changing events you will ever experience. You want the ring you give your bride to reflect your feelings for her, which is why it needs to be unique. Choosing a custom-made ring shows that you have put real thought into the choice and taken your bride's tastes into consideration. Here are a few tips to help you choose the perfect engagement ring to symbolize your commitment.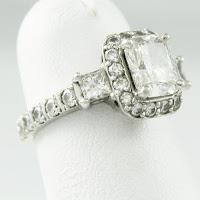 Engagement rings are an enduring symbol of love and fidelity. Here is your big chance to show your partner how much you care about her. Sneak a peak at her existing jewelry collection to see what her preferences are. Does she like eye-catching gemstone-studded pieces that sparkle in the light, or does she prefer subtle designs? Take photos of some of her favorite pieces to use as inspiration for a custom-made ring that will truly melt her heart.
If you're unsure about your bride-to-be's taste in jewelry, for example if she doesn't own many rings or other pieces, it's best to keep it simple. Opting for an understated design doesn't mean giving your girl a plain ring: a lot of emotion can be expressed through subtle engravings and gracefully plaited strands of silver or gold. You don't need a huge diamond to create a beautiful ring, unless that's the style your girl prefers.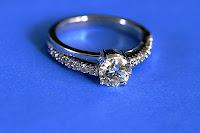 Choosing the perfect engagement ring is a tough task for any groom, and many men shy away from custom rings because they don't have faith in their creative abilities. If you feel daunted by the task of choosing a ring, you can get help from a professional custom ring designer. You will bring to the process your knowledge of your wife's tastes and character, as well as a sense of the message that you want to convey, which a skilled designer will use to bring your ideas to life. It's a good idea to make sketches of your ideas and be open to suggestions that the designer might make. By working together, you can create a ring that will amaze and delight your bride-to-be.
If you're buying a custom ring, consider making it especially personal by adding an engraving on the inside of the ring. Your wife will wear this secret message next to her skin as a daily reminder of your love for her. Spend some time thinking about what you want to say and how best to express it.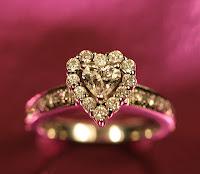 Custom rings are often more expensive than off-the-shelf rings, with the price tag reflecting the time and care that the designer spends making each ring unique. However, it is possible to stick within a budget by opting for less expensive metals such as silver or titanium. Colored gemstones are usually cheaper than diamonds and can be very effectively used as part of a unique design. Is there a color that
symbolizes your relationship? Why not use a gemstone in that color as the starting point for your design?
The most important thing to remember when choosing an engagement ring is not to rush into any hasty decisions. Give yourself time to explore all the options and settle on a design that perfectly expresses your emotions. Your future wife will be wearing this ring every day for the rest of her life, so take as much time as you need to make the right choice.
Guest post contributed by Claire Windon on behalf of SorellaJewelry.com - Claire is a freelance writer and wedding planner. Visit Sorella Jewelry for more details.
Image Credit: Sorella &
Rubyran and Koshyk from flickr