Pearls are some of the classiest pieces of jewelry in a woman's wardrobe. While we know that most pearls are some shade of white or cream, it's incredibly difficult to determine what color a pearl will be exactly.
These days, most pearls aren't harvested naturally: they're grown in factories, labs, etc. A pearl is formed naturally inside an oyster when some sort of irritant, like a single piece of sand, ends up inside the oyster. The oyster will coat the sand in nacre over and over again. The more layers of nacre on a pearl, the more iridescent it becomes and the more developed the color will be.
Even though pearls are traditionally harvested in confinement these days, there are only a handful of pearl colors that occur in nature. There are only 3 types of naturally occuring Saltwater pearls, described below.
Akoya pearls are native to the waters surrounding the country of Japan. While these types of pearls gained their popularity due to their lustre, they remain popular in today's society more for their value. They traditionally grow up to 8 mm in size and are found in various shades of white, pink, silver, and cream.
Following is a cost chart of the Akoya pearls.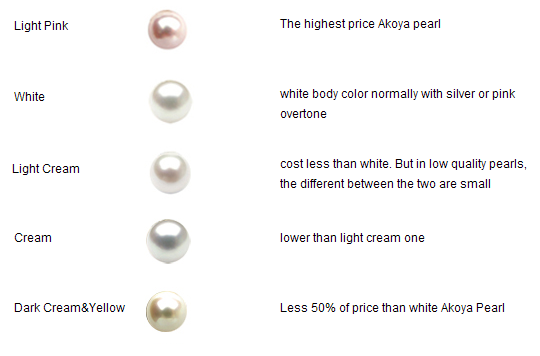 Photo Source: Shecypearljewelry.com
Even though we rarely retrieve salt water pearls in today's day-and-age, South Sea Pearls are the largest of the Saltwater pearls measuring in around 13 mm in diameter. According to sources, these pearls are only produced by the gold and sliver lipped oysters. As suggested, these Salt water pearls are produced in Southern Seas surrounding Australia and Indonesia and the like.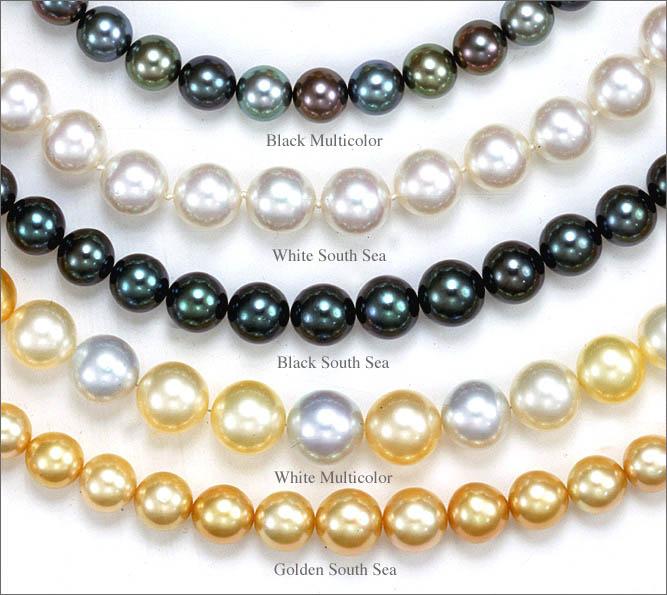 Photo Source: Americanpearl.com
"Found largely in areas of the Pacific Ocean, Tahitian pearls are produced solely by the black lipped pearl oyster and can grow up to 10 mm in size (making these the median size for salt water pearls). A characteristic feature of the Tahitian pearl is its thick nacre layer making these pearls largely more iridescent than other types. Most of these pearls are, unlike the others, are not exactly round, but baroque-shaped. Tahitian pearls are mostly found in shades of gray and are rarely black in color. However, these pearls are referred to as "black pearls" because of their relatively darker shades."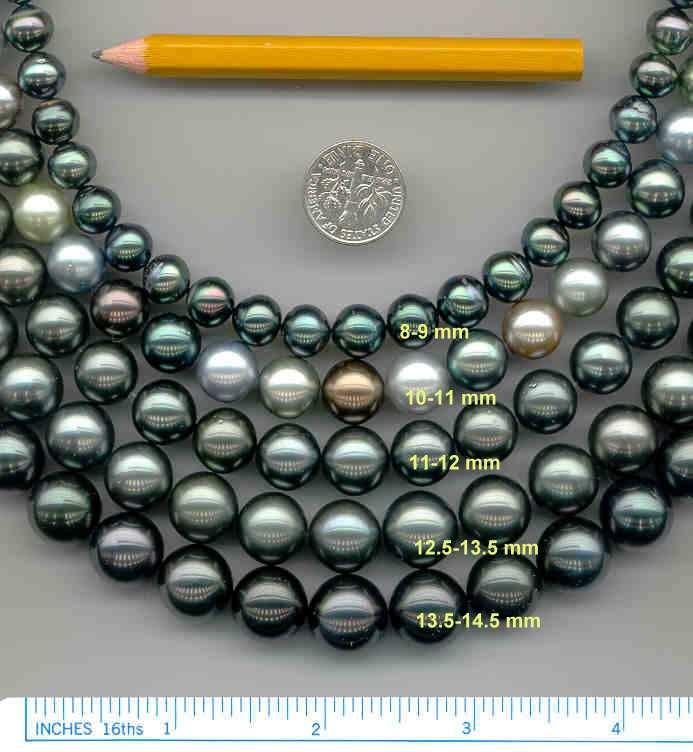 Photo Source: Pearloasis.com
While pearls are similar in every sense of their natural occurrence it's incredibly interesting how their shapes, layers of nacre, color and more change based on locational factors.