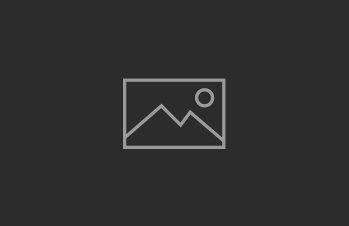 A Guide to Buying Fancy Diamonds
Everything you Need to Know about buying fancy diamonds including what size you should get, where to find the best quality, and how much you should spend on them.
Diamonds are known around the world and throughout time as the most beautiful and most precious gems on this Earth. Diamonds by themselves inspire romance, mystery, affairs, stories, and most of all imagination. Here at Raymond Lee Jewelers, we are passionate about diamonds.
We enjoy the unique and precious beauty that lies behind all diamonds luxury and non-luxury. But one of our favorite type of diamonds are fancy diamonds. There are many prevalent misconceptions about fancy color diamonds and we want to set the record straight.
An Introduction To Fancy Color Diamonds
Fancy diamonds have captured the imagination of the rich and the poor for many years. Their beauty and value have made them a highly desirable asset. That being said, not all diamonds are created equal. Especially not all fancy color diamonds.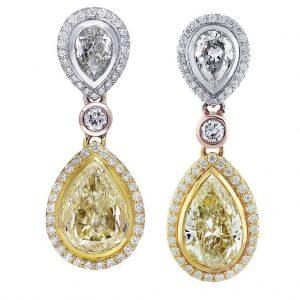 A fancy diamond is one that is colorless (similar to a typical diamond). They are diamonds that occur naturally in every color on the rainbow from bright orange to deep red, or sunshine yellow and soft velvety black.
How Is A Fancy Diamond Made?
Fancy color diamonds are created naturally within the Earth. They are often referred to as natural color diamonds. A fancy color diamond is formed when carbon atoms that are located in a kimberlite deposit under the earth's crust shift and form a crystalline solid.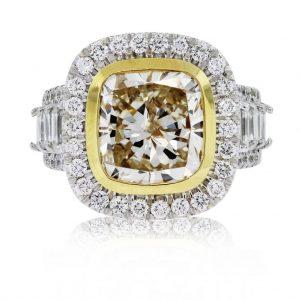 The diamond is then given its color when a trace element is accidentally incorporated into the atoms' structure during the crystallization process. For each fancy diamond, this process is random.
The Clarity
The Four C's
The Color
The clarity of a diamond refers to the degree in which inclusions are present on the surface of the diamond. This could be a chip or a dent in the surface or some sort of discoloration.
The Cut
Many diamonds (including fancy color diamonds) occur naturally in a range of colors.
The Carat
The cut of a diamond is how one would define the shape of it. There are many different cuts including pear-shaped, round, square, and princess cut.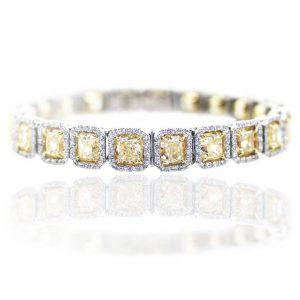 This is the biggest factor when it comes to pricing of a fancy diamond.
Final Thoughts
It's our mission to help you better understand all the ins and outs of retail jewelry in order to create a better shopping experience for you. So to recap what we just learned, we now know that fancy diamonds are among the most popular group of luxury diamonds. We also learned what makes a good quality diamond and where you can find them here in the local Boca Raton area.
Our detailed guide walked you through the four C's and what each of them means. In case you forgot, the four C's represent the cut, color, clarity, and carat of a diamond. And lastly, we discussed diamond certification and what it means for a diamond to be certified. All diamonds that get certified go through ax extensive grading examination that is done by a grading lab.
When it comes to finding the perfect fancy color diamond that's suitable to your personality, it's going to take some time. It shouldn't be a decision that you make impulsively but rationally. And we hope that this guide served as a tool for you to do just that.
Raymond Lee Jewelers
Not sure where to begin when it comes to picking out the perfect fancy diamond? Learn more about and in our education center. Or shop more fancy diamonds here. If you're looking for further information Chat online, or even email one of our customer service advisers at [email protected]
Areas We Proudly Serve
We are located in southern Florida in the city of Boca Raton. We proudly serve Boca Raton and the surrounding following areas: Palm Beach, Fort Lauderdale, Miami, Broward, and Miami-Dade. Stop by and talk to one of our experts about finding the perfect pair of diamond studded earrings today.