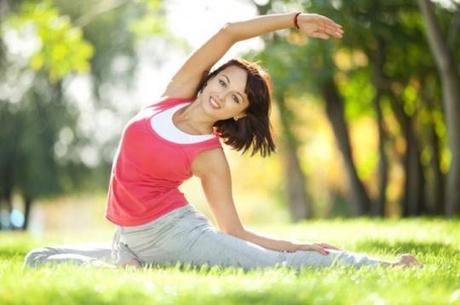 Generally, when you mention about exercises, most of us picture a gym in mind with expensive and modern equipment that work on electricity. There is a majority of population in the world which cannot even think of exercising without modern equipment.  Those who can't take time out for a leisure walk, get a treadmill, that utilizes so much electricity.  Such gross use of resources will one day put a lot of stress on environment. Why waste so much energy when you can exercise easily and effectively without electrical equipment? Such exercises are known as green exercise as they do not involve use of electricity and do not in any way add to the heavy load on the environment.
Green exercise – the way to go
Walking, push-ups, squats, jogging are all green exercises. These exercises do not cost any money and can be done anywhere, any time. Moving your body effectively in such a way that each cell gets activated is the basic premise of exercises. Thus, you can invent your own green exercises that you can while sitting, watching TV or even while talking on the phone. Experts have suggested that one doesn't do all these exercises on a daily basis, even twice a week will be enough.  If you want to take advice from an expert, you can consult a fitness instructor or even doctor to know how much time you need to spend on exercising the green way.
Core Transformer workout – the new green exercise in town
There has been quite a buzz around a new workout that promises better effect in less time.  That is the new core transformer workout. The founder of this unique workout is Linda LaRue, a renowned fitness instructor who has celebrities as her clients. The basic principle behind this exercise is simple – moving different body parts in the 3D way or three dimensionally. These movements are done with resistance and that means your core areas too are exercised. This exercise is also called as Cruchless Abs. This exercise is done with the help of a core transformer natural rubber band.  The band is strapped around the arches of the feet and the band is crossed twice in front of the body. The hands are then slipped in the loops. Then the knee has to be bed and feet wide, shoulders are back and down. This form of exercise needn't be done for an hour or so, just  a few minutes is that all it will require. Some of the movements that can be done are squat, wave, pelvic twist, side squats, march with torso twist, golf swing, speed skating and more.  The best thing about core transformer workout is that you can carry it anywhere and do these exercises, be it on a long vacation or to the gym or to the garden.  The other advantage is that you need not even spend too much time on exercising but even if you spend 10 or 15 minutes doings these workouts, that will also ensure a good burning of calories and ensure that you remain fit.