By Julian Kircher
Around Cusco there are a lot of great bars that offer a varied nightlife – especially for tourists. However tucked in between these more popular bars there are some true hidden gems. Meeting places for the locals and expats living here and offering a type of entertainment that you won't find anywhere else.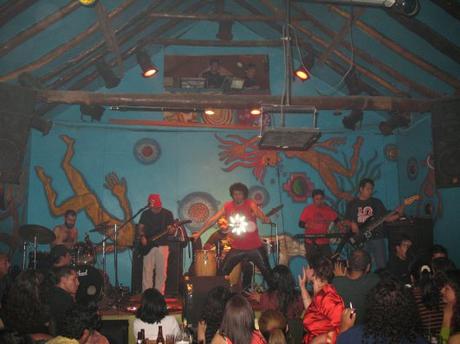 One of these treasures is called Ukukus. Only about 100meters from the plaza de Armas this bar/club is reached through an unassuming little doorway on calle plateros (the north-west offshoot of plaza de Armas)
You won't find the normal glitz and glamour of the upscale bars and hotels that seem to cater exclusively to the tourists in Cusco. Here you will find hand painted walls, an eclectic mix of locals and long term travelers and a very intimate vibe. Don't expect any house/electro or typical Peruvian music that they seem to play everywhere to impress the tourists. The bands here play all kinds of music, though you will see a lot of Rock/alternative fused with Andean rhythms. An amazing sound you won't find anywhere else. They offer a program most nights of the week featuring art shows, culture shows and of course all kinds of amazing live music. They have a program on their Facebook page – just search for Ukukus Bar.
They refer to themselves as a culture laboratory and that is certainly the feeling you get when you walk in for the first time – the culture seems so different and – dare I say it- alternative that it does feel like an experiment gone right.
This is a perfect place to get to know some of the locals and people from all around South America. The vibe is friendly and very open and everyone seems keen to talk – although a lot of people there may not speak English so a small amount of Spanish would go a long way.
If you want to avoid the throngs of tourists mingling in generic bars, enjoy all kinds of different live music and appreciate a relatively cheap beer (around 10-15 soles although they do have a happy hour) then this is the place for you. Be prepared to dance!
 ***
If you prefer places where you can bump into other tourists and will most likely be able to talk in English then here is a list of some fantastic places to visit
Paddy's Irish Pub – Of course there is one in every town and this is no different. A stylish and traditional Irish Pub, a popular spot for English speaking people this Pub reportedly sells the world's highest Guinness – unfortunately not on tap. Have a pint here and enjoy the simple but delicious bar food. Also usually shows sports on the TV's (football and rugby) so come here for important games (located right on the plaza de Armas)
Beer Prices –$5-7 for a pint so a little on the expensive side
***
Nortons – A self-styled biker bar this is a popular spot with the tourists and has a great vibe. Enjoy one of many local craft beers on the balcony overlooking the Plaza der Armas. Nortons also has an excellent and delicious menu at quite reasonable prices (around 15 soles/5$ for a main course meal). This place will also show all important games though only in football. (located on Plaza de Armas)
Beer Prices – a little cheaper than Paddy's. Craft Beer will be around $5 a pint and very tasty
 ***
Mushrooms – more of a lounge than a bar, here you will always find a DJ playing a mix of electronic and Hip-hop music. A great place to chill, play some billiard and enjoy some delicious Pisco Sours. (Located on Plaza de Armas)
Prices- Around $8 for a Pisco Sour though they are two for one during happy hour
 ***
Faces of Cusco – probably the most chilled out place of all of these. A gathering spot for mostly American expats, here you can watch American football, chill with a local craft beer and have some delicious food. During the day faces also offers all kinds of activities such as a tour of the local San Pedro market, dancing lessons, cocktail workshops and many more. Thursday night there is live music from local artists. (Also located right on Plaza de Armas)
Prices: Around $3-5 for a beer. Food will be around $10 for a main course but offers the best food on this list.