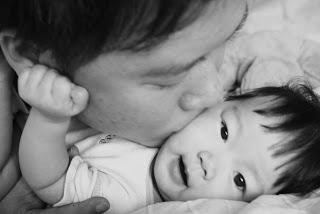 I am writing this post as a favour to all potential suitors out there.
You see, my little girl is my everything. She is my world, my sun, well you get the gist, right? So you'd probably guess that in order to get to her, you'd have to get pass me first. Wrong. Because she is not only the center of my universe, she is also my hubby, her daddy's, one true love. So good luck with that, it won't be easy getting the acceptance of a mother hen and one's first love, especially when you're challenging our places in her heart. But before you start giving up on my daughter and the female population in general, I'd like to share with you a story, of what we'd expect from you so that it will ease your suffering of trying to figure out how to win our hearts (subsequently, win our daughter's heart).
We all know that our babies are only with us for a very short amount of time, especially when your precious little bundle of joy is a baby girl. She's on loan to us until someone decides to sweep her off her feet and whisks her away. And when the time comes, there will be nothing we can do to stop or delay it. We're not selfish people, really, we're not. We just want men to know that, no matter how gray her hair is or how wrinkled her skin becomes, she will always be our little baby girl.
It seems like yesterday when we first got to hold her in our arms. I was a damsel in distress for fifteen hours before she was born, and let's just say, daddy wasn't on a honeymoon trip as well during that time. In fact, he was in a dilemma. There he was, my knight my hero sitting helplessly next to me as I huffed and puffed through the contractions, and all he wanted to do was to take the pain away, but he couldn't. So he did what every ideal husband would have done. He held my hands, showered kisses on my temples and forehead, and whispered encouraging words throughout the whole experience.
And then, he held his daughter for the first time. Nothing could prepare him for the bitter-sweet feeling that overwhelmed him looking at this little miracle who resembles an angel, yet caused his wife so much pain. He didn't know how he could bring himself to love someone he's just acquainted himself with for only an hour. But he did eventually, and fiercely so. Given that it wasn't love at first sight and it usually isn't, especially if the man has witnessed the whole childbirth process from labor till birth. So don't despair if you find your man to be in less enthusiasm than you were at the very beginning. A male's brain can only process so many emotions and feelings at a time, give him time to digest everything that's happen. And I promise you, the result of a man given time to take in everything at his own pace, is one of fierce unconditional love for his daughter.
Fast forward two years, father and daughter share one of the most amazing relationships I've ever known. As some of you know, my husband and I live apart, and will continue to do so until the end of next year when I finish fulfilling my permanent residence overseas. Little Miss Bébé is with me, of course, so you can probably guess that the time we spend together as a family is very limited (one week a month on the average). But what never cease to amaze me is that, despite the distance and time apart, there's still this invincible bond that links both daddy and daughter together, it's just crazy!
My husband loves our daughter to bits. Never has a day gone by when he doesn't wish that we could be together and he could watch her grow everyday. The same goes for Little Miss Bebe. Just the other day, she found a print out of the following picture and decided to claim full possession and ownership of it, pointing and saying "Daddy, Lele, daddy, Lele". She held it close to her wherever she went, to her cubby house, to the bed, and even into the bath (yes, literally into the water).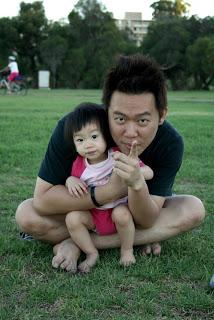 It was at that moment that I finally understood the saying, daddy is a daughter's first love. Despite the lack of presence, daddy is never far from her heart. And at this very young age of twenty one months, she already acknowledges how dear the father is to her. I remember the only time when I was that crazy about someone, was when I was in love. And from the looks of it, my daughter has already found her first love.
I don't blame her though, her daddy worships her so it's kinda hard not to fall for someone who puts you as his first for everything. And I hope that next time, she will also find someone who will put her as his number one. It won't be easy, considering the fact that her first love has set the pedestal up so high that it's almost impossible to surpass. But that's okay, if mommy can do it (find someone who puts her as his priority), she will too. She just has to understand that, there will never be a man who will love her as much as her daddy (I love you, daddy CY). Her aim is not to find another love that surpasses her daddy's, but instead her aim is to find a hero who will fight for her and take her as the queen of his heart.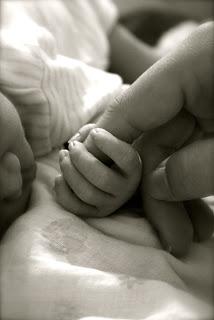 So really, we don't ask for much. We only ask that you put her first, and you have our full blessing. Don't try to compete with her daddy as her first love, because you will never win, not when daddy has held her tiny little hands since the day she was born, and will continue to do so for the next thirty years or so (yes, apparently she's only allowed to date at the age of thirty). Instead, focus on being her last hero. Every girl needs a hero in her happily ever after, make yourself her last, and you will get your very own first love when your daughter is born.