The 28th July  was my birthday (66!!) and the start of my first Saga Holiday.  A Garden Restoration Story, is a Saga solo holiday and I thought not only would be an interesting short break it was an opportunity to try out a holiday by myself.  As the time drew near I fell at the first hurdle, panicked and a friend came with me.  Actually there were a number of friend groups, and I know now that I would have been fine alone and will certainly go on others.   There were 21 of us, with a wide age group.  Saga advertise holidays for the over 50's but I suspect that the majority of the party were in their 70's and a few over that! All lovely people, who I got on well with.
THE HOLIDAY – Restored historic gardens, rejuvenated with inspirational new planting schemes
We were based just outside Derby in the Peak District, and the gardens were about a hour's coach ride.  We visited 6 gardens, 2 a day, all very different but interesting in their own right.  The trip was made all the better with an excellent horticultural host.  Sue Minter has been the supervisor of the Palm House at Kew, curator of the Chelsea Physic Garden and horticultural director of the Eden Project and she gave us interesting evening talks.
DAY 1 (am) – Sheffield Botanical Garden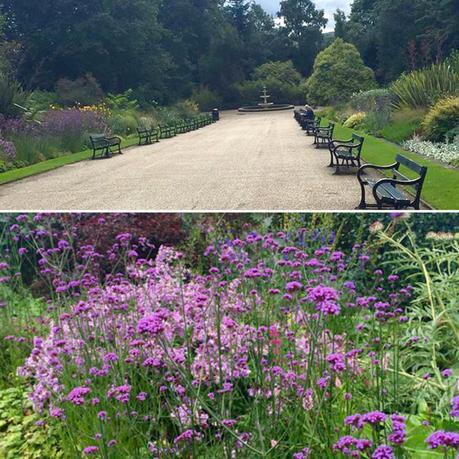 This is a Georgian Botanical Garden, opened in 1836.  Joseph Paxton of Chatsworth fame and Robert Marnock, a leading 19th century landscape gardener were involved in its creation.  In the late 1990's the Friends of the Botanical Gardens applied to the Heritage Lottery Fund to restore the gardens to their 19th century condition and the gardens were officially opened in June 2007.   The modern touch is the prairie garden trialled by Nigel Dunnett and James Hitchmough prior to their "Fields of Gold" planting in the London Olympic Park in 2012.
I have to admit I was expecting a garden similar to that of Oxford Botanical Garden, but the fact that it is dependant on volunteers, as opposed to students studying horticulture at Oxford, it was clear it needed some tlc, especially the prairie garden which was completely taken over by the most enormous yellow prairie daisies, standing at least 7′-8′ foot high.
DAY 1 (pm) – Renishaw Hall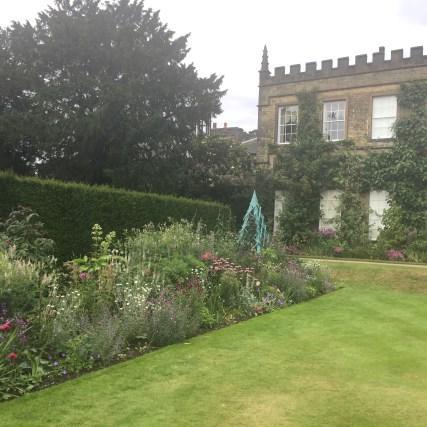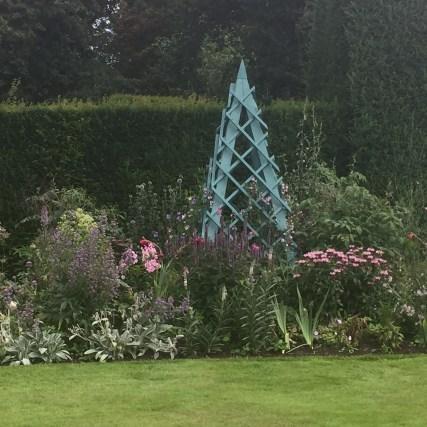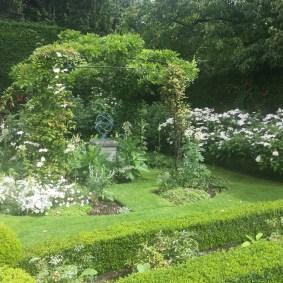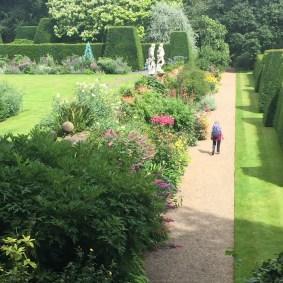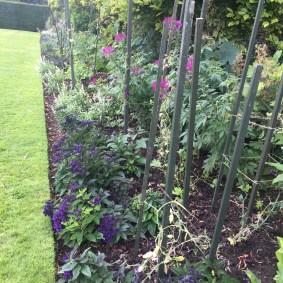 This is a jewel of a garden, I could have stayed here all day.   Renishaw has been in the Sitwell family for 400 years.  The Italianate gardens were laid out in the late 19th century by Sir George Sitwell.  It is tranquil with distinct areas with formal clipped high hedges.  Beautifully cared for, even down to the pristine, sharp border edges it was obvious this is a well maintained garden.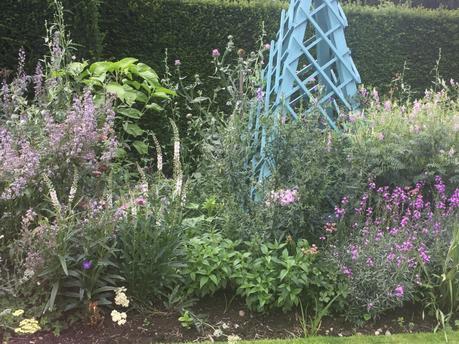 The wide lawn is edged on both sides, with new borders full of romantic, ethereal pink, blue and white planting by award winning designer Arne Maynard.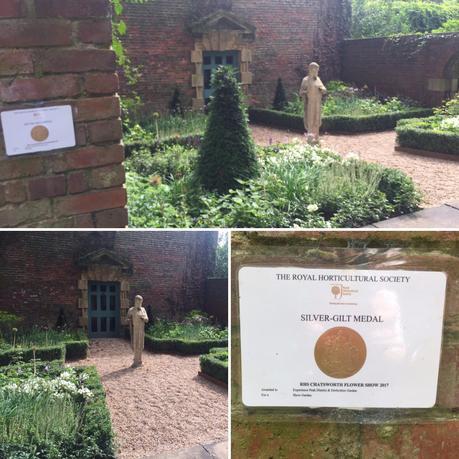 Garden designer Lee Bestall has brought back to Renishaw Hall the 'Experience Peak District & Derbyshire Garden' silver-gilt medal winning garden at this year's RHS Chatsworth show.
DAY 2 (am) – Trentham Gardens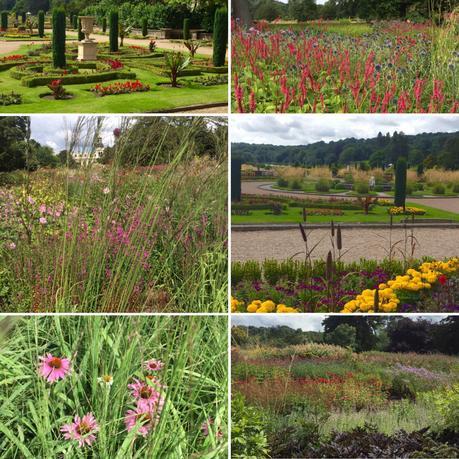 Well, what can I say!!  Trentham is a 300 acre public park with an adventure playground, fairy trail, monkey forest and garden centre, ` to make it even worse it is entered via a shopping outlet along the lines of Bicester Village.   Once in the garden, the remains of the house at Trentham are still to be seen, most of it was demolished in 1911.  Trentham had a formal garden attributed to Charles Bridgeman, then Capability Brown  designed the landscape between 1759-1780 and this is the parkland backdrop.  In 1833 Charles Barry, a Victorian architect, created a formal Italian garden.  In 1996 Trentham was bought by an investor who wanted to regenerate and restore the gardens.   In Trentham's favour and worth a visit is the major restoration including the Italian Garden planted by Tom Stuart-Smith and a wonderful prairie garden of two 120 meter long borders designed by Piet Oudolf.  There is also an annual and perennial meadow scheme designed by Nigel Dunnett, who had a hand in Sheffield Botanical Garden.
DAY 2 (pm) – Kedlestone Hall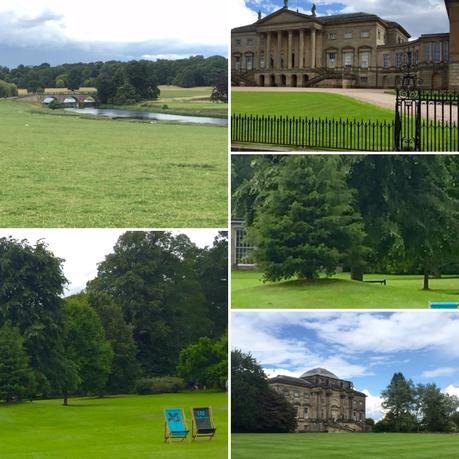 Kedlestone is a National Trust property, the only one on our visit.  There is no garden, just a 18th century landscape created by Robert Adam an important Victorian architect.  Adam also built Kedlestone Hall.  This is another garden where a Charles Bridgeman  garden was swept away in favour of landscaping.  In 1920 there was a Gertrude Jekyll/Lutyens garden.  The restoration aspect of this garden is that when the National Trust acquired the property (the Curzon family still live in part of the house) they removed the Jekyll garden, reverting back to the Robert Adam landscape.  Visiting Kedlestone, after Trentham was like a cleansing of the palette!
DAY 3 (am) – Buxton Pavilion Gardens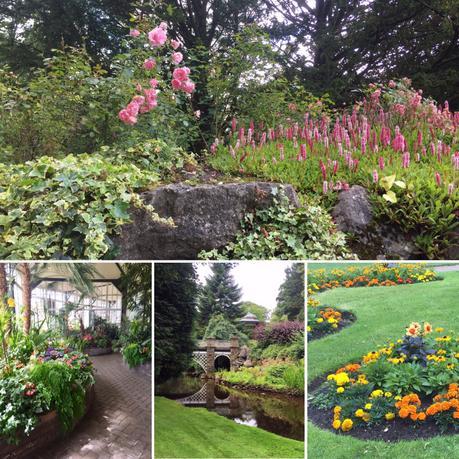 Opened in 1871 this is a Victorian garden designed by Joseph Paxton.  I knew it about 40 years ago as The Winter Garden, but it is now called the Pavilion Gardens.  It was restored in 2004 after a 7 year restoration project, supported by the Heritage Lottery Fund.  It consists of 23 acres of grounds and a botanical conservatory.  There is not a lot to look at, but it made for a pleasant visit.
DAY 3 (pm) – Haddon Hall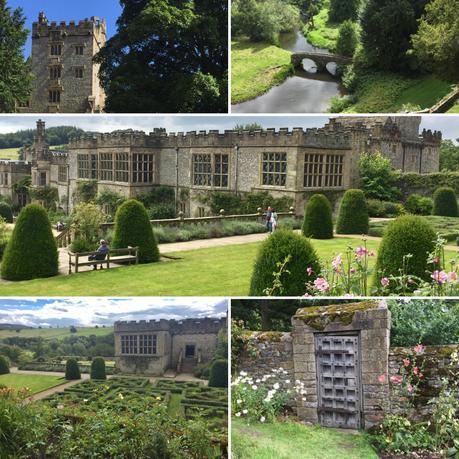 Haddon Hall is a medieval manor house, which lay empty for 200 years and the restoration project began in 1920.  Haddon Hall is used a lot in films, including 'Jane Eyre', 'Pride and Prejudice', The Other Boleyn Girl' and historical 'going back in time' TV programs.  When visiting the garden I really recommend going into the house, the old stone kitchen is very evocative.  This is another garden which Arne Maynard has had a hand in, replanting the Fountain Terrace. There is a Dyeing Border with plants that would have been used to dye silks for the tapestries.   In 2012 an Elizabethan Knot Garden was made using germander, lavender and rosemary.  We were all a little disappointed with the upkeep of the garden especially having seen so many wonderful photographs.  The roses were almost over and were in need of dead heading, and the flowerbeds needed a good tidy up looking as though they had been left a little too long.   As we looked over a wall on to another part of the garden closed to the public, we saw a well manicured lawn and flowerbeds, a marked contrast to the other part of the garden.
So that was my 6 gardens in 3 days holiday which I thoroughly enjoyed and I have come away wanting to know more about the history of gardens.