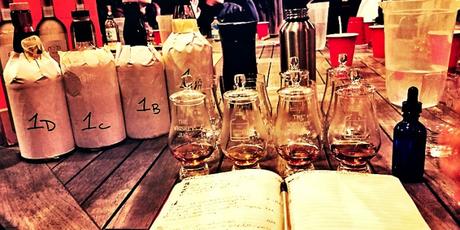 Earlier this week the Malt Nuts gathered to celebrate and explore the amazing Speyside distillery known as Glenfarclas. As usual we gathered at a gracious host's house and there was tasty food, great conversation and, as always, fantastic whisky! A big thanks to our host for the space and the spread, he's a real mensch (hope I'm using that right). Now on to the whisky.
Glenfarclas was founded in 1836 and is one of the few remaining family owned and operated distilleries in Scotland and like several other distilleries it once went by the name Glenlivet. It was Rebuilt / refurbished in 1896 and at one point the infamous Pattison brothers owned 1/2 of the distillery. Though after the crisis they caused (The Pattison Whisky Crisis) the Grant family (J. & G. Grant Co.) again took complete control of the distillery.
For the next 60 years Glenfarclas chugged along without anything major happening till 1960 when they doubled their capacity from 2 stills to 4 stills. In 1976 it was further expanded to 6 stills. Currently Glenfarclas is the only distillery in Scotland to use direct heat instead of indirect heat. This is doubly interesting because at one point they did switch to indirect but didn't like the result in their spirit so they ripped it out and went back to direct.
Like all Malt Nuts meeting this was a blind tasting, but since the theme of the tasting was high proof / cask strength we didn't really have a specific theme to each grouping so I've just listed them as group 1, 2 and 3 below. One thing to note before getting to the whiskies is that you might notice none of the 3rd party bottlings actually use the name Glenfarclas on the bottle. That's because Glenfarclas is probably the most litigious distillery in Scotland and doesn't allow anyone else to use their name and will legally go after them if they do.
Glenfarclas Group 1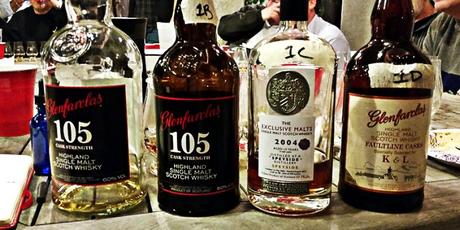 1A – Glenfarclas 105 NAS 60% (duty free clear bottle)
Nose: Sherry, vermouth, citrus and red fruit with a nutty undertone.
Palate: Sherry, malt, ash, nuts, olive oil and a light char with a touch of bitterness like a burnt cookie.
Finish: Oily dark fruit, malt red licorice and a bit of wood on a short fade.
Overall: B (83-86) I like it, there are some really good things going on here and if it weren't for the bitterness on the palate it would have gotten a B+. Warm, smooth and oily it was a nice dram to drink.
1B – Glenfarclas 105 NAS 60% (current)
Nose: Nutty, sherry, malty with notes of dried strawberries, dark fruit, caramel syrup and a weird sourness towards the end.
Palate: Sherry, strawberry frosting, dark fruit, imitation vanilla and sour cream with a toasted nutty undertone.
Finish: Sherry, dark fruit and char that fades to an oily nuttiness at a medium pace.
Overall: B- (80-82) A bit on the unbalanced side with an overall dry character. Adding water to this one seemed to make it feel hotter while simultaneously tempering the aroma and palate. I'd recommend keeping this one at full strength.
1C – Exclusive Malts Distilled At A "Speyside" Distillery 10 years 57.7% (Port Casks)
Nose: Strawberries, dark fruit compote, vanilla frosting with strong wine notes.
Palate: Big dark raisiny fruit notes with hints of cocoa, light citrus peel and something that reminds me of mini wheats. A grainy sweetness.
Finish: Sherry, wood, nuts, and cocoa slowly fade to ash.
Overall: A- (90-92) Sooo good. This one is thick, oily and full of flavor was the most densely aromatic of the first group. Water causes it to erupt and become even richer. It was definitely the winner of Group 1.
1D – Glenfarclas "The Faultline Casks" NAS 57.4% (First Fill Oloroso Sherry Casks)
Nose: Rich dark fruit, leather, coca, toffee and sherry with hints of red licorice, dry strawberries, char and a nutty undertone.
Palate: Sherry and cherry heavy dark fruit, cinnamon, leather, brulee with a bit of citrus and a light malty and anise note. Again a nutty undertone.
Finish: Sherry, nuts, malt and coca slowly fade to ash and wood that comes across a bit pine like.
Overall: B+ (87-89) Really nice and I was a bit shocked to find out that it was the K&L NAS that I had given an A- back in Feb. It just goes to show you that context is everything because while this was my second favorite of this group it easily could have been the winner if it weren't for that Exclusive Malts and very well could have garnered an A- if it was the tail end of some other B / B- Farclases.
If you're asking yourself why I don't change the score on 1D, it's because this as a record of what I was feeling and how I was discussing these whiskies with the other Malt Nuts that night. I've also said that you should always take everyone's ratings, including mine, with a grain of salt and this is perfect example of why.
Glenfarclas – Group 2 (all 3rd party bottlings)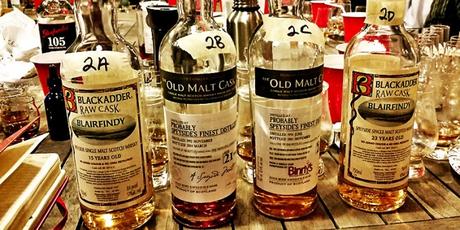 2A – Blackadder Blairfindy 15 years 57%
Nose: Smoky and peaty with an inky iodine overtone and notes of smoked meat. Some of it blows off after a bit (water helps) and some notes of fruit and toasted nuts show up.
Palate: Peaty smoke and rubber gives way to caramel, brulee, dark fruit and malt but that rubbery funk hangs on till the end. Water thins that quality out a bit and an oily chestnut character shows up, but it's still there.
Finish: Soft and meaty with sweet, bitter and fruity notes on a long fade.
Overall: B- (83-86) Those who know me know I love peat, but this just did not come together for me. The idea of a peated Glenfarclas is nice, but this execution was too much funk and not enough flavor.
2B – Old Malt Cask "Probably Speyside's Finest Distillery" 21 years 50.1%
Nose: Winey sherry, vanilla, caramel, raisins, dark fruit, nuts and citrus peel with some light sulphery cordite notes (fireworks).
Palate: Sherry, vanilla frosting, sulpher, butterscotch pudding, overripe dark fruit, grapefruit peel and a light nuttiness. I love the way the dark and sweet notes mix and mingle.
Finish: Rich dark fruit drizzled with an almost port like wine quality, wood, leather, peppercorns and sulphery cordite. Long and meaty finish.
Overall: A- (90-92) This one is a bit weird and was the clear winner of this group for me, but if you don't like a bit of sulpher as an added dimension to your whisky you might not like this one which happened that night and some of the guys didn't like it nearly as much as I did. To each their own.
2B – Old Malt Cask "Probably Speyside's Finest Distillery" 22 years 52.4% (bottled for Binny's)
Nose: Caramel, vanilla, malt, fruit and a dusty spice with notes of cardamum and dill. Weird.
Palate: Caramel, malt, vanilla and light notes of fruit, spice, wood and a weird undertone I couldn't pinpoint. The palate on this one was a bit off to me.
Finish: Sweet with some malt, spice and vanilla on a medium fade that picked up light notes of brine and phenols on it's way out. So odd.
Overall: B- (80-82) The nose and the way some of the weird notes worked with the sweet noes saved it from a C+, but it seemed like pretty much everyone agreed this one was an odd duck. Kind of like a very lightly peated Glenfarclas malt in a bourbon cask.
2D – Blackadder Blairfindy 23 years 48%
Nose: Fruit, caramel, toffee, citrus, brulee, vanilla frosting and a tart citric acid like quality.
Palate: Fruit, malt, vanilla, banana, coconut, toffee and a hint of that citric acid quality.
Finish: Medium fade of fruit, graham, malt and wood
Overall: B (83-84) Definitely on the lower side of the B. It wasn't bad, but it wasn't particularly impressive either.
Glenfarclas – Group 3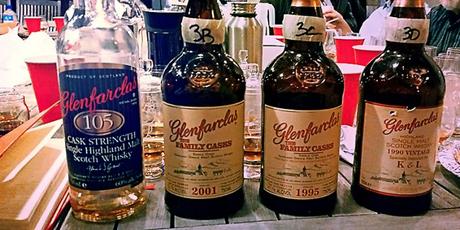 3A – Glenfarclas 105 NAS 60% (older Japanese bottling)
Nose: Red vermouth, butterscotch, brittle, toffee, malt, sherry, vanilla and citrus. This is really nice.
Palate: Sherry, spice, fruit, wood, malt, citric acid and a very light nutty undertone.
Finish: Sherry, wood and nuts slowly fade to ash.
Overall: B+ (87-89) Man this was good and it almost hit an A-, but it lacked that little extra oomph to push it over the top for me. Definitely a hair above the 2 other B+'s I handed out that night though.
3B – Glenfarclas Family Casks 2001 (11 years) 59.7%
Nose: Sherry, wood, dark fruit, spice, anise, cocoa and a light bit of funk
Palate: Rich sherry and wood with nice sweet notes of malt, wood, black licorice and tootsie rolls with a touch of astringency. The funk from the nose is not showing up on the palate.
Finish: Long slow fade of dark fruit, malt, wood and coca.
Overall: A- (90-92) Ok this one is fantastic and ended up clearly winning this round. Big woody notes balanced out the sweet notes and it had a rich thick mouthfeel. It was just all around fantastic.
3B – Glenfarclas Family Casks 1995 (18 years) 47.7% (bottled for Hi-Times Wine Cellars)
Nose: Wine like character with nice notes of vanilla, oak, sherry and a mild savory, soy sauce like, quality.
Palate: More wine like than sherry like, but with notes of both. Wood, walnuts, raisins and a touch of that savory "umami" character from the nose.
Finish: Dark fruit, wood, nuts, raisins and leather run their course on a long fade.
Overall: B+ (87-88) In the lower part of a B+, but the fact remains that it is tasty. soft and silky with some nice fruit and wood notes keeping everything else in check.
3D – Glenfarclas K&L Exclusive 1990 Vintage (24 years) 50%
Nose: Ash and sherry with notes of grapes, citric acid, dark fruit, vanilla, cocoa and a warm sweetness.
Palate: Wine and citric acid notes mix with some sherry, dark fruity, malt, nuts, smarties and a light spice. Very interesting.
Finish: Wood, toasted nuts, fruit, sherry, citric acid, smarties and ash.
Overall: B (83-86) Again I was a little shocked to find out this was the same 1990 Glenfarclas K&L Exclusive that I tasted and reviewed a couple weeks ago. I gave it a B+ then and all I can say is context matters. Though in both K&L cases it was only a 1 level shift and I'm sure I'd have slightly different opinions on a couple of these if I tasted them at home by myself where I can sit and quietly think about what's going on, That's just how it goes.
This tasting was really interesting because each round had a VERY clear winner in them and after we got through them all there seemed to be a 3 way split among whose favorite was 1C, 2B and 3B. It's not like we cast ballots or anything like that, but when people were talking about their favorites it seemed like about 50% were all in for 3B (2001 Family Casks), 30-40% for 2B (OMC 21) and 10-20% for 1C (Exclusive Malts). My personal favorite was 2B and not just because I brought it. I had maked it as my favorite by a hair before the reveal at the end of the night. Too bad it's all sold out or else I'd go back and clear them out!
It was another great night with the malt nuts and I hope you enjoyed this run down of 12 unique, and mostly tasty, expressions of Glenfarclas.