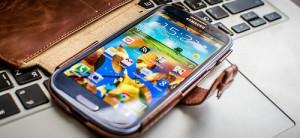 Few phones have come under as much scrutiny as Samsung's much-anticipated Galaxy S4. This smartphone is one of the few leading contenders against the daunting lineup of Apple and Windows phones, but with the success of the S3 many are wondering if this will be the flagship phone of 2013 and 2014. For those that are looking to place their orders, it is important to first consider some of the specs and features of these amazing smartphones with a more complete review of its potential.
Baseline Specs
With the average smartphone coming in at just 3.7 inches, many are surprised that Samsung has gone with a much larger option as the S4 has a screen size of 4.99 inches. This means that it is both larger and heftier than the iPhone and is within range of other popular models such as the Thunderbolt. The Super AMOLED screen, a now standard option on smartphones, has a screen resolution of 1,920 x 1,080 with an ambient light sensor and ambient light support for both the screen and the accompanying cameras. With a 441 PPI pixel density, users will notice crisp lettering and vibrant pictures for all forms of media.
Internals
There are very few things that will spell out success or failure with a smartphone as much as the processor and operating system. The S4 is geared to be released with the Android OS and will be home to the Exynos 5450 Cortex A-15 chip. This is a snappy 2.00 GHz CPU that will allow it to compete with all of the high-end smartphones that are currently on the market and users will find it perfect for multi-tasking with an astounding octo-core processor and 2,040 MB of RAM. Baseline models with come with the standard 16 GB of internal storage with options of expanding to upwards of 64 GB with a microSD or microSDHC card.
Exciting New Features
Internal specifications and external hardware may be exciting, but Samsung has decided to bring a few new features to their newest Galaxy S4. Many are now looking forward to the proximity display sensor, one option that has been seen on only a handful of touchscreen gadgets. The proximity sensor allows the user to hover their finger over the screen, much like a mouse cursor. On websites and programs that have not been optimized for mobile use, this will offer more information on links and various forms of media. The front-acing camera with face recognition technology is another factor that puts it into direct competition with the iPhone 5.
Summary
From individuals looking to video chat with their friends to corporate employees in need of web conferencing services, the Samsung Galaxy S4 has a little something for everyone with robust and impressive features and specs that will carry it through 2014.
Image Credit: Sergey Galyonkin