When I worked in Financial Services, my previous employer used to sponsor productions at The Old Vic theatre, and I often wondered whether my chums and I would be treated to a free viewing or an invitation to a preview. Huh! No such luck! So, yesterday when I saw an advert on the "Visit London" website (
http://www.visitlondon.com
) to see "
A Flea in Her Ear
" by Georges Feydeau for £11.99 I snapped up a ticket. What a bargain! What is more, I had heard a lot of positive feedback about the play and I have been a big fan of Tom Hollander since seeing him in "
In the Loop
"  and "
Rev
" – he's such a cutie!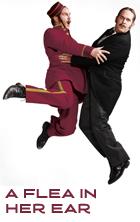 Photo Credit: The Old Vic
The Old Vic Theatre is about a 7 minute walk from
Waterloo
 station and is situated on
The Cut
. When I arrived, the queue was spilling out the door. I had booked the matinee performance and although London was bathed in sunlight, it was flippin' freezing! To my delight, I had been upgraded from the Lilian Bayliss Upper Circle to the Stalls in the middle of the row (5
th
row from the back) – RESULT! Thank you nice people at the Old Vic Box Office ;-) I was even more thankful when I realised I hadn't brought my glasses with me! Doh! My blonde moment!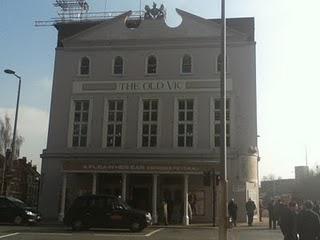 Outside the Old Vic Theatre
The first thing I noticed when I sat down is that I had plenty of legroom (yippee!) no knees at my shoulders like some of those other theatres in London (you know who I am talking about!).The theatre itself is stunning, there is a golden chandelier which dominates the room, it had 37 lights on it (yes I counted them; well I had time to kill before the performance!). The gold painted cornicing is also beautifully done. I would have shown you a lovely picture of the inside of the theatre but I got my wrists slapped when I tried to take a photo :-( The man (dressed in black) said it was not permitted! I think other people had the same idea as I heard him delivering the same message time and time again! Such a shame!
As I look around, it is clear that this play has a wide appeal; the row in front of me has a group of bilingual female teenagers who dip into French and English when chatting to each other. It is also attended by young professionals,middle aged couples and senior citizens in equal numbers. There are a few empty seats beside me so I can put my bag and jacket on the next chair and begin to relax.
The play is set in Paris at the height of the Belle Epoque. The beautiful wife of Victor Emanuel Chandebise, Raymonde Chandebise, suspects him of having an affair and she enlists the help of her dearest friend, Lucienne to entrap him. Their plan to entice him to a rendezvous at the notorious Hotel Coq d'Or spectacularly misfires and chaos ensues with hilarious results. 
There are around 15 characters in the play, but without giving too much away, the characters impressing me most were:
1)

    

Victor Emmanuel Chandebise & Poche
The former is the husband suspected of infidelity, the latter is a hotel porter who is fond of Vermouth. Both
characters
are played by Tom Hollander; a comic timing genius who is able to pull off some quick costume changes!
2)

  

Carlos Homenides de Histangua
The h

usband of Lucienne, (best friend of Raymonde Chandebise)

,

a passionate and violent Spaniard

with a very thick and amusing accent. Played by John Marquez.
3)

  

Camille Emmanuel
The young nephew of Victor Emmanuel, who has a speech impediment; he is unable to pronounce consonants! Barking mad? Absolutely! Played by Freddie Fox.
The play itself is just over 2 hours long with a 15 minute interval to top up drinks and tuck into some ice cream.
After being translated by John Mortimer, the play originally opened in London in the Old Vic in 1966, so it is  really fitting that Richard Eyre directs it here once more. 
The last performance is on Saturday March 5 2011 so there isn't much time left!
If you fancy having a giggle and have a couple of hours to spare in the afternoon or evening, take a trip down to The Old Vic theatre andenjoy a performance of "
A Flea in Her Ear
".
Book online at:
http://www.oldvictheatre.com/
Tell them MeLikeyUK sent you!
Enjoy x