We're back at Ripley's Aquarium today with a look at a Saw Fish. I met this fella while walking through The Dangerous Lagoon. Visitors actually walk through an underwater tunnel through this part of the aquarium and at one point just over my head was the most amazing face staring down at me.  (He reminds me a bit of an H.R. Puff N' Stuff character…yes I know I'm dating myself

)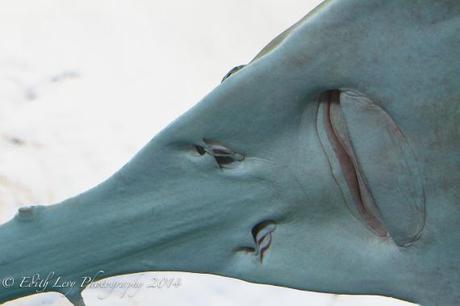 ISO 1250 f/4.5 1/25s
I shot these hand held because he was directly overhead and the tunnel was narrow and full of people, so using the tripod and getting myself into a pretzel position was not going to happen. I had to use a higher ISO due to the low light and I exposed for Saw…eeee which is what caused me to blowout the exposure on the water, in the above image.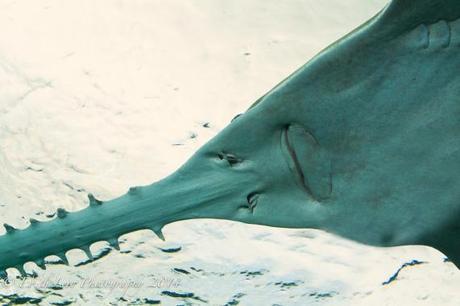 ISO 1250 f/4.5 1/40s
Here's a bit of a wider view of Saw…eee so you can start seeing his snout.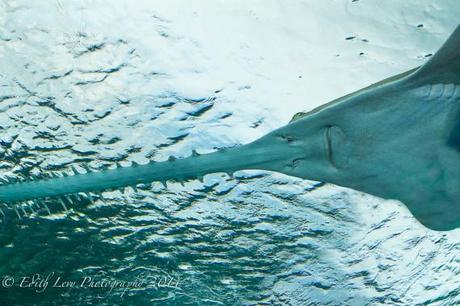 ISO 1250 f/5 1/30s
Here you go. Those look sharp don't they.
If you didn't get a chance to visit PhoDOGraphy by Edith Levy, I posted a couple of new posts this week. I'm very proud and excited that I've been accepted as a member of HeARTs Speak, an organization dedicated to saving the lives of animals. You can read more about that in the post here. I also posted another installment of T.O.p Dogs – Photographing Loveable Four-Leggers In & Around Toronto. Please take a minute and have a look. I'd love to hear what you think and while you're there please consider following that blog as well. I have some exciting announcements coming up on PhoDOGraphy by Edith Levy.
Have a great weekend everyone.