Excerpt from the Qur'an:"Shaitân (Satan) wants only to excite enmity and hatred between you with intoxicants (alcoholic drinks) and gambling, and hinder you from the remembrance of Allâh (God) and from As-Salât (the prayer). So, will you not then abstain?"
I live in a region of alcohol avoiders. It's not surprising - it is a Muslim state, after all. In fact, I count myself lucky that I am allowed a drink at all - in Saudi Arabia, Kuwait, Gaza, and even just 20km away in Sharjah, alcohol is prohibited completely (but it's amazing what some people can do with some peaches, a bucket and some aquarium equipment...) When my husband first suggested the UAE as an expat stint, my first question may well have been: "Will I have to give up the booze?" Because I am not a Muslim, and the God I talk to is not telling me to abandon that tempting elixir. Thankfully, Dubai is kind to the pro-alcohol people of this world, and I am allowed to drink in most hotels, clubs, and my own home.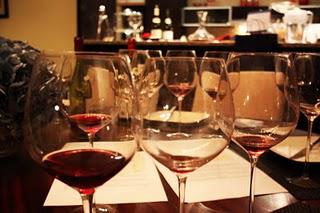 In Australia, drinking is part of social culture. It is rare to have a picnic, dinner, night out on the town, casual barbeque, or even a baby shower, without a little tipple. Some events require a big tipple. The use of alcohol is so ingrained in us that we have got to the stage where a non-drinker is not to be trusted. They are generally perverts, religious extremists (mainly Christian, because Australia is still very vanilla) or are pure to a scary level that might one day involve them personally taking on the endeavour to wash the world clean of its filth.
Here in the UAE, I find I meet just as many non-drinkers as drinkers, and surprisingly, most of them are pretty much ok. It's got to the stage, however that we tend to have two distinctive groups of friends, and never the twain shall meet.
It's been a giant cultural leap for an Australian. All of a sudden, I have had to find other forms of entertainment at picnics, and different ingredients for my
Dutch Courage
. I was introduced to this during pregnancy, but quickly discovered that all the drinkers were very boring when I wasn't joining them, and I always wanted to go home. As you could imagine, I resumed my liquid hobby upon cessation of lactation. Amazingly, parties became fun again. Here, it's easier. When people have lived entire lives without alcohol, they find other ways to have fun, and I am grateful they are sharing the secrets. Also, I find that in contrast to being the solely sober while pregnant at parties, here, where everyone is sober, the conversation is far more sensible, and just as often as exhilarating as when it is injected with liquor.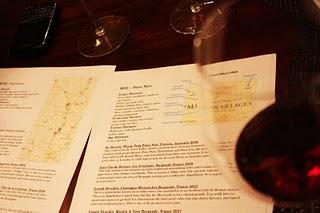 After a while of living here, I had begun to lable all people as non-drinkers until they proved themselves otherwise (except for the Australians of course, and the Brits, who are even worse than us). So when someone I had assumed was a teetotaler asked me to do a structured wine tasting at her home, I jumped for joy. Not only was she a rare and treasured drinker, but she also had a love of fine wine! A comrade of the finest sort! I have not run a wine session for over three years, and it had me singing a happy tune for a week in the lead-up.
Wine tastings
with friends are an excellent way to brush up on your wine knowledge, even without a resident expert. Just the action of trying several similar tastes alongside each other trains your palate into looking for more narrow and particular traits, and is a quick step towards becoming a wine geek.
We had a look at
Chardonnay
and
Pinot noir
, the two great grapes of Burgundy. Prohibitavely expensive to buy for private consumption, this is the perfect way to try - one bottle shared between several. Now Burgundy is savory and somewhat stinky stuff to the uninitiated, and so I wanted to throw in a couple of fragrant cheapies and some
new world wines
for comparison.
But the I was faced with a problem. Selecting wine in Dubai is simply despairing.
Firstly, it's at least twice as expensive to buy. Dubai's wholesalers bring in wines from all over the world. Some, they double the price of. Some they triple. Some they simply invent an astronomical price for. Then they add 30% tax at the checkout. Alcohol is so expensive here that they won't allow everyone a license to buy it (that's right - in other countries you need a license to sell alcohol - here, you need a license to purchase from a wine store). You have to earn over a certain amount (4000aed a month from memory) before you can get one, you must not be Muslim, and you must also have a letter of acceptance from your employer.
This has several results:
Some people drink less, or not at all.
Some people spend too much on alcohol
Some people become involved in illegal bootlegging (which has a reputation of gang leaders constantly murdering each other in the most brutal ways you can imagine)
Some people do the "booze run" to the worst-kept-secret tax-free liquor stores in Umm al Quwain or RAK such as Barracuda, or Al Hamra, which involves a passage back through the dry state of Sharjah, where of course it is forbidden to posses alcohol. This has resulted in all kinds of road shenanigans, where it is said a local will hit your car on purpose, then blackmail you into handing over insane wads of cash before they call the police (as one must for all road accidents in the UAE). This does have the dubious characteristic of all urban legends though - "I know someone who knew someone who....."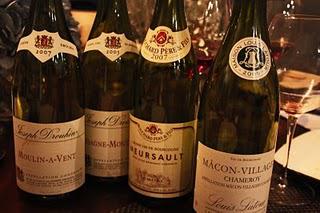 I fall into category two. I have been told that Barracuda has an incredible range of wine - much better than we find here in Dubai, but to my chagrin, my lawyer husband refuses to allow me to go - the return is, after all illegal, as there is no way to avoid Sharjah unless you travel by air.
Secondly, the selection is despairingly narrow and mainstream. Back in Melbourne I could have a different wine every night and still never run out of fantastic options. Here, we constantly drink the same stuff - it's doing hideous damage to my palate memory. After much deliberation and several wine shops, my wine friend and I finally came up with the following list.
Chardonnay:
Finca Flichman, Reserva Chardonnay, Mendoza Argentina 2008
Maison Louis Latour, Macon-Villages Chameroy, France 2009
Bouchard Pere et Fils, Meursault, Cote D'or France 2007
Pinot Noir:
De Bortoli, Windy Peak Pinot Noir, Victoria, Australia 2008
Jean Claude Boisset, Les Ursulines, Burgundy France 2009
Joseph Drouhin, Chassagne-Montrachet, Burgundy, France 200
And then to confuse them, a Gamay from the Beaujolais region:
Joseph Drouhin, Moulin A Vent Burgundy, France 2007
We had an enlightening night - all 9 of us were so wrapped up in the wine talk, that we missed our dinner reservation by over an hour. All the wines were very good, with the shining stars being the Macon-Villages, and the De Bortoli Pinot.  By the time we got to my tricky one, they were all so entrenched and doing such a good job, they picked the differences without knowing exactly what they were putting their finger on. The wine was really such a great example of what a serious Beaujolais can be, that they were all suitably impressed with the unveiling.
What fun. Can't wait for the next one...
Leave me a comment and make my day...