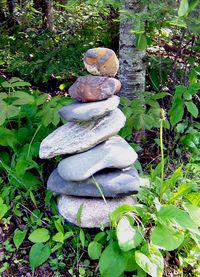 As I reflected on delicately balanced cairns during a luxurious weekend relaxing along Lake Superior's south shore I was reminded how everything in life is so interconnected... and is all part of a delicate balance on many different levels.
It is no different when buying and selling a home.
Last week I talked to people not planning to sell for a number of years but wondering about what updates make sense in the meantime to prepare. Balance was at the center of the conversation... if you dramatically update only one portion of the home, the rest of it can be out of balance. Think of the home as a whole, and keep it in balance... there should be a flow throughout the home.
When negotiating an offer to purchase a home, whether buyer or seller, it is also a matter of balance... balancing price with condition, location, etc... sometimes closing date can be the 'stone' that makes everything come tumbling down.
When searching for a home, it always seems to be a balancing act to find the home that both fits your needs and wants... and feeds your soul.
Where you live is an integral part of your life balance, and your home needs change as your life changes... keeping your home in balance with the rest of your life can help reduce stress and increase harmony in your life. Listen to your body... it will tell you when it is time to make a change.
Sharlene Hensrud, RE/MAX Results - Email - Twin Cities Buyer's Agent