Congratulations to Karen Feldman! Karen is the April Trivia winner dethroning Monica Caraffa! Crazy close race between 5 readers. Congrats Karen. May is a new month. Slates are wiped clean. All correct answers count! Get um in!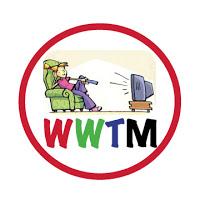 THE ANSWER TO THURSDAY'S TRIVIA QUESTION:
Nathan and Lucas Scott & Captain Frank Furillo=One Tree Hill Street Blues
FIRST FIVES:  John Amy, John Romeo, Candace Gorin, Alex Nagler & Phyllis DiCesare
HONORABLE MENTION: Mike O'Dea 
Bonus Trivia Question: Hattie Braverman went to Cornell

THE NUMBERS
Wednesday's Broadcast Top 5
Modern Family-Survivor CBS 2.8/8.2
Survivor-CBS 2.2/9.5
Criminal Minds-CBS 2.2/10.2
Chicago PD-NBC 1.9/7.2
CSI-CBS 1.8/9.9
Wednesday's Cable Top 5
NBA Playoffs 945p-TNT 2.0/4.3
NBA Playoffs 7p-TNT 1.3/3.2
American Dad-Adult Swim 1.0/2.1
Bring It-Lifetime 1.0/2.3
Big Bang Theory-TBS 1.0/2.6 
Wednesday's Top 5 Nielsen Twitter Ratings
American Idol-FOX 101,000 Tweets
Bring It-Lifetime 59,000 Tweets
Law & Order SVU-NBC 43,000 Tweets
Chicago PD-NBC 38,000 Tweets
Nashville-ABC 14,000 Tweets
Late Night Ratings for the week of 4/21/14-4/25/14
Fallon 1.0/3.3
Kimmel .5/2.4
Letterman.5/2.8 Meyers .5/1.5 Nightline .3/1.5 Ferguson .3/1.3 The Daily Show.5/1.5
Colbert .4/1.1 Carson .3/.9 Conan .2/.6
Early Morning Ratings for the week of 4/21/14-4/25/14
GMA1.8/2.1
Today Show 1.6/1.9
CBS This AM .8/.6
THE SHOWS
Vampire Diaries
Nobody ever really dies on The Vampire Diaries. I love all of the characters and don't want them to die, so all in all it doesn't really bother me, but at the same time, because I know this, nothing freaks me out. There's no suspense anymore. Okay so there are travellers who want to kill Elena and Stefan, the last remaining doppelgangers, but so what, we know they won't do it right? The other side is falling apart and while I have no clue what that actually means we know that everything's going to be allllll right because…nobody ever dies on The Vampire Diaries. Marcos and Enzo and all of the supernatural dudes before them and all the ones yet to come will never succeed because…nobody ever dies. So why do I keep coming back week after week? Hot guys, hot girls and love. It's love I'm rooting for. Caroline and Tyler (or Caroline and Stefan), Jeremy and Bonnie, Elena and Damon they just have to stay together. Love is all I need.
Reign
Well, Mary and Frances seem to becoming amazing leaders all on their own. Both of them saved a person at the expense of another. Frances killed the enemy and saved Lane and Mary had Hortensia killed but saved Katherine and hopefully her Mom. Hortensia was a worse human being than Katherine so seeing her head delivered to Mary wasn't so bad, plus it can't be easy living with that name. Mary probably did her a favor. Lola and Kenna were of course right about Julian having no money and using Lola, but he fell in love with her, came clean and is sticking around for awhile. I'm happy for Lola and impressed that so far, Frances hasn't found out that her baby is his baby.
Gotta admit, when Henry's missing from an episode, I do miss him, but all of these characters are coming into their own quite nicely.  
THE OTHER STUFF
-Daytime Emmy Nominations are out. I don't care about most of the categories, the ones I do sort of have interest in are: 
Outstanding Morning Program: CBS Sunday Morning, CBS This Morning, GMA & Today Show.

Isn't that all of them? 
Outstanding Talk Show/Entertainment-Ellen, Live with Kelly & Michael, Rachael Ray, The Talk, & The View

I'm betting on Ellen
Outstanding Entertainment News Program-Access Hollywood, E!, Entertainment Tonight, Extra, & TMZ

Now that I have a girl crush on Maria Menounos I'm rooting for her and Extra.
Outstanding Talk Show Host-Dr. Oz, Katie Couric, Rachael Ray, The Talk and The View
-I'm into TV studies lately. I read the results of 2 yesterday. The first one was from emarketer  eMarketer about millennials which I happen to have a special affinity for. Here's the big takeaway. Everyone says that millenials are cord cutters and watch everything online. While they would be more likely to cut the cord due to tight budgets and their tech savvy nature, they really haven't done it as much as we all think. Only 13% of millenials are living without Pay TV. 47% of 18-24 year olds and 40% of 25-34 year olds spent less on cable due to digital video availability, but they haven't cut the cord altogether. 
-The other study was done by the Council for Research Excellence regarding TV and Social Media. Here's what I learned: 
19.1% is the size of Social TV's daily reach

19.1% of online Americans ages 15-54 are reached by social media at least once a day regarding primetime TV (I would have thought this would be higher)

7.3% is the scope of socially connected viewing. This is viewing instances where people viewed specifically because of something they read or saw on social media or people communicated about the show they were viewing via social media.

An additional 8.8% of viewing instances involved the use of social media other than the show being watched bringing the total use of social media "while watching" to 16.1%

Socially connected TV viewing is most evident with new TV shows and sports

Hispanics and viewers aged 15-34 are the most socially connected but Hispanics lead the way. 

This one surprised me...During 11.4% of primetime TV viewing occasions viewers are using Facebook. Only 3.3% of viewing occasions were viewers using Twitter. 

More people use Facebook than Twitter to discuss the show they are watching while they are watching it. 

Use of Twitter is more often related to the program being watched than it is on Facebook. 

With respect to new shows that were premiering for the first time this past fall, 6.8% of people say they watched BECAUSE of something they saw on social media, compared with nearly 40% who said they tuned in because of promos they had SEEN. 

For the season premieres of returning shows 3.3% say they tuned in because of Social Media but 70% watched because it's a show they regularly watch. 
-How old will Betty White be when she starts her 6th season of Hot in Cleveland? 92!  That has to be some kind of record. Congrats on a 6th season Betty! 
Friday's Trivia Question: Arnie Becker & Grace Van Owen AND Olivia Benson & Elliot Stabler
Have a great weekend!
WWTM-Kristy
Like me on Facebook at Watching Way Too Much Follow me on Twitter at watchingwaytoomuch@tvnme
http://watchingwaytoomuch.com
[email protected]