It's been gray and rainy here these past couple days. Cloudy skies, thunder and lighting all make for a perfect excuse to curl up with a good book and a hot mug of tea.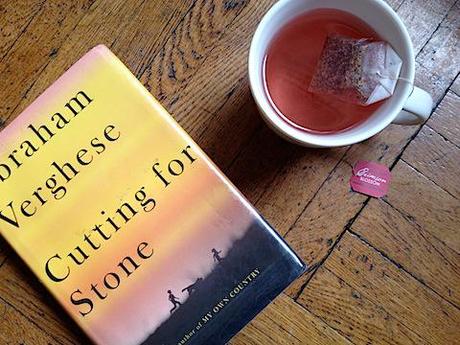 This past weekend, however, was one for the books! It was in the 70s and 80s all day, with bright blue skies and a light breeze in the air. It seemed as if all of New York was in Central Park, so we put on our summer clothes and went out to join them.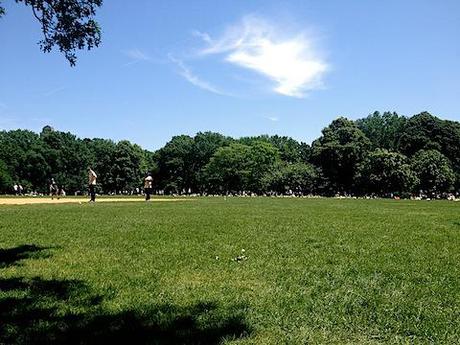 Don't forget your sunscreen!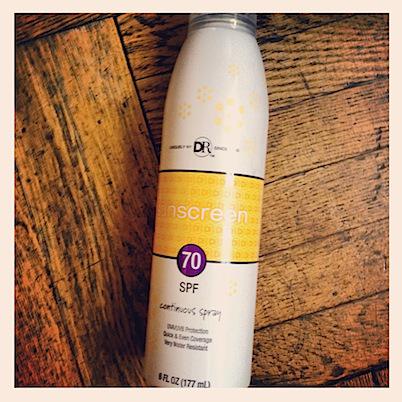 We met a few friends for a little pot-luck in the grass. I always tell myself I'll take more advantage of the city's parks, and am so glad to have already done so early in the season!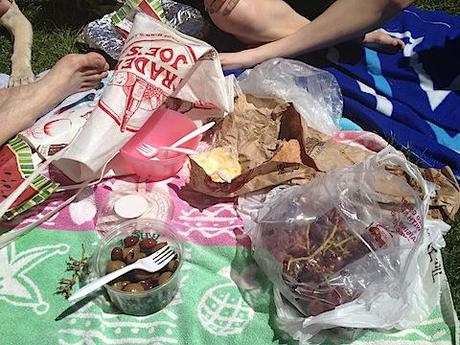 We were all happy as dogs.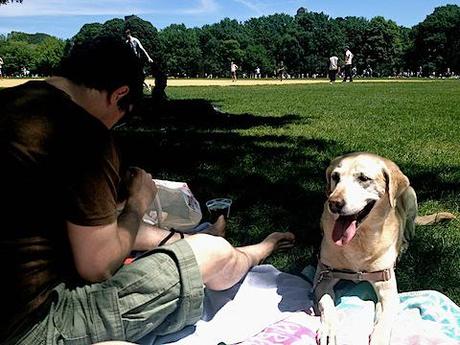 Leaving the park, I hopped the L to Brooklyn to join some friends in helping Rebecca celebrate the end of her lease.
Once Anna got her guns under control, we made our way up to the roof to sip cold beer, sparkling red wine (fact, not fiction), and eat some munchies.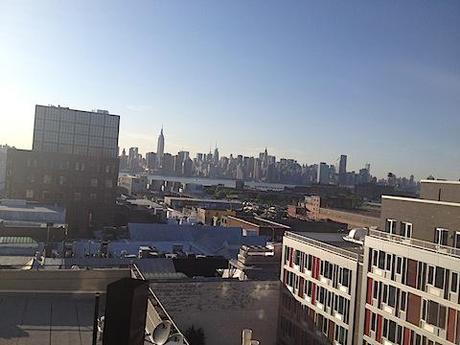 There was fresh fruit salad, tropical salsa, cheese and honey, and spreadable pizza.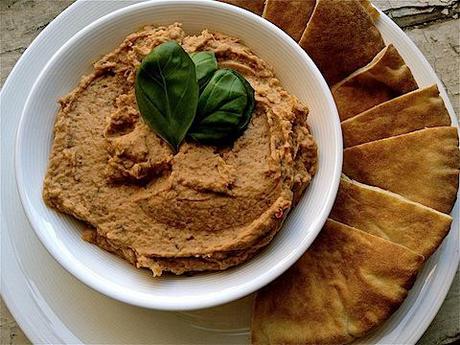 Yeah, I brought that one. My love for cheesy crust seems to be growing exponentially, so I thought: why not make a dip that will turn any surface into a vehicle for pizza-love? So I made it happen. It sounds weird, but trust me with this one. And with good-for-you ingredients like white beans, tomatoes, fresh basil and tahini, you won't have the same knot in your stomach you get after a few too many slices of the Domino's pizza you knocked back with that Natty Light. No judgments… just saying.
PIZZA DIP
Makes 3 cups
2-1/2 c. cooked white beans
1 T lemon juice
1 T tahini
1 T olive oil
4 T tomato paste
1/4 c. sundried tomatoes, packed (and drained, if stored in oil)
1/3 c. nutritional yeast
1/3 c. fresh basil, packed
1/2 t dried oregano
1/2 t dried thyme
1/2 t red pepper flakes
Combine beans, lemon juice, tahini, olive oil, and tomato paste in a food processor until nearly smooth.   
Pulse in nutritional yeast and herbs until well-combined.   
Serve with fresh vegetables, pita, or tortilla chips. Heat with cheese in a folded tortilla for a delicious quesadilla (I've done this three times already). Spread on unbaked pizza crust for a tomato sauce alternative. Eat straight-up, with a spoon.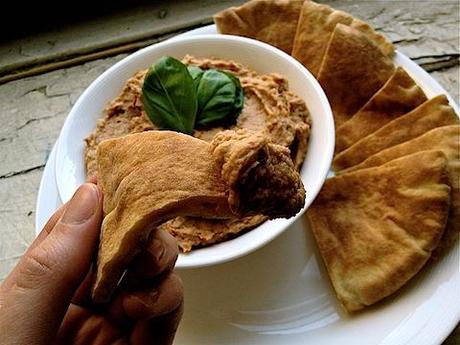 Get crazy! It's pizza-in-a-bowl, after all.