Just in time for Romance Awareness Month, Ecco Bella's passionate natural Beauty Gurus have created these easy-going tips for your lips. Here are Ecco Bella's stunning color combos of FlowerColor Lipstick ($17.95) and Good For You Gloss ($17.95) to enhance your allure and glamour.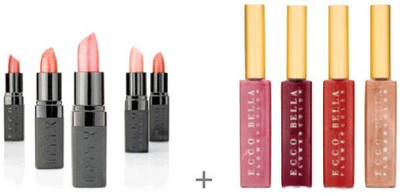 TIP #1: If you struggle with lipsticks being too cool or warm, try blending opposite shades to create the perfect tone to reflect your day or evening mood. Try combining Sangria Lipstick with our Peace Good For You Gloss.
Tip #2: Balance the color of Peach Frost Lipstick by topping it off with Pleasure Lip Gloss. You'll find that opposites attract in all the right ways!
By the way, all of their lipsticks are known to feel like a lip balm. They contain a simple healthy formula of vegetable waxes, oils, and mineral pigments that go on creamy smooth and won't feather. What's more, their Good For You Gloss has a shiny, rich texture, that isn't greasy or heavy, for a gorgeous, sexy look.