And today there are two cher­ries on our wedding-bloggy cake: because along with the lovely images, I'm about to share one of the best wed­ding reports I've ever pub­lished on Eng­lish Wed­ding Blog.
Danielle — the beau­ti­ful (and I mean stun­ning!) bride — has writ­ten a full report of her Northamp­ton­shire wed­ding to Mark. It's heart­warm­ing and full of good advice — includ­ing a heart­felt plea about hav­ing a wed­ding video­g­ra­pher, which is inter­est­ing and makes a lot of sense.
The pho­tographs are by Northamp­ton­shire wed­ding pho­tog­ra­pher Aaron Col­lett, who gets a fan­tas­tic review from the bride and groom, which is lovely to see! I'll leave you to enjoy the story of their vintage-country cot­tage wed­ding day. You'll need a big mug of tea AND a kit-kat for today's wed­ding blog by the way… Enjoy!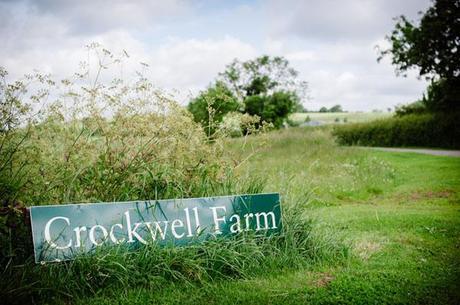 A vin­tage coun­try cot­tage Northamp­ton­shire wedding!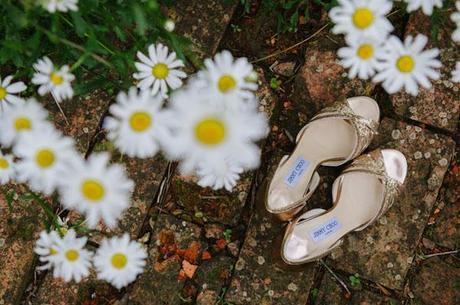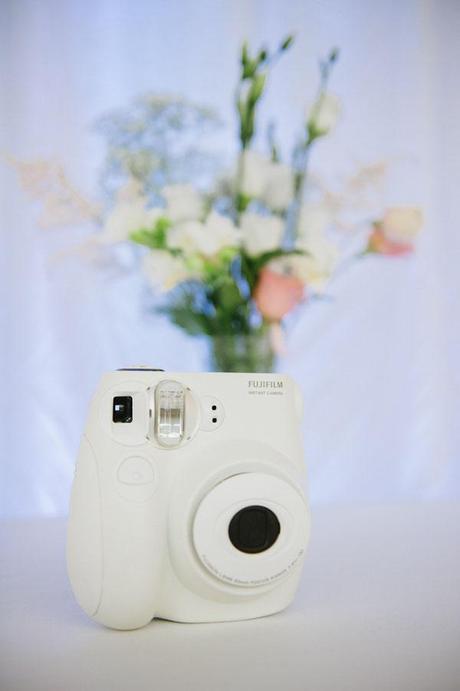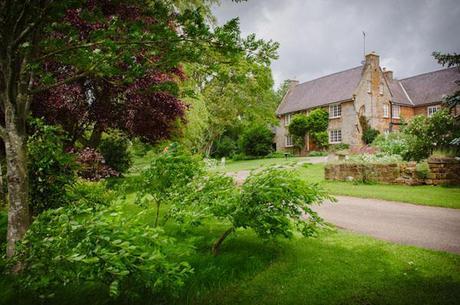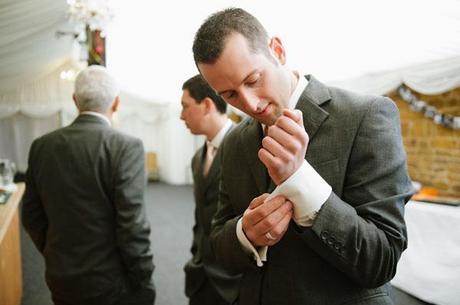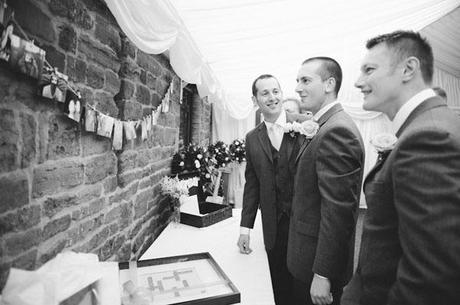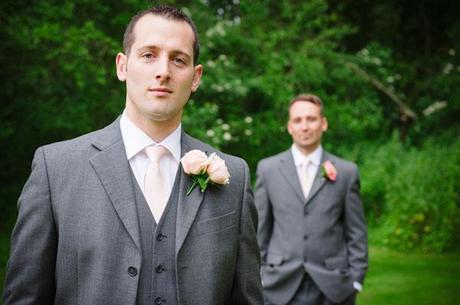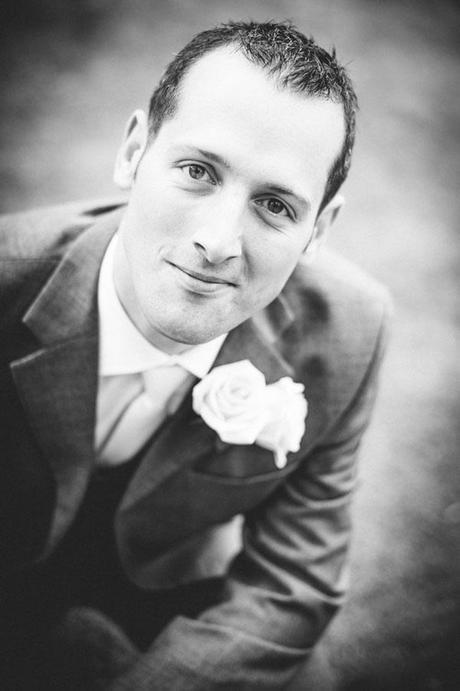 What did you wear?
With myself and Mark want­ing a more laid back approach to the suits, we decided not to go for tops and tails. We went with a gray 3 piece suit hired from Moss Bros, with Mark wear­ing a suit to work every day we wanted to make sure he looked dif­fer­ent to 'work Mark', hence why we chose the waistcoats.
The wed­ding dress: Pronovias
My dress was a stun­ning Pronovias dress, and a com­plete bar­gain at that! I'd heard of a place in Leices­ter from a friend and on a whim one Sat­ur­day morn­ing, my mom and I headed over there. I was not expect­ing to come home with 'the' dress, espe­cially not at a frac­tion of the price.
The 'Wed­ding Dress Fac­tory Out­let' is def­i­nitely worth a look for any local brides to be, the rea­son my dress was so heav­ily dis­counted was because it had been worn in a photo shoot. It still had all the tags and spare beads with it, so really no dif­fer­ent to buy­ing it from any other bridal boutique.
The sav­ings I made on my dress also meant that I was able to splurge on my beau­ti­ful shoes… Jimmy Choos of course!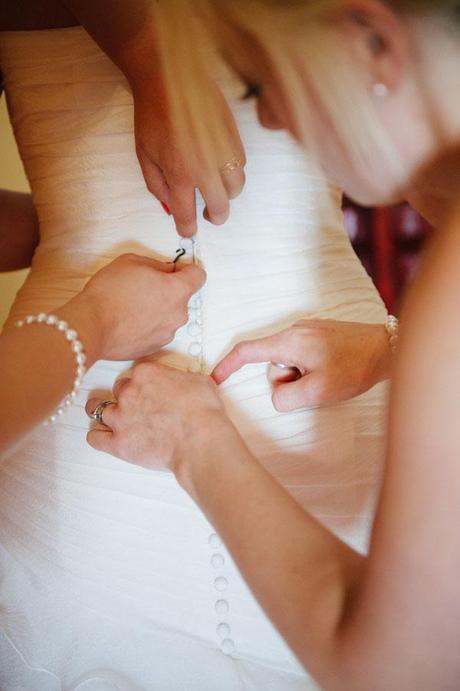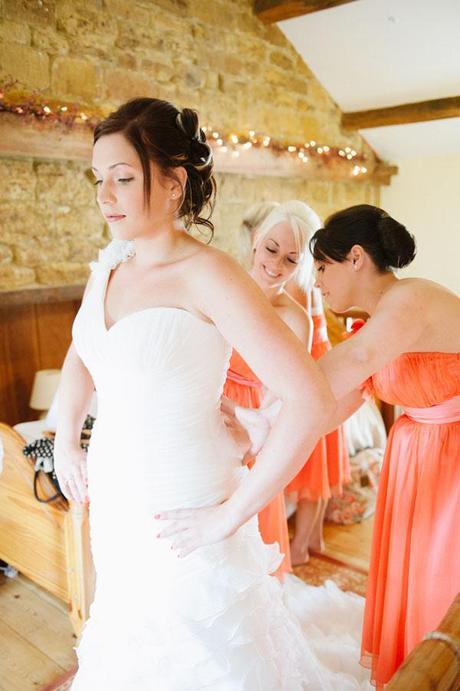 Your names : Mark Week­ley and Danielle Grinstead
Who pro­posed, and how?
Mark pro­posed on a trip to Liv­er­pool, in Jan­u­ary 2011. Being a foot­ball match vir­gin, Mark decided it would be a great oppor­tu­nity to have a lit­tle week­end away, by tak­ing me to my first foot­ball game to watch his beloved Ever­ton. After a pretty freez­ing cold, and non event­ful, 90 min­utes he took me back to what he described as a 'last minute bed & break­fast' he had arranged.
This B&B turned out to be a bou­tique hotel with our room being the pent­house suite! I was still none the wiser to his plans as we tend to joke that Mark can be slightly, shall we say, fru­gal with money, so I just thought he decided to treat me for a change!
It wasn't until he called me out to the huge bal­cony that over looked pretty much the whole of Liv­er­pool, (after three attempts of call­ing me out­side — I was on the phone check­ing on our two year old!) down on one knee, that I realised what his inten­tions were all along.
A stun­ning Northamp­ton­shire Wed­ding Venue:
We chose Crock­well Farm in Dav­en­try, Northamp­ton­shire. It is still a work­ing fam­ily farm and is absolutely stun­ning! We fell in love on our first visit and knew we had to have it! Not only is the venue stun­ning but the staff are amaz­ing, they hon­estly did every­thing pos­si­ble to make our day per­fect and to make sure it all ran smoothly. I can not rec­om­mend this venue enough!
Our fab­u­lous Northamp­ton­shire wed­ding pho­tog­ra­pher :
The fab­u­lous Aaron Col­lett from Aaron Col­lett pho­tog­ra­phy. We knew he was 'the one' when we sat down and first looked through his port­fo­lio, there was not one sin­gle photo that wasn't beau­ti­ful. We quickly snapped him up and booked him for our date.
He was such a star on the day; they say that a good wed­ding pho­tog­ra­pher should kind of blend in to the back­ground with nobody real­is­ing they are being snapped! I have to say, I was amazed when I received a per­fect, spec­tac­u­lar, set of pho­tos. I did not recall see­ing him hardly at all, all day!
From the pre-wedding photo shoots to the day itself, and every­thing that comes after­wards, Aaron is friendly and makes you feel so relaxed, in fact in my opin­ion, the per­fect photographer.
How would you describe your wed­ding style?
After trawl­ing through copi­ous amounts of wed­ding mag­a­zines (saved for me by my maid of hon­our), I was strug­gling to decide what style and colour­ing to go for. I loved lit­tle bits from all dif­fer­ent styles, so in the end we decided to mix it up a bit. How­ever, after still being unable to decide what color to go for, I decided to let the brides­maid dresses choose it for us! I fig­ured that see­ing as I had five brides­maids to please, that find­ing the right dress shape that would suit them all was more impor­tant to me than the color.
It just so hap­pened that the dresses we found (from feverdesigns.co.uk) came in the most per­fect color and one that I hadn't even pre­vi­ously con­sid­ered. The def­i­n­i­tion of style I would go for would prob­a­bly be, vintage-country cot­tage with a splash of bright color.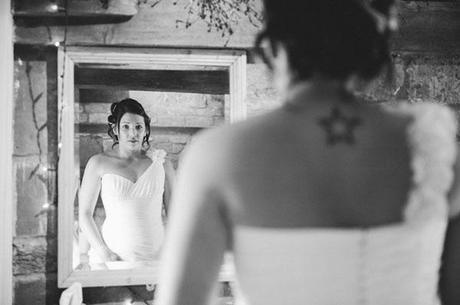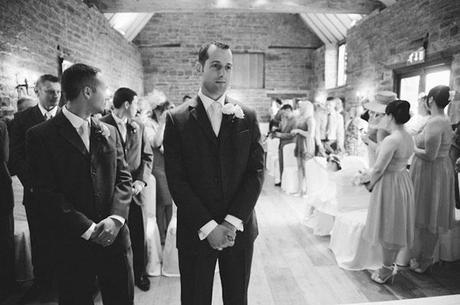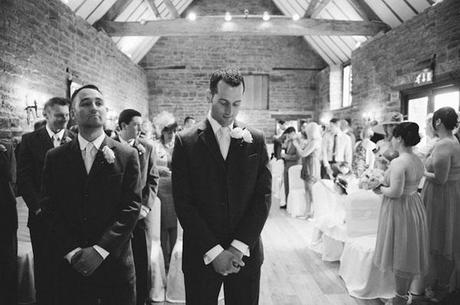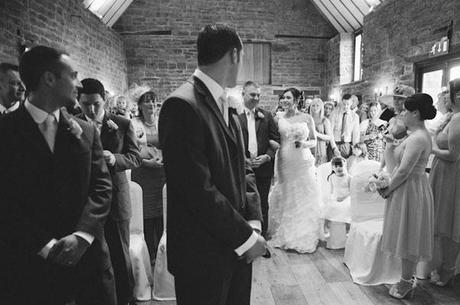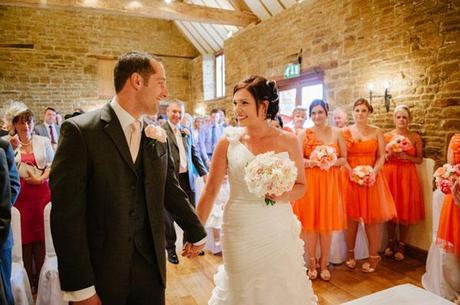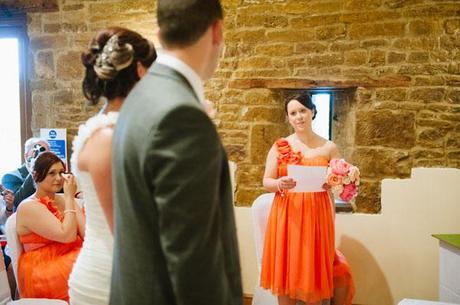 The Wed­ding Ceremony
We decided to go for a civil cer­e­mony after quite a lot of delib­er­a­tion. With Mark being a Chris­t­ian and myself really not, we went for a civil to be fol­lowed with a bless­ing at Marks fam­ily church.
With Crock­well being slightly in the mid­dle of nowhere, we decided it would be a lot eas­ier for every­one (and slightly kinder on our purse strings) to have the whole day at the same place. Per­son­ally, I think this was a great deci­sion for us. It meant that no time was spent to-ing and fro-ing betweeen church and venue, and meant we had more time to spend with our guests, which was impor­tant to us. One thing that will always stick with us is that our reg­is­trar was called Mrs Jinx!!
Which wed­ding read­ings did you choose?
With it being a civil cer­e­mony we obvi­ously couldn't have any reli­gious read­ings, which Mark was dis­ap­pointed by.
We man­aged to rec­tify this by hav­ing Mark's Dad say grace for us before we sat down for our meal. I think this was a really nice way to bring the reli­gious side to our wed­ding and I know it meant a lot to Mark and his family.
The read­ings we chose within the ser­vice were 'On your Wed­ding Day', Author Unknown and 'The Art of Mar­riage' by Wil­ferd A. Peter­son. We asked Mark's sis­ter and one of Mark's broth­ers to read them for us (emo­tion did get the bet­ter of Mark's sis­ter and she was swiftly helped out by my maid of hon­our)!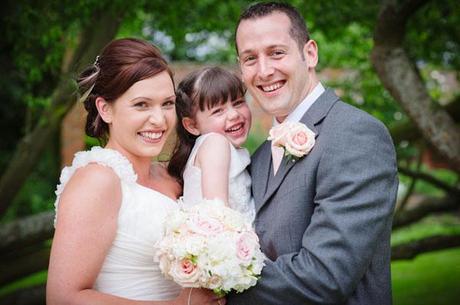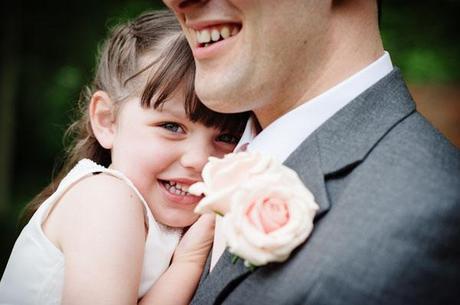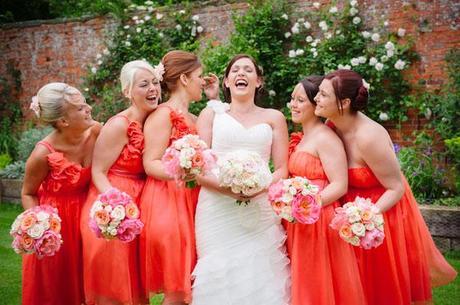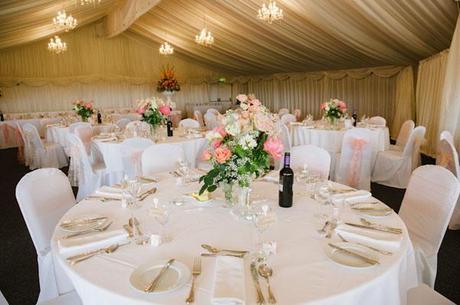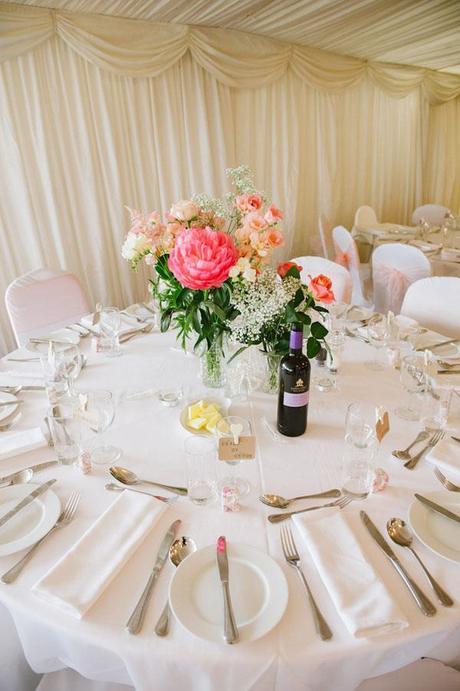 What were your wed­ding day highlights?
Of course my first and biggest high­light was walk­ing down the aisle and actu­ally becom­ing Mrs Week­ley. How­ever, the night before the wed­ding and danc­ing at the evening recep­tion were def­i­nitely a close sec­ond and third. Myself, our daugh­ter, my mom and 4 of my brides­maids all slept over at the venue the night before. The only way I can describe it was like being 14 again and being on a school trip, we had so much fun.
They had even put together a book for me with mes­sages and pho­tos from many of my friends and both mine and Mark's fam­ily. It was just what I needed after months of plan­ning and organ­is­ing, and then an after­noon of dress­ing the venue and prep­ping for the next day.
The danc­ing was such a high­light for me as it's what we all do best! The atmos­phere was just so relaxed, every­body had (lit­er­ally) kicked off their shoes, had a few glasses of bub­bly and were throw­ing shapes to our awe­some band! It was just so good to watch every­one hav­ing a good time, and even bet­ter with it being all the peo­ple that you love and care about most.
Wed­ding venue styling and details:
As I said before we kind of went for a vintage-country cot­tage type of style. The styling and the details were where I really came into my ele­ment, from col­lect­ing all of the crys­tal vases for the table flower arrange­ments from car boot sales and char­ity shops, to hand mak­ing all of the wed­ding favours, table plans and place names.
Albeit slightly tedious at times (mak­ing 128 wed­ding favours took A LONG time), see­ing the venue all set up and ready really was just the best feel­ing. It looked even bet­ter in real life than it did in my head. Def­i­nitely worth all the late nights, drag­ging my mom and daugh­ter through char­ity shop after char­ity shop, and favour-calling in I had to do at times (what I liked to call 'brides­maid duties')!
Mark's very tal­ented Mum made our beau­ti­ful cake for us, in fact the night before the wed­ding was the first time I had seen it. It was so per­fect and she did such an amaz­ing job see­ing as all I had done was given her a few cut outs from magazines.
We decided to use chair cov­ers and organza tiebacks for the chairs, just to give the over­all 'fin­ished' look. The com­pany that we used (Beau­ti­ful Bows) was bril­liant. Liz was great to bounce ideas off of and she sug­gested so many colours and com­bi­na­tions that I hadn't thought of.
I think the one thing that set off the venue the most were our flow­ers. We chose a lady called Anna at Julie-Anna Flow­ers and she was faultless.
I always strug­gled with the whole 'flower thing', not only did I not want to spend too much money on 'just flow­ers' but I also found it dif­fi­cult with not being able to actu­ally see what they would look like until the day of the wedding.
This is why I would always say that spend­ing that lit­tle bit more on flow­ers is some­thing to con­sider, they set off the venue beau­ti­fully and our bou­quets were sim­ply stun­ning. Anna lis­tened to what I wanted and man­aged to com­pletely match our color theme with only see­ing the brides­maids' dresses once. See­ing the flow­ers set out the night before the wed­ding lit­er­ally took my breath away and the bou­quets com­ple­mented the dresses beau­ti­fully.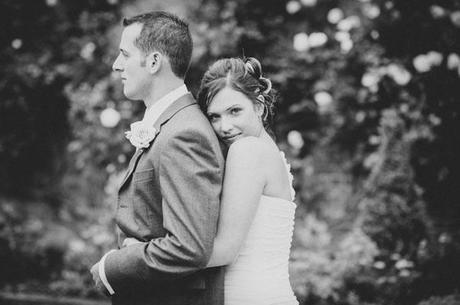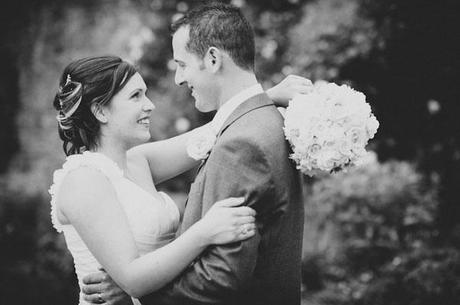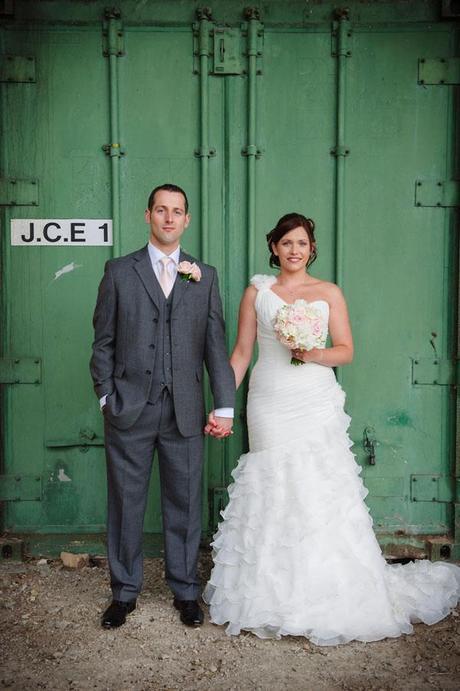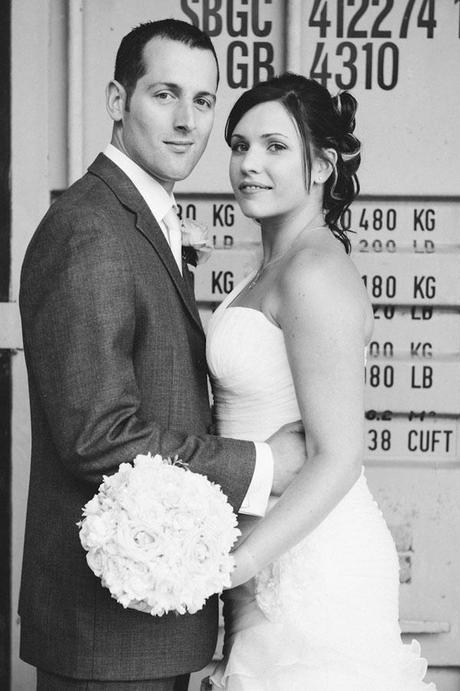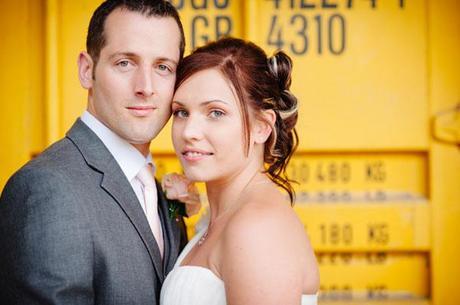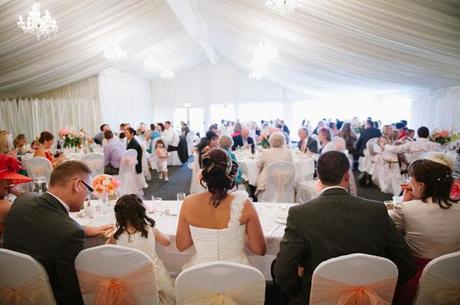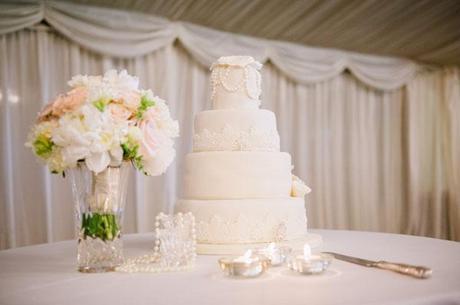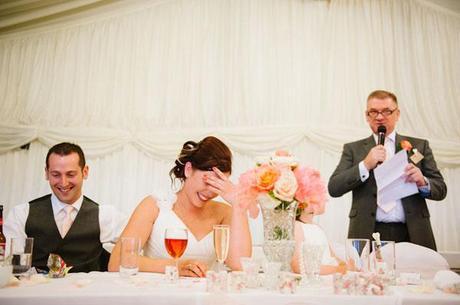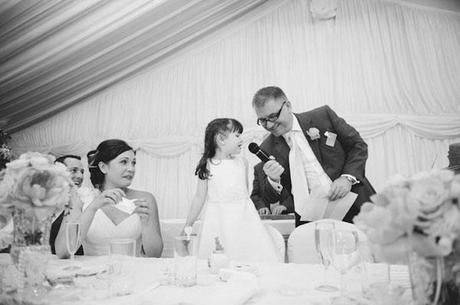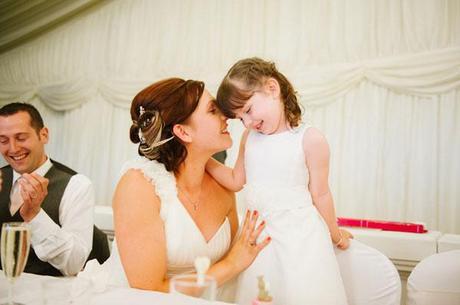 Of course the whole day will be embed­ded in my mem­ory for life, it really is the best day of your life (so far — as pointed out by my Dad in his speech). Talk­ing of speeches, these were def­i­nitely the most mem­o­rable moments for me.
I don't think there was a dry eye in the house when my Dad, Grandad and Ella (our 3 year old daugh­ter) per­formed a lit­tle song about me. It was the most amaz­ing and unex­pected moment of the wed­ding and it still fills me with emo­tion just think­ing about it. Mark and our best man's speeches were laugh out loud funny, they really did all do me proud.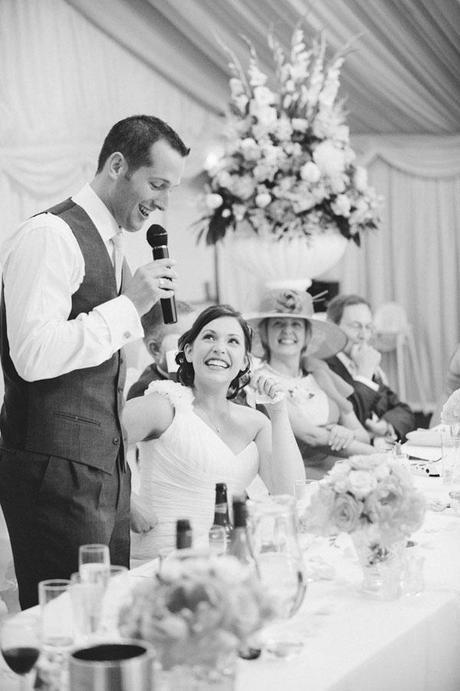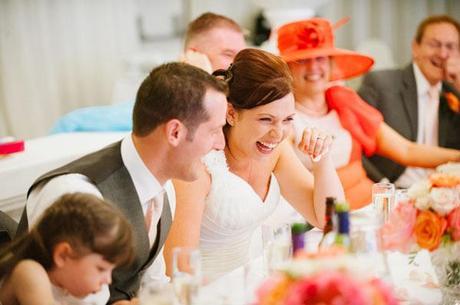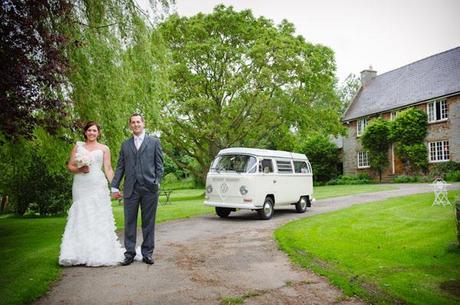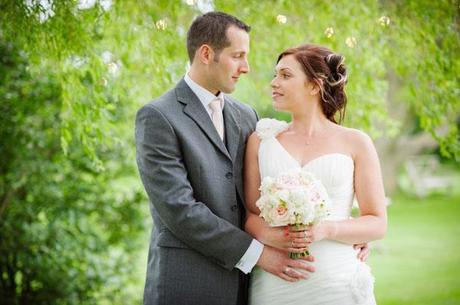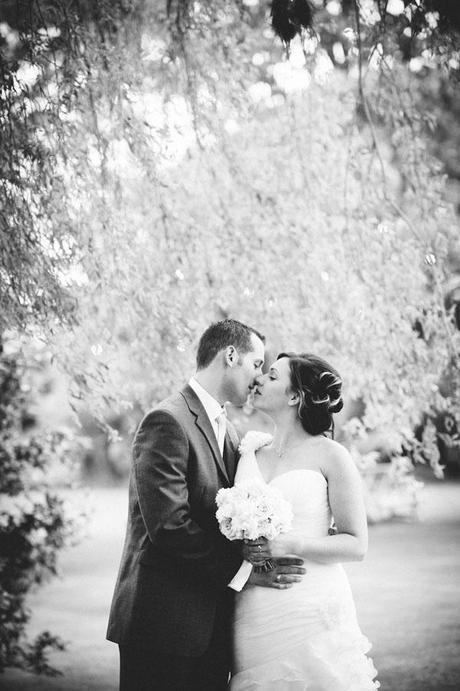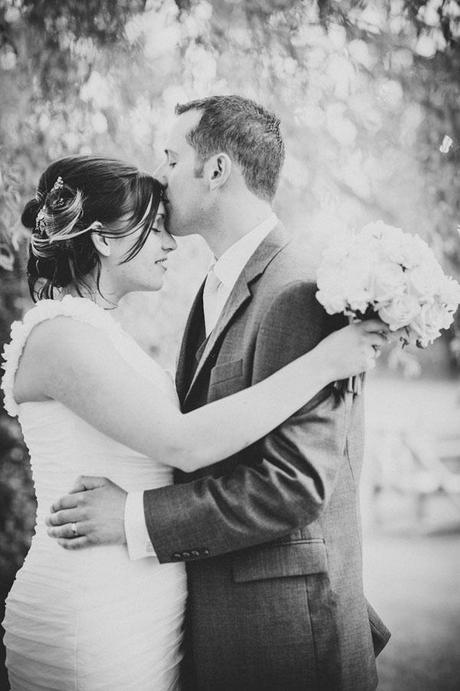 Wed­ding day advice :
Two pieces of advice I would give — the first one, and main one is to relax! Take a step back and take it all in as much as you can. Peo­ple always said to me that it was going to fly by but I think by tak­ing that step back I man­aged to enjoy every moment.
The sec­ond one is kind of a regret of mine. We decided that we didn't need a video­g­ra­pher, as the venue recorded the cer­e­mony for us. How­ever thank­ful I am that we have this, I am gut­ted that we don't have all the speeches for us to watch back.
A friend of ours recorded my Dad's speech, and it wasn't until I watched it back that I realised how much I didn't actu­ally take in on the day. It makes me think about how much I missed, in Mark's and the best man's speech. If some­one had given me this advice before our wed­ding I would have def­i­nitely invested in a video­g­ra­pher.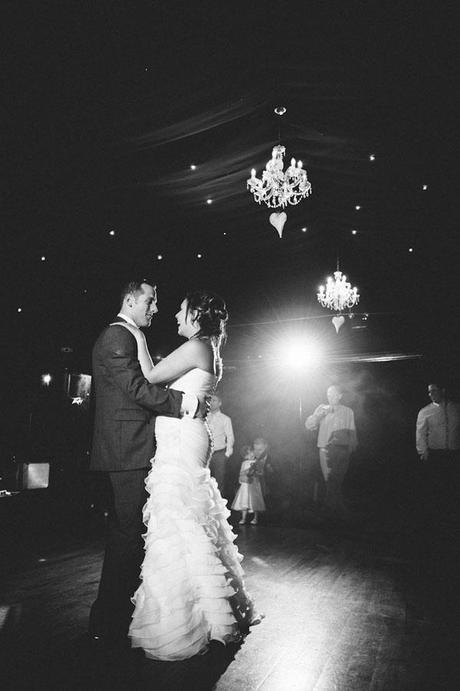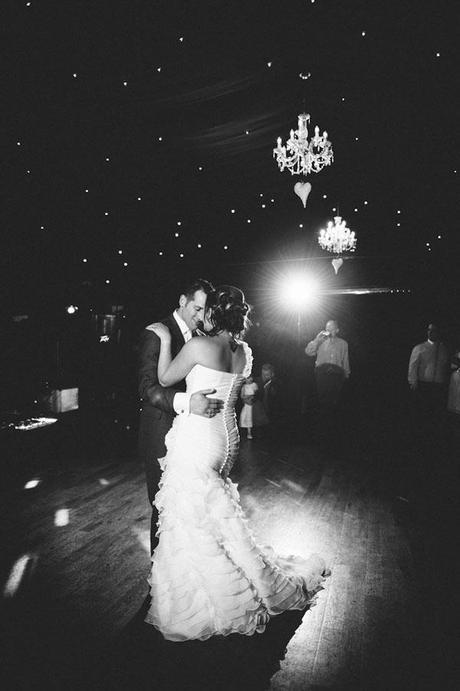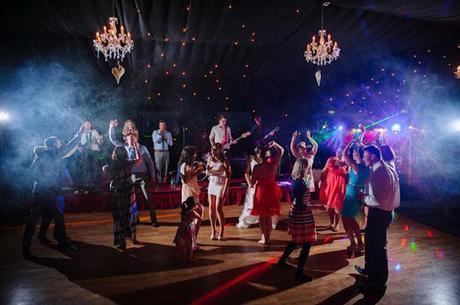 Music and Entertainment:
For the main cer­e­mony and the meal we chose our own songs, we decided to go for more upbeat pop type songs rather than the tra­di­tional wed­ding music. For exam­ple we walked back down the aisle to Queen, You're my Best Friend.
For the evening recep­tion we went for a local band, Thems The Brakes. They were so awe­some and com­pletely lived up to my expec­ta­tions. Mark decided to take con­trol of the first dance as a sur­prise for me, he'd actu­ally asked the band to learn Al Green, Let's Stay Together, and they per­formed it for us. I would def­i­nitely rec­om­mend a live band, even bet­ter if you can find one that suits your own music taste.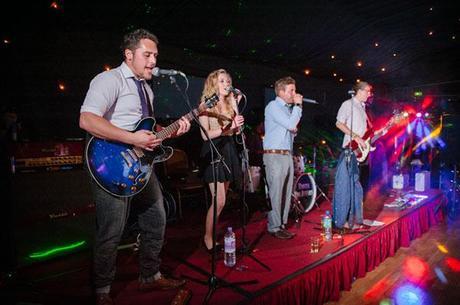 Rec­om­mended wed­ding suppliers :