Growing up, I was always captivated by the grandiose productions of the Olympics, the Three Tenors specials on PBS, and even the high school marching band.  In these I dreamt dreams and felt feeling that led me to forget the world and live within an imagined box of extremes.  I shot the game winning basketball shot in the NCAA finals, I sank an eagle putt to win the US Open, and I had an awesome police car and chased down bank robbers.
But as I got older, the realization never really came, that my impossible dreams were just of my mind and couldn't actually happen.  Of course I knew failure very well.  Even though I wasn't the best basketball player didn't mean that I couldn't live the excitement of sinking the game-winning shot in my head.  The dream that I could be like Pavarotti or be like Tiger Woods always was possible to me.  And in a way, when I would get great opportunities later in life, my reaction to them was always more muted than what I imagined as a kid.  So I stuck to my imagination - it was much more exciting than the glories of the real world.
I had a childhood infatuation with marching bands - the power, the militaristic uniformity, the emotion from the music.  In high school, I auditioned to be the drum major (I didn't get it).  But, as a small kid, if given that opportunity, I would have made that as important as life itself.  As a child, if I had known that I could be the high school drum major, I would be proud and nervous and excited that I had a future capable of something so great.  I tend to forget the simple enthusiasm.  I forget that I have had many accomplishments and projects that I should give the full joy of my youth - even to the things as simple as auditioning for the high school band drum major.
Recently, a small bit of news, an opportunity, arose that caused a flood of these childhood emotions of pride, nervousness, excitement.  I don't believe I ever said "yes" but instead I said that I was "horribly excited" for the opportunity.  Of course I meant "yes", but it never came out that way.
Here in Kansas City, one of the most expensive performing art centers (about half a billion dollars) and one of the most architecturally complex structures in the entire world will open in September, with the Kauffman Center for the Performing Arts.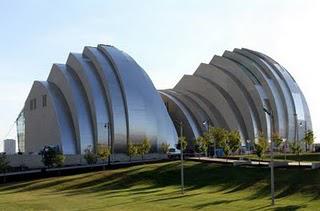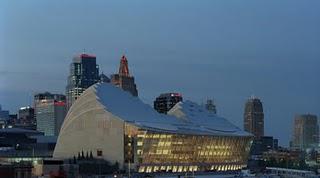 I have been trying my hardest to find a performance opportunity there, in their inaugural season.  Performing there is not the only part that I was wanting to do.  I knew for about a year - with the rumblings and rumors around the arts circles in KC - that Placido Domingo (and for those under rocks - he was one of the Three Tenors) would be singing at the Grand Opening event.  It was then announced early this year that there would be two Grand Openings, the first for the opera house and the second for the symphony hall and would feature Placido Domingo, Itzhak Perlman, Diana Krall, and others.  It would certainly be one the most important music events in the nation this year, but I can not afford a ticket.
(I guarantee you'll know the end of this, even if you've never gone to an opera)
The offer that was presented to me in the phone call - seemingly out of the blue - was to sing the role of Tony in a scene from West Side Story as part of the Grand Opening of the opera house at the Kauffman Center.  (West Side Story is a musical, but it is traditionally performed with operatic singers.) My mind exploded!  I immediately knew the importance of the event and who all would be singing with me.  The scene that they selected to be performed is "Tonight" and it would be performed with the Kansas City Symphony under the baton of Michael Stern along with a large company (about 50) of singers and dancers.  More information flooded through the phone conversation, including that it is being produced by a Hollywood production company - presumably filmed, recorded, lights, etc.  The performance will take place on September 16, with rehearsals beginning on September 11.
Beyond the shock of the news, it took a long time for me to realize that I would be on the same concert as Placido Domingo along with other great artists.  The tickets alone, which range from $1,000 to $70,000, are enough to pressure any performer to taking a quick shot of tequila, trying to forget that people actually will pay that much to hear you sing.  And, shortly into the scene, Tony begins his solo with the "tonight" theme. The thought of it is still so exciting - I would be singing a solo at the grand opening of the opera house at the Kauffman Center, with the KC Symphony, a full house that has paid out the wazoo to be there, 50 singers and dancers, a Hollywood production company, and with my name on the same program as Placido Domingo - the most famous living opera singer, and one of the greatest tenors in history.
This is an amazing opportunity, that I will not waste, and I will live it with the passion of my childhood.  Who knows what the future holds, but as for right now, I am so excited to live in the moment - just like a kid.
So, now that the world knows, I will be posting press releases (so far they haven't been updated since earlier this year) about the other performers and all the events involved with the opening of the Kauffman Center.  I hope this will make Kansas City a great destination and capital for music.  I am so honored and excited to be a part of it.
CHECK OUT THE LINKS AND PHOTOS BELOW:
http://www.kauffmancenter.org/events-tickets/grandopening/
http://en.wikipedia.org/wiki/Kauffman_Center_for_the_Performing_Arts
http://web.me.com/rein4kc/Site/Kansas_City/Pages/kauffman_pre-open_tour.html
http://www.kauffmancenter.org/
http://soundandglass.org/