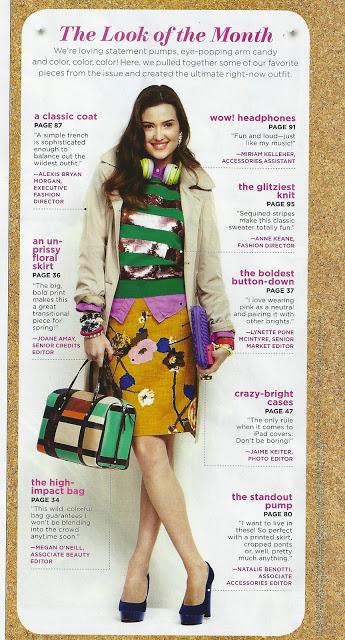 Scanned from Lucky Magazine
Every now and then I enjoy flipping through a copy of Lucky Magazine. I appreciate that it doesn't pretend to be anything other than a print version of an infomercial featuring multiple advertisers. The editorial philosophy seems to be nothing more than, "hey, here's some stuff you can buy." So just for grins, yesterday I grabbed an issue to peruse while I ate lunch.
I've warmed up to the concept of pattern mixing (in small doses), but the wackadoodle ensemble above featured in the January issue absolutely jumps the shark. If I didn't know better, I'd think this was a parody.
In fact the entire issue really brings the crazy...neon colors, layered looks reminiscent of some homeless people I've seen recently. You should see the getups they're promoting as office wear....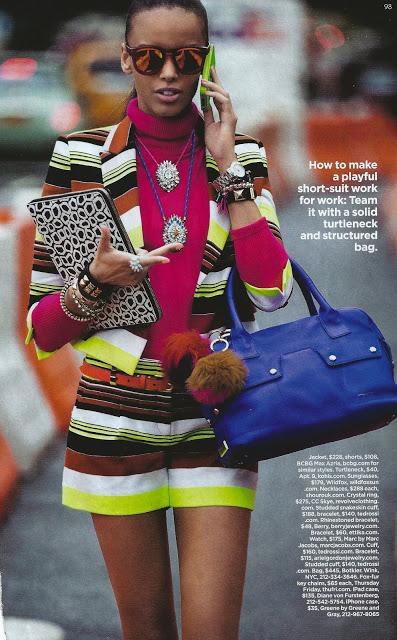 SRSLY??
(Also scanned from Lucky Magazine January issue.)
I don't care how young or thin you are, this is
not
how to dress if you want to be taken seriously at work. Unless you work at Lucky, maybe?
Do any of the fashion glossies still speak to you?  Or have they all bungee jumped off the cliff into the chasm of irrelevance?
~ All original content property of http://www.unefemme.net This work is licensed under a Creative Commons Attribution-NonCommercial 3.0 United States License.