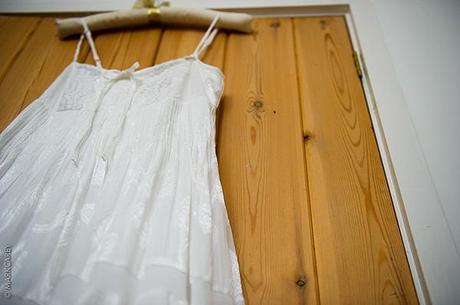 I instantly loved the few images he shared with me. I knew I had to email Tanya right away and she was kind enough to share her amazing wedding story for the blog. It's a wonderful tale – here is a bride with imagination and a wonderful confidence to create a really personal wedding day.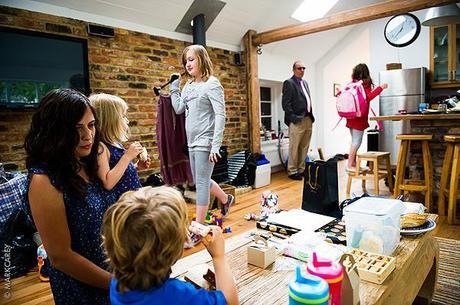 I could write for hours – but Tanya's words are compelling so I will leave the story of this wedding to the bride herself. Suffice it for me to say she is a very beautiful bride: with her very own style, looking striking and fabulous in a wedding dress I LOVE – and enjoying every second.
Andy and Tanya's relaxed wedding from Brick House Farm – part 1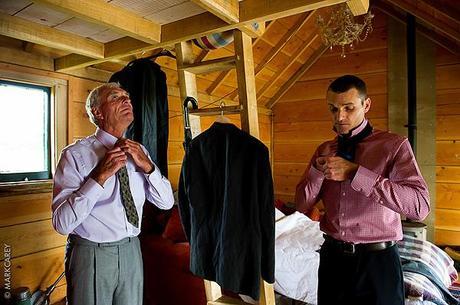 "From the first time we saw Mark Carey's photographs of a wedding at Brick House Farm, we fell in love with both Brick House Farm and Mark Carey's photography.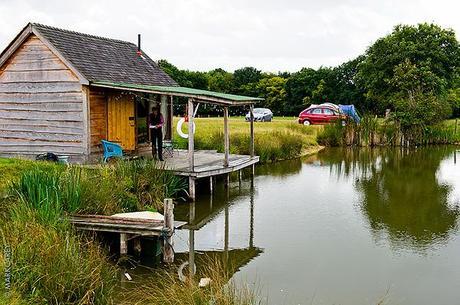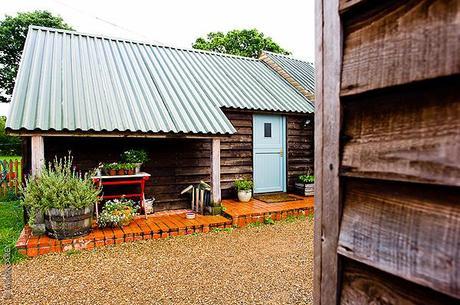 My wedding dress is from Monsoon's Originals Collection – an English Sunrise Maxi Dress. I knew I didn't want to get married in a traditional style wedding dress… so I never even set foot in a wedding dress shop! I also couldn't justify in my head spending alot of money on a dress.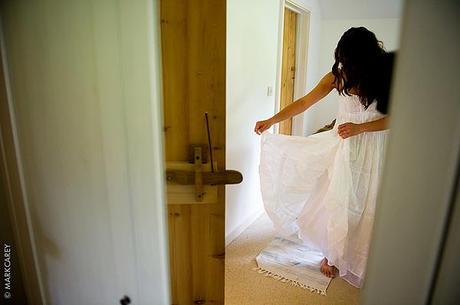 What I imagined myself wearing was something that had a bohemian feel, something that I felt 'me' in. So I decided to see what Monsoon had to offer. After trying on a few of their wedding dresses I decided even these wedding dresses, beautiful as they were, just weren't for me either.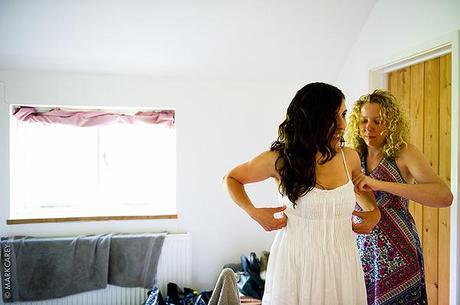 After a slight panic of 'what am I going to wear!' and 'where am I going to find it' on the realisation that wedding dresses weren't for me! I decided to try on a white Maxi dress that I'd seen whilst in Monsoon. And I'm so glad I did try it, as it felt so right for me, and the informal wedding we wanted. I had so many people say when they saw it 'that is so you!' I am so glad I stayed true to myself!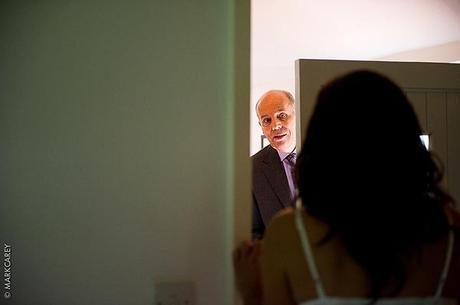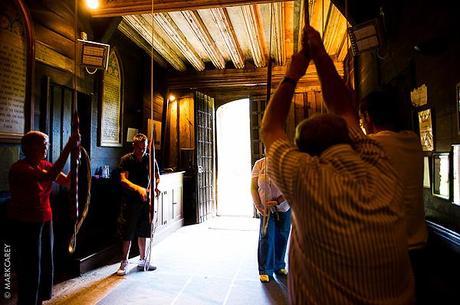 We had our ceremony at the beautiful village church, just down the road from the farm.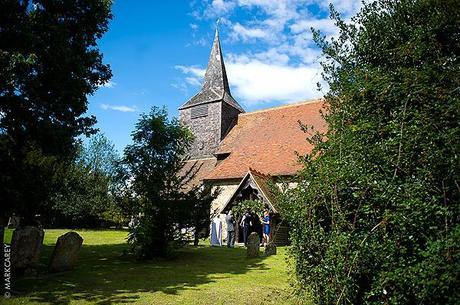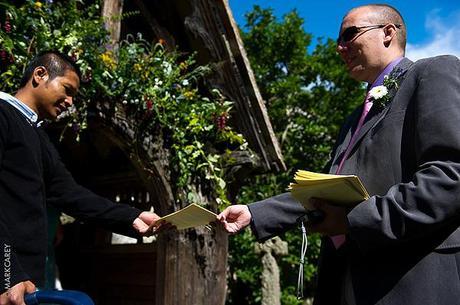 My Dad drove my Bridesmaids and myself to the church in Florence the campervan (we'd hired her to use as our wedding car and to use for our honeymoon after the wedding!) it was such a fun way to get to the church.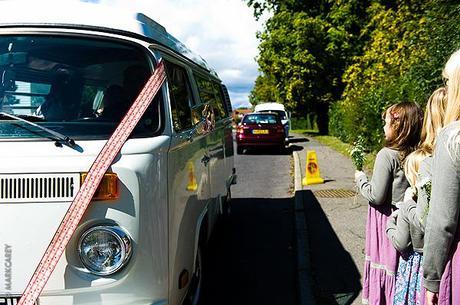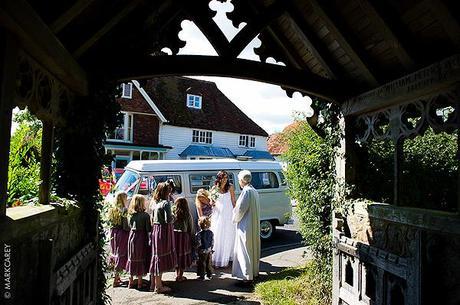 The ceremony was everything and more than we could have wished for – so intimate and personal. We had the most wonderful vicar take our service, she even came up with the lovely idea of the children being given musical instruments during the hymns, the kids loved it and it sounded wonderful!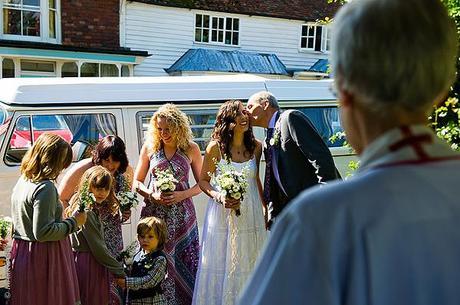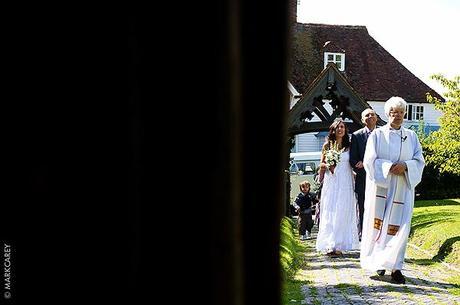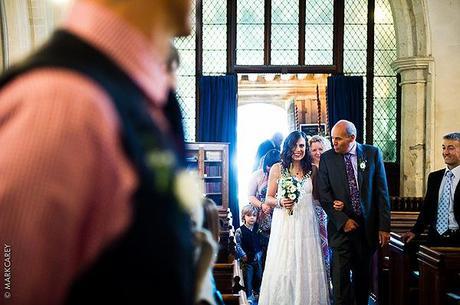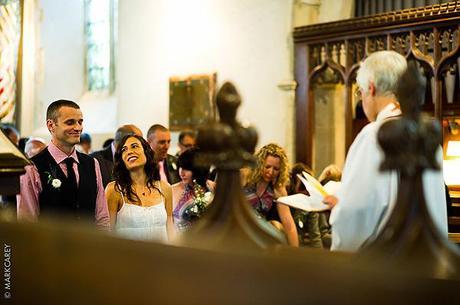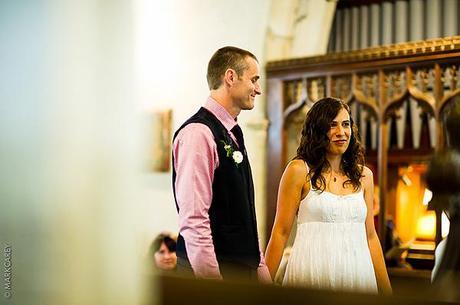 All our hairclips were custom made by the lovely Paula at Wychbury (a Folksy shop, I love, love, love Folksy, and all it's handmadeness!) Being an artist myself (well in my former life before having kids!) I loved having handmade touches at our wedding. It's a great place for brides to get something unique.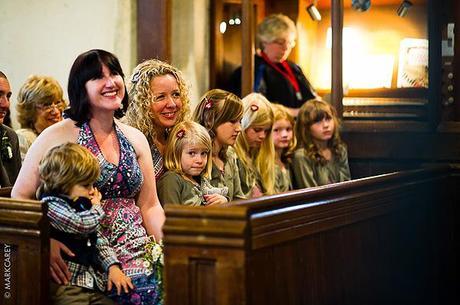 We wanted our children (who are 3 & 4) to really feel part of the wedding, so we used pictures they had drawn of us as illustrations on the front and back cover of the Order of Service. We also included them in the service when we exchanged rings.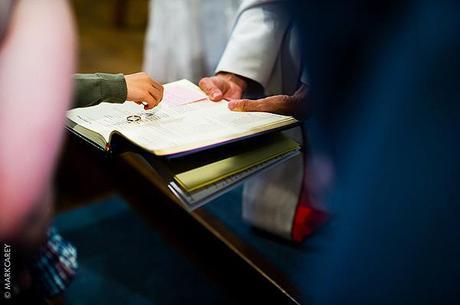 Our Best man handed our children our rings and they were so proud to place them on the vicar's book ready for us to exchange rings. They still talk about it as being their favorite part of the wedding.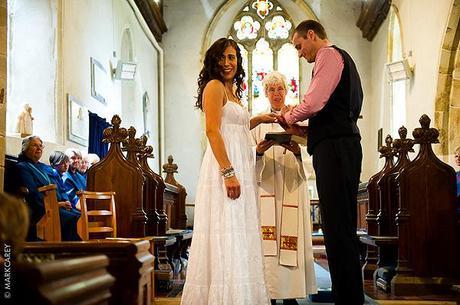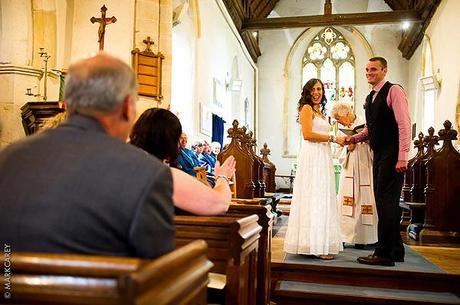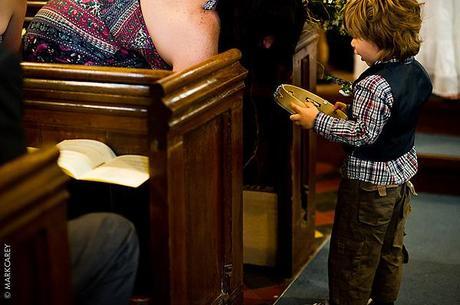 During the signing of the registers, (a potentially boring moment for a little person!) we gave all the children a windmill, (to clarify, the sort you hold and blow round not the windy miller sort!!) We tied a little label to it that said "for being so good! x" I felt it important to acknowledge that, (and they were all soo good!) they loved them, we even have a photo of us as we were leaving the church and my friends little boy is holding his up thanking me for it!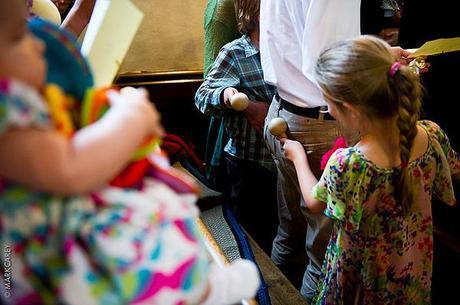 Kids at weddings seems to be a big thing for some people, but to me they made our wedding even more special, I think it's just foreseeing moments when they might get bored or fidgety! and I loved making them feel important during the day.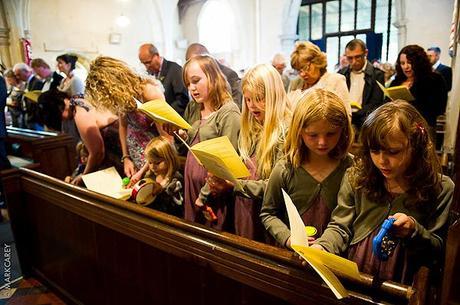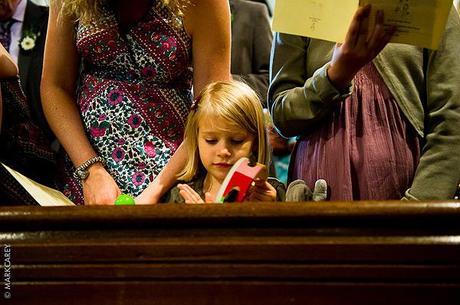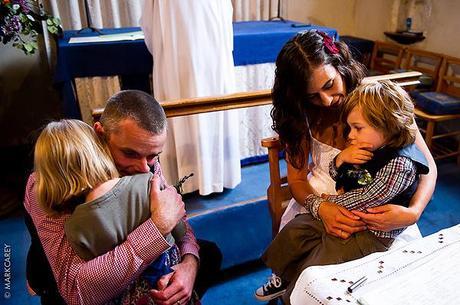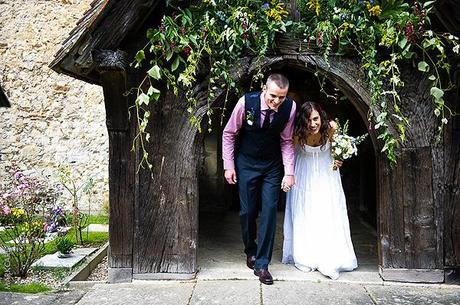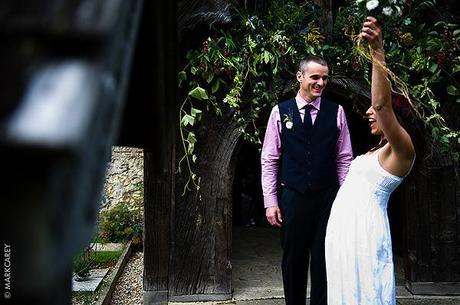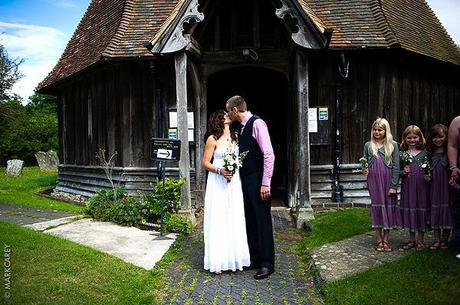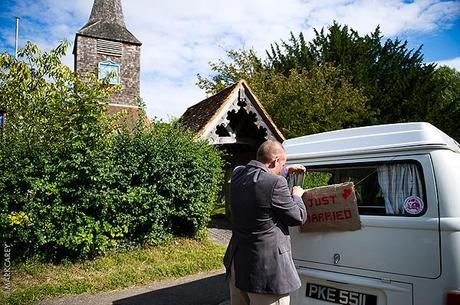 Andy drove us back to the farm in 'Florence' which again was such a fun thing to do, we are so glad we decided to drive ourselves back and have that moment on our own. It felt so special driving off with our 'just married' sign on the back that a friend had handmade for us.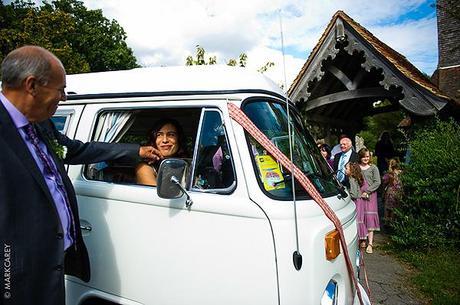 Tanya's story continues in the morning… with fantastic wedding ideas for a relaxed, family focused, entertaining reception! Tanya and Andy's wedding cake is so perfect for them, I love it! A definite highlight. Plus I'll show you their puppet place settings, DIY photo booth and guest book, campfire and the wedding band who helped rock the night away…
With thanks, for now, and congratulations to Tanya and Andy, and thanks to reportage wedding photographer Mark Carey. More in the morning!
Claire xx