Hello Ladies,

I hope you are having a nice weekend!!

I got this plate on Thursday and couldn't wait to try it.

I love music. It is my only other passion besides my nails that I love to do.

If my stomach isn't trembling than my music isn't loud enough.LOL.

I am a dancing fool at clubs when I go out. I haven't had the chance to go

out since Aug 2009 if you can believe that!!

My hubby isn't much for bars so we don't go out much at all.

I loved how this mani turned out!! I have seen a few similar and I

have loved the look of it but I didn't really have an image similar.

I am sure you probly think I should have left well enough alone with

stamping the tips only but I can't seem to leave the bottom part

blank. I think it would have looked good either way so I

picked this for today. I hope you still like how it turned out though.

I used Essie Pink Parka, stamped with mixed Konad black and CC Where's the Soiree?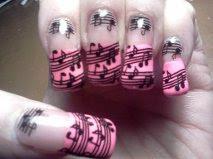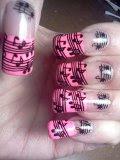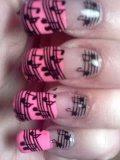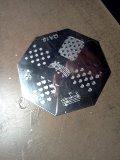 I hope to see you again!
Take Care!
Nicky