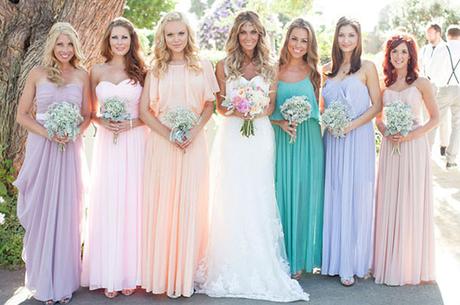 The tough choice of selecting the bridesmaid dresses lies with the bride along with choosing the dress she should wear on her wedding day. So how do we really pick these outfits that our close friends and family wear on our special day?
Here are some tips to help you select the perfect bridesmaid dresses:
1. Look at your own dress
Go with a dress that matches your own dress.
For example if you are wearing a traditional lace bridal dress then the bridesmaids should wear something classy and traditional as well.
The same way if you are wearing something different and retro looking and you have selected formal gowns for them, then it is definitely going to look odd.
Make sure that both the brides dress and the bridesmaid dresses match the theme and the overall wedding style.
2. Don't overdo it
Choose bridesmaids' dresses that are not too grand or not too simple. They should feel right.
Don't make them look similar to yours and confuse the guests about who the bride really is.
3. Be good
Just because you want yourself to be highlighted and look great, doesn't mean you make your bridesmaids look like shit.
You don't want to land up being the mean bride where the bridesmaids look hideous in their dresses and can't even wear them again.
4. Color
Think about the color of the bridesmaid's dresses.
Choose a color that will complement all skin tones.
Some colors just don't suit dusky complexioned people or maybe even red heads.
5. Size
Not all will fit into every single design.
If you have a few friends on the heavier side, then consider a style that will complement all the figure types.
Or you can even opt to have a mixture of two different styled bridesmaids' dresses.
6. Give them a say
You can be really nice and consider giving them a say in the dress they want styled.
For example you can select the color and the fabric, but allow them to decide on the style and pattern that flatters their body type.
7. Think on terms on reuse
Select dresses that your bridesmaids can reuse.
It doesn't seem fair to saddle them with dresses that they will hide at the back of their closets or dump in the attic.
8. Don't take them along, simply get their opinion
As the saying goes, 'too many cooks spoil the broth', if you have many bridesmaids then it best to take one or two along and just get the opinion of the rest through e-mail or any other form of communication.
Too many opinions in person at the shop will just make you go nuts.
9. Relax and don't stress
At the end of the day you will have a few complaints or grumbles.
Simply choose to ignore them and enjoy your big day.