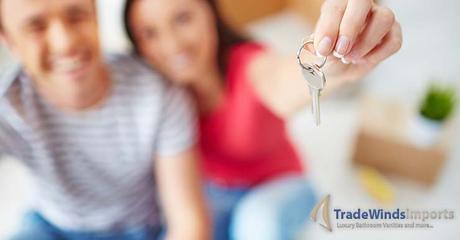 Are you looking for more space to store your toiletries? Well look no further. Here are 9 wonderful ideas to store more items in smaller spaces. All of these DIY ideas come from homeowners that conquered the same lack of space issues you may be experiencing right now. Although the room may be small, these storage ideas are big.
Key Takeaways:
9 Real Bathrooms That Expertly Tackle a Lack of Storage Ana & Patrick's bright and organic California casual apartment boasts a bright and airy bathroom that feels much bigger than it is. The couple has utilized vertical space with a narrow floor-to-ceiling ladder shelf in white, which provides optimal storage without overwhelming the space.
Gail & Chile's "dead grandmother" style teaches us that a good corner shelf should never be discounted. Glass containers display their contents and help contain (go figure) items without a proper home.
This clean vintage bathroom in Grainne & Ian's character-filled home in Edinburgh utilizes vertical space with a high shelf that spans the width of the bathroom. It's not a bad idea to reserve this shelf for your prettiest bottles and pieces, as they're displayed so prominently.
"Here are nine genius DIY bathrooms that prove no storage situation, or lack there of, can't be tackled."
http://www.apartmenttherapy.com/9-real-bathrooms-that-expertly-tackle-a-lack-of-storage-249157