So I have been baking too many cheesecakes.
No one complained, but I decided to give my oven a break and work the stove once in a while.
So, here i go, returning to my south east asian roots, with a steamed 9 layer cake.
Why 9 layers u ask?
Well, I am sure there must be some pretty interesting story behind it.
I tried googling, expecting to be mesmerized by some folk story explaining the layers of the cake. But nothing came up.
So i guess no one would get all tight up about the fact that my cake only had 8 layers.(OOps!).
After all, 8 is considered a lucky number amongst us, Chinese.
So here goes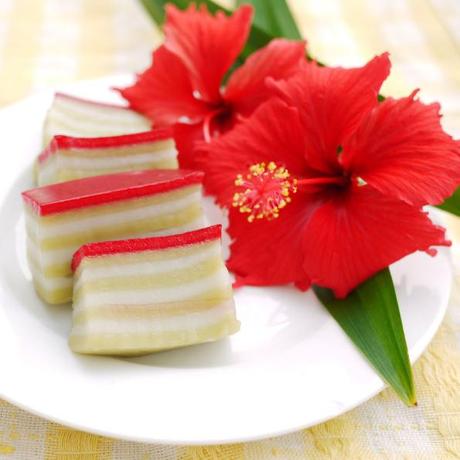 This cake is mildly sweet. It relies more on the richness of the coconut milk for taste. The texture of this cake is springy (think mochi). And like mochi, it is rather sticky too.
The texture of the cake makes it possible for us to peel it layer by layer before popping it into our mouths.
Which is what I used to do as a kid.
Or as an adult.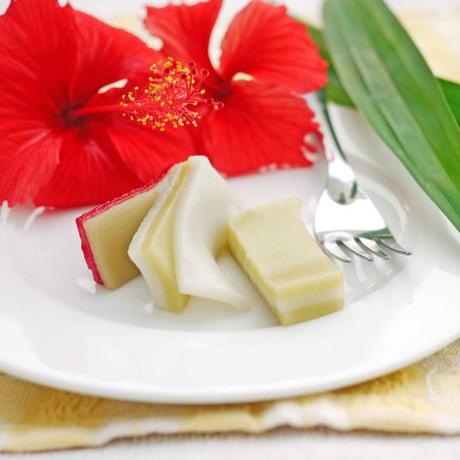 I've used daun suji for the green color batter of this cake. As for the red, i had to rely on red color food dye as i didnt believe beet juice would have given such a vibrant red.
9 Layer Cake
Adapted from Nasi Lemak Lover
400ml water
70g coarse sugar (I would increase this next time as i found the cake not sweet enough)
5 pandan leaves, knotted
400ml coconut milk ( squeezed from one shredded coconut)
180g rice flour
120g tapioca flour
Daun Suji water (achieved by pounding daun suji with water and then straining it)
Method
1. Simmer water with pandan leaves for about 5 minutes, add sugar. Stir in the coconut milk
2. Add in rice flour and tapioca flour, stir to mix well. Strain the batter.
3. Grease a 7″ steam pan with a little oil. Place the pan in a steamer and steam until hot.
4. Divide batter into 2 portions.
5. Add the daun suji water into one of the portions, leaving the other portion white.
6. Take 126 grams of the white batter, and add a few drops of red coloring
5. Pour 1st layer with green batter into steam pan, and steam for 5mins over medium heat.
6. Pour 2nd layer with white batter into steam pan, and steam for 5mins.
7. Repeat until all 7 layers set. End the layer with the red batter