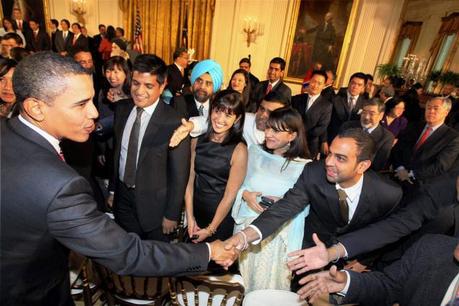 President Barack Obama, seen here on the occasion of 'Diwali' celebrations at the White House in 2009, garners the support of 85 percent of Indian-American voters. Photo: PTI.
A poll conducted by Lake Research Partners, a DC-based political consultancy firm, and APIAVote (Asian American Pacific Islander) shows that 85 percent of Indian-American voters would like President Barack Obama to serve a second term.
"President Obama was strongest among Indian-American voters, leading Mitt Romney by a margin of 76 to eight per cent in the poll, and weakest among Filipino Americans, where the vote was 57 per cent to 20 per cent. Among Chinese Americans, it was 68 per cent for Obama, eight per cent (8%) for Romney," APIAVote's Toby Chaudhuri commented.
An Indian-American candidate hoping to be elected to the House of Representatives said he was not surprised by the results. "Most Indian Americans would identify themselves as Democrats, though a few, who have made a lot of money, might become Republicans," he explained.
Furthermore, 66 percent of Indian Americans feel that Mr. Obama has done an excellent jobs. The Democrats were also seen as more competent on issues including health care, job creation, foreign policy, national security, taxes, as well as immigration.
This latest poll echoes the results of a February web-based survey organized by India in New England, an ethnic Indian-American publication, which found that 80 percent of those who took part in the online poll supported Mr. Obama.
Among the 85 percent who indicated that they viewed the president positively, 51 percent said they had a very favorable opinion of him. In contrast, only 34 percent of Asian Americans viewed Mr. Obama very favorably.
Those Indian Americans surveyed by Lake Research Partners also revealed that Republican frontrunner and former Massachusetts governor Mitt Romney was viewed rather negatively by this group of voters. Indeed, 56 percent of those surveyed had a negative opinion of the former governor. In contrast, only 44 percent of Asian Americans saw Mr. Romney in a unfavorable way.
The latest national Rasmussen Reports survey conducted between May 3 and May 5 shows that Mr. Romney is the favorite of 47 percent of those questioned, while Mr. Obama garners 46-percent support.