Disclaimer: Living the Dream uses demographic data, email opt-ins, display advertising, and affiliate links to operate this site. Please review our Terms and Conditions for more information and our Privacy Policy.
When we were living in southwest Ohio, the concept of a craft brewery was almost foreign to us.
Much like many cities around the country, the craft beer boom was a recent development only within the last decade or so. As far as Cincinnati breweries are concerned, this is no different.
As we are frequent visitors to the region to see family and friends, we have decided to make it our mission to hit up all of the best breweries in Cincinnati. Every time we visit we plan on adding more to this guide, and we won't stop until we've hit them all!
So, if you are looking for a great spot to grab a pint of beer, the following are for you.

Rhinegeist Brewery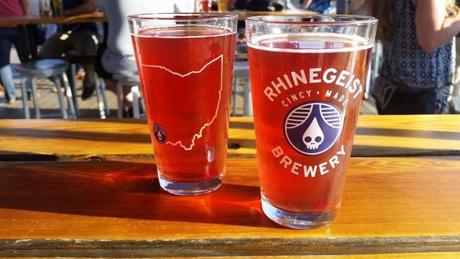 Out of all of the breweries in Cincinnati, none are as well known as Rhinegeist. This brewery had a monumental rise since brewing their first batch of beer in 2013 and occupies a 100+ year old former bottling plant in the Over-the-Rhine neighborhood.
Rhinegeist only has a few beers that are available year round with several more available in seasonal or limited distribution, so it is hard to say what is available at any given time. But no matter what you get, Rhinegeist offers a clean flavor and an impressive ambiance that is hard to beat- just be sure to go to the 21+ rooftop bar on a nice evening for a great view in addition to your beer and finish it all off with a pour of their rose bubbles!
Rhinegeist is located at 1910 Elm Street.
Fibonacci Brewing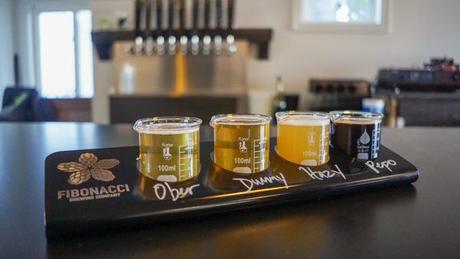 Fibonacci is a nano brewery in Mount Healthy that is more or less the exact opposite of Rhinegeist in almost everything except quality of beers. This one-room brewery produces an array of beer styles ranging from IPAs to Belgian Tripels. But despite being a smaller scale brewery they are also no strangers to experimentation and are known to have pumpkin / yam beer, fruited beers, and spiced beers on tap as well (sadly we missed these).
And while we thought this one would have been sick of the Fibonacci jokes, our bartender still laughed when we ordered one beer, one beer, two beers, three beers.
Fibonacci is located at 1445 Compton Road.
Urban Artifact
Urban Artifact is one of the more interesting breweries in Cincinnati. It is found in an old church, it has a large performing space for live music, and they are expressly focused on all things sour beer.
The beers here range from your conventional flavored gose (tart cherry and key lime were divine) as well as dry hopped sours, and some unusual experimental creations that are almost too hard to define (The Tumi was on during our visit- featuring yellow mombin fruit and tasting like a creamy mango).
Suffice it to say that if you aren't a sour fan this brewery may not be for you. But if you are interested or are big fans of the style like us, this one is a must visit.
Urban Artifact is located at 1660 Blue Rock Street.
Taft's Brewing Company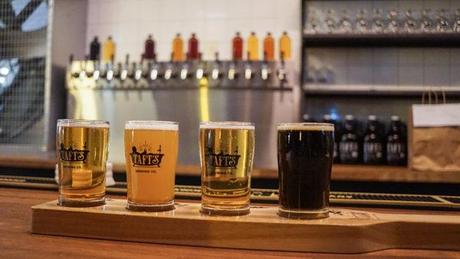 Taft's Brewing Company is named after Cincinnati native and 27th President of the United States (as well as Chief Justice of the Supreme Court), William Howard Taft.
This brewery goes all in on the Taft references beyond the name, including a logo that features Taft in a bathtub with a beer tap on it (a throwback to the rumor that Taft once got stuck in the tub), coasters featuring Taft's face, and more.
The brewery features a number of different beers ranging from Taft's Pils (a German Pilsner), Gavel Banger (an American IPA), to Auld Girthy (a Scottish Ale), Nellie's Key Lime Caribbean Ale (a fruited pale wheat ale), and even Yuzu Wanna IPA? (a fruited IPA). Throw in a rather robust food menu at each of their locations and this brewery is a spot that should have something for everyone!
Taft's Brewing Company has two locations- the ale house at 1429 Race Street and the brewporium at 4831 Spring Grove Avenue.
MadTree Brewing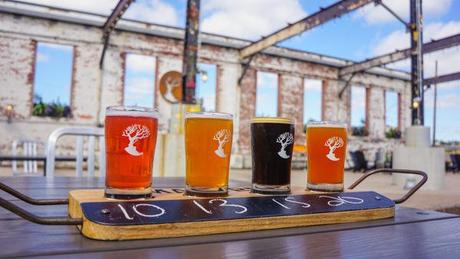 MadTree is another mega brewery in Cincinnati and is known for its fairly wide distribution throughout the state.
The brewery features a beautiful and modern drinking space indoors, and an outdoor patio that is in the shell of a former building. With 32 beers on draft, you could spend quite some time at this one sampling them all.
During my visit I was able to try four- the Thorn (a raspberry basil tart ale), Pilgrim (a fall ale with cranberries and vanilla), Nitro Churro Axis Mundi (an American "super stout" with cinnamon chocolate and vanilla), and De Peche a La Mode (a peach cobbler ale). Yes, I went all in on the unusual ones, but how often do you see a churro beer on the menu (which also happened to be the best of the bunch)?
The churro beer aside, the rest had a somewhat muted fruit flavors compared to our usual liking; however, it is hard to say no to having a cold one in the outdoor beer garden all the same. We did leave with a bottle of Joon, an ale aged in gin barrels with juniper and ginger added and have to say that one was the best of the bunch- a stellar gin / beer hybrid!
Mad Tree Brewing is located at 3301 Madison Road.
Nine Giant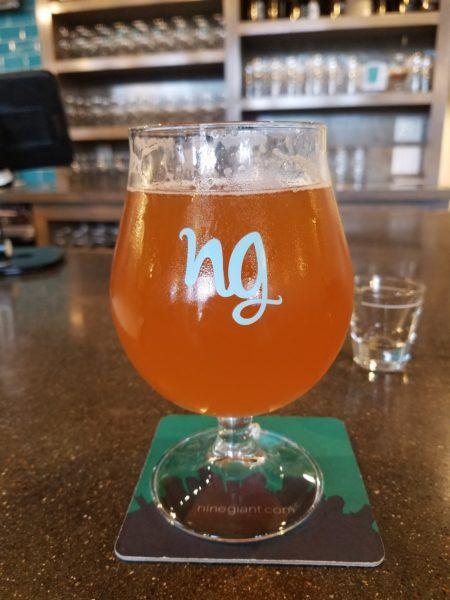 Nine Giant is a newer brewery located in Pleasant Ridge that brews a wide variety of beer styles like IPAs, Belgians, sours, stouts, and porters, just to name a few. One of our favorite things about this place is that they have food, and not just bar food - delicious, real food made from scratch with good vegetarian options.
The space is smaller and more intimate, which can be a nice change of pace from some of the huge beer halls in town. The bartenders were some of the friendliest we've met in a while, and they were incredibly knowledgeable and helpful in recommending beers.
On our visit we tried the Pass the Mic (an easy drinking Mosaic Pale Ale), as well as a super hazy and juicy double IPA, and the Popscene Belgian Pale Ale. It was also Beer Sorcery night on our visit which is when they take a single keg and do an interesting experimental infusion; on our visit it was a Schwarzbier infused with lapsang souchong.
Nine Giant is located at 6095 Montgomery Road.
Woodburn Brewery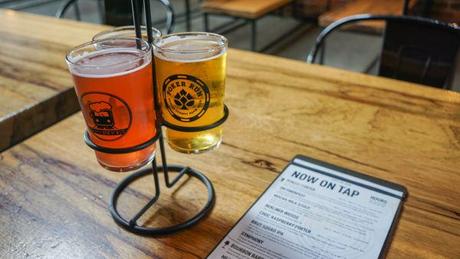 Woodburn Brewery is our quintiessential definition of trendy. The design of the space is simple and sophisticated, and is the kind of place we want to work out of over the course of a day (and, in all honesty, I did).
This brewery has a limited "core" beer list that includes a Berliner Weisse, two IPAs, a pilsner, a stout, and a porter, but rounds out their draft list with a number of limited and seasonal releases.
During my visit I was able to try several beers, including the seasonal Salmon Shorts Siting (a blonde ale with lactose, strawberry, and rooibos tea) as well as the Go Floc Yourself (a hazy New England IPA), and the chocolate mint imperial stout to name a few. While the flavors of most were fairly light from my expectations, the Salmon Shorts Siting was one of my favorites from our visit to Cincinnati as it had a really complex flavor thanks to the addition of the rooibos tea!
Woodburn Brewery is located at 2800 Woodburn Avenue.
Brink Brewing Co.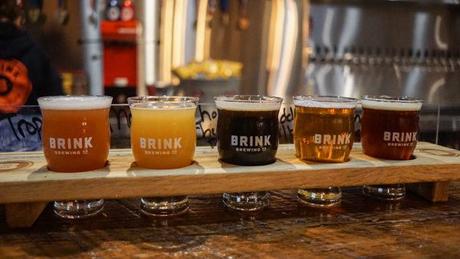 Brink Brewing Co. opened its doors in early 2017 and has quickly become one of the most awarded breweries in the city including "Very Small Brewery of the Year" by the Great American Beer Festival, gold for their Moozie Milk Stout and silver for Hold the Reins English Mild at that same festival, and more.
While these two beers are most deserving of every award they receive (seriously, they're astonishinly good), we also have to say that we were big fans of the Riddled with Hops IPA and the Chocolate Milkshake IPA as well for having strong flavors and a nice clean finish.
This one is a bit heavy on ales, IPAs, and porters/stouts, so if you are looking for more variety you may want to go elsewhere (at least, based on the menu from our visit). But if quality beer is what you seek, Brink Brewing Co. will have it.
Brink Brewing Co. is located at 5905 Hamilton Avenue.
Looking for more Cincinnati breweries? Don't worry, we'll be visiting more soon! Check back as we update this list to feature all of the city's best.
Pin It!
Share this post with other beer fans on Pinterest using the pin below!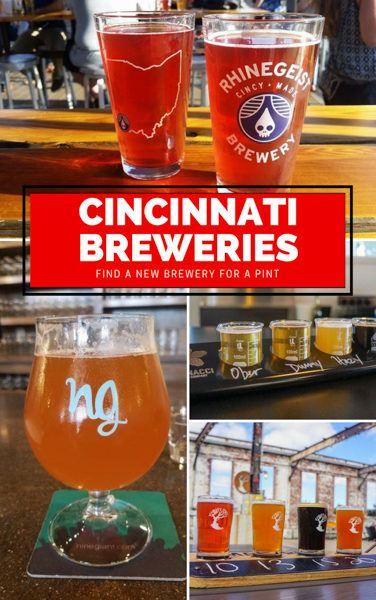 Share This Article on Social Media!
Don't Leave Travel Insurance for the Last Second
Many travelers forget to buy travel insurance until the very last second. Don't miss be covered on your journey and grab a policy with World Nomads today!