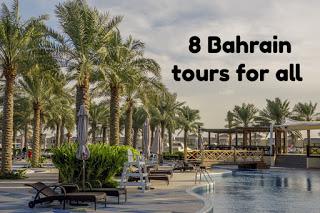 If you plan to make Bahrain your future holiday destination we have created a list of 8 tours for you to discover this exotic country while presenting plenty of photo opportunities and creating beautiful memories of an exciting vacation. We also gathered a selection of activities to occupy your time.
1) Manama and Muharraq Sightseeing tour
Explore the northern side of the Kingdom and discover the breathtaking array of cultural spots and interesting locations including
Al Fateh Mosque
- one of the largest mosques in the world as the well one of the first museums in the Gulf, Bahrain National Museum.
After you have explored the exhibition halls showcasing local customs, traditions and an array of artefacts discovered at various archaeological sites, the next stop should be Muharraq Souq - an atmospheric bazar, where you can purchase beautiful fabrics and Bahraini pearls.
Another place of interest on this tour is a Unesco World Heritage Site,
Qal' at Al Bahrain
. Set on a 17.5 - hectare artificial hill, it is the site of the former capital of Dilmun and is one of the most prolific digs in the Arabian Gulf.
2) Ancient Garden of Eden
Begin an inspiring trip around the southern part of the Kingdom, which hosts a magnificent array of sites.  Start by visiting the camel farm and have the chance to taste the camel milk, before heading to Bahrain International Circuit - the "Home Of Motorsport in the Middle East" and host of Formula One Gulf Air Grand Prix. Once you've taken some holiday photos, you will discover that there is more to see as you navigate the oil fields.
Bring out your competitive side and get behind the will of a go-kart at the world-class karting venue Bahrain International Circuit, providing  five track configurations.
Visit the Tree of Life - famous for surviving for over a century with no source of water, and end your tour with the magnificent Riffa Fort which is steeped in history.  The fort was converted into a residence in the 19th century for
Shaikh Salman Bin Ahmed Al Fateh Al Khalifa
and offers a view that cannot be missed.
3) Tubli Bay Mangrove
Truly unforgettable sights and experiences will be enjoyed on the Mangrove tour to Tubli Bay. You will like you escaped to another world, as you discover nature at its very best through the beautiful, well -protected and nurtured mangroves.
There is plenty of wildlife to see as you move through this area of natural beauty. Along the way, you will also get a wonderful glimpse of the Bahrain skyline, which is really a site to behold. All the while, you can soak up some sun and relax as you head along the coastline and take in the picturesque area.
4) Manama Central Market
Inspire your inner chef and learn to cook like a pro an this fantastic cooking experience.  Whether you want to know more about pairing spices, or the authentic dishes of Bahrain, this cooking class will exceed your expectations.
It is a unique way to broaden your culinary horizons, and learn direct from locals, the perfect spice blends that deliver an explosion of flavours with every bite. You will be taken on a journey through the fresh produce of Bahrain, at Manama Central Market, where you can select an array of fresh ingredients to cook with.
5) Pearl Diving Dock
Have a glimpse at Bahrain's soul, and dive into the country's heritage pre-oil discovery, with a tour that offers unique insights into its international famed pearling industry. For over a century, the Kingdom's pearls have been sought after, and one of the most notable is the Bahrain pearl drop earring gifted to Queen Elizabeth II by The Late Amir.
This a truly unique opportunity to immerse yourself in the Bahrain's fishing and pearling industries.  Firstly, you should visit Bu Maher Fort, before heading to the Shipbuilding Yard in Muharraq where you will get to see the majestic Dhow's up close.  You will have two further photo stops, one at Pearl Diving Dock and the second at the Fish Trap Factory, before being invited to join a local pearl diver in a traditional Bahraini restaurant for lunch, where you will discover how the industry has been pass through generations.
6) Jarada Island
Jarada is a tidal island located 14 kilometres off the coast of Bahrain, only accessible by boat. It provides a picturesque secluded setting to enjoy a day of relaxation. Dive into the crystal-clear blue water, or spend your afternoon soaking up rays on the golden sand.
Head out onto the sparkling blue waters surrounding Bahrain and get a unique and exclusive look at the magnificent city skyline, complimented by its beautiful shorelines. There are wonderful photo opportunities to be had as you float around Jarada, plus if it is you lucky day you might get to see some of the dolphin pods that grace the island's water. The dolphins are far from shy, swimming quite close to the boats, providing a fantastic unique experience for everyone, but specifically for younger members of the family.
Dive into the warm azure waters of Gulf, and discover Bahrain's legacy, while seeking underwater treasures. This a truly immersive experience, as you gain unique insights of the pearl industry, while casting your eyes across the beauty beneath the surface.
Bahrain has a long maritime history, which provides inspiring diving spots for the avid diver. The warm shallow waters, and the deeper areas provide unusual and memorable encounters. There is an average underwater visibility of five metres and up to 25 metres on the more distant offshore reefs. Divers and colourful aquatic life can be found in the sparkling waters surrounding Bahrain.
7) Bahrain Fort Stables
Your Arabian horseback adventure will begin following a short drive from your pick-up location to the stables near Bahrain Fort. Upon arrival you can sample traditional Arabic coffee or tea, accompanied by local delicacies.
After you enjoyed a little taste of Arabia, you will be paired with a calm and well trained horse to take you around the mesmerising sites of the area. Exploring on horseback is the perfect way to discover pieces of history, while offering plenty of picture-perfect opportunities.
8) Dilmun WaterPark
Reflecting the history of Dilmun period through unique stone sculptures and architectures, and set across 77,000 square mitres sits the lost paradise of Dilmun Waterpark. The dessert oasis in Sakhir features over 18 slides and attractions.  For a more relaxing day, soak up the sun on the lazy river where you can float alone or in a double tube, bobbing through the caves. The kids rain fortress is very popular among younger members off the family, along with the "toots pool" , which makes for a enjoyable day for all.