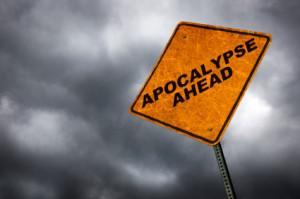 December 21, 2012 is right around the corner and while a GPS tracking system might not protect you against super volcanoes (unless they're set as Points of Interest), asteroids hitting the earth, global warming, or nuclear war, it CAN help protect you from zombies. That's right, a GPS tracking system can help save you from the Zombie Apocalypse.  
With all of the talk about what's to come and being prepared for the 2012 Apocalypse (Doomsday Preppers, anyone?), we figured we'd jump on the bandwagon and share with you seven ways GPS tracking can save you from the Zombie Apocalypse.
1. Panic Button
A vehicle equipped with our panic button is a vehicle with an angel looking over its shoulder. Surrounded by hordes of zombies? No problem! Hit the panic button and wait for the home office to dispatch help in the form of shotgun and chainsaw-wielding coworkers.  
2. Mark Points of Interest (POIs) for Safe Zones
Use POIs to mark safe zones for your drivers to take shelter when there is zombie overcrowding in an area. You can also set alerts to be notified when a driver enters the POI so you know they are safe.  
3. Live Zombie Traffic Updates
Click on Google traffic through the Live Fleet feature to see which highways are blocked by abandoned cars and general zombie crowding. Re-route through Safe Zones as needed.  
4. Set Idling Alerts in Case of Zombie Vehicle Intrusion
Set idling Alerts and let your employees know that if the alert goes off, you will just assume their vehicle has been taken over by the undead and will send help if available.  
5. Set Speeding Alerts, but Don't Reprimand for Speeding
On the other side of the spectrum, set Speeding Alerts, but know that if the alert goes off, it's most likely because your drivers are trying to escape a zombie mob. So no need to reprimand them, just pray they escape alive.  
6. Still Use Logbooks
Use Driver LogBooks to electronically log your drivers' hours. Even though it's probably the end of the world, you still don't want to risk hefty fines from the FMCSA. Plus, you want to make sure your drivers aren't driving over their maximum hours. They need to be alert to stay alive.  
7. Keep Your Vehicles Healthy
Use Maintenance Alerts to make sure your vehicles stay in tip top shape. Remember, your company vehicles are no longer just for deliveries, transportation, and servicing, they may need to act as getaway trucks. A broken down van on the side of the road is practically a zombie's invitation to dinner.