Rose gold is one of my favorite engagement ring "trends." I hesitate to call it a trend, because I dream of a day when all three metal colors (white, yellow and rose) populate the engagement ring pool equally. I do think that day is near, with all of RLJ's designer lines offering most rings in any of those options, or two-tone color combos of any of them. But it seems like white metals still reign supreme, with the occasional yellow gold or rose gold ring making an appearance in the bevy of "I said Yes!" IG posts I see each weekend.
And I get it. White metals likely match a burgeoning jewelry collection today's young bride has been cultivating since her Sweet 16. The sentimental Tiffany Key, her favorite Michele watch, the stack of Yurman bangles she's been adding to steadily. But what if she's lucky enough to score a Cartier Love bangle? If she bought or received it in the last 5 years, I'll bet you $100 that it's yellow or rose. Ditto any Michael Kors watches she started snapping up when they first became hot hot hot. So likely, she's been venturing into the world of mixed metals (and oh what a world it is.) Likely, she's willing to at least entertain the idea of mixing and matching on the daily, in the name of love and individuality, right?
Enter the rose gold engagement ring. It's different – in the best way. And it's so easy to find now that you can tailor your particular brand of engagement ring, be it vintage with an Old European, square halo with a round brilliant, cushion cut on a pave band, to your rose gold fantasies. This feature appeals to brides who've LOVED the look of a round brilliant solitaire on a simple, shared prong diamond band since Jake's season of The Bachelor. Only now a solid 4 out of the 6 women in her most active group chat all.have.that.exact.ring. Her love for that style hasn't faded, but she's looking for something to make her stand out, perhaps? Bam. Do it in rose gold and it's a look all her own.
And, if you haven't heard me say it before, don't stress about your husband's wedding ring matching yours. It's his ring, his call. And there are so many gorgeous options for men out now that he'll be happy to choose something he'll love forever, whether it's pink or not. In fact, don't even stress about matching your own wedding ring to your engagement ring. There's nothing I love more than a good stack, and mixing and matching metals within your stack is a great way to blend your wedding set with the rest of your jewelry wardrobe.
So, in no particular order, I present to you some of my favorite rose gold engagement rings du jour. These styles are timeless, romantic and feminine. I hope you enjoy them as much as I do!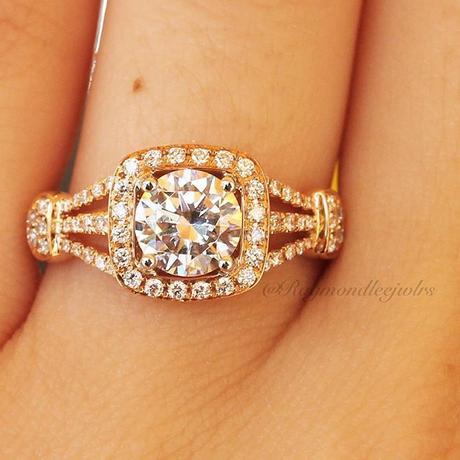 Simon G. .40ctw Diamond Halo Engagement Ring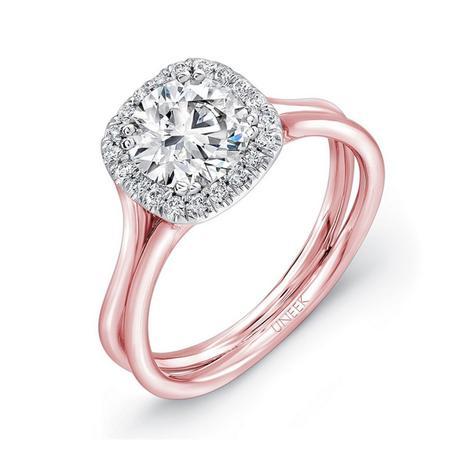 Uneek .20 ctw halo engagement ring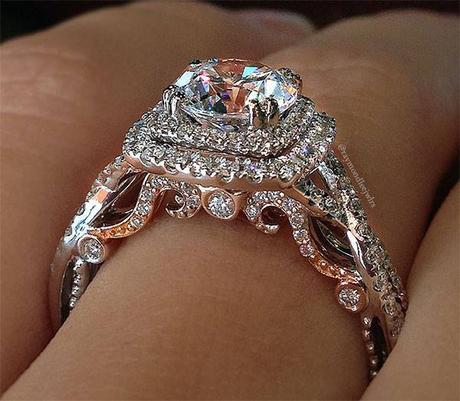 Verragio Insignia .55ctw double halo cushion engagement ring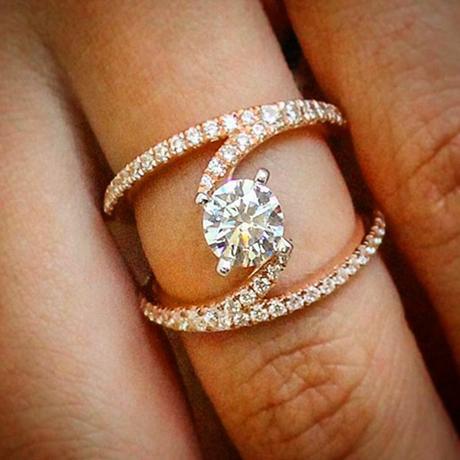 Gabriel & Co. Modern engagement ring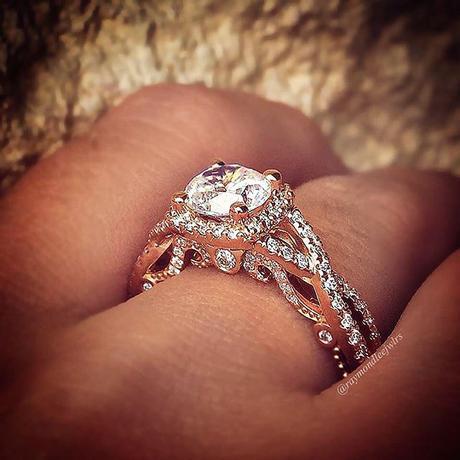 Verragio rose gold Insignia ring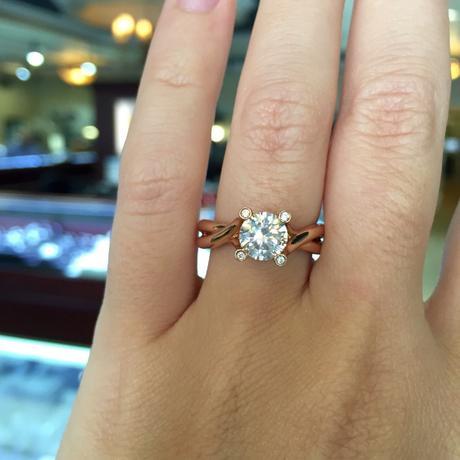 A. Jaffe twisted shank engagement ring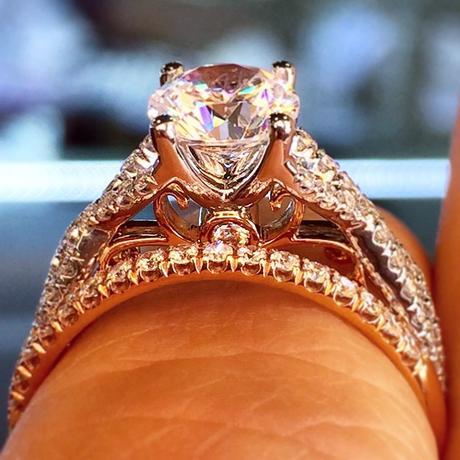 Verragio Rose gold engagement ring and wedding band