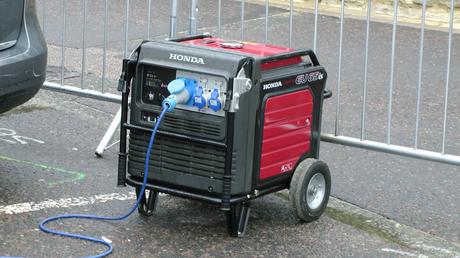 Electricity has become one of the biggest necessities of life in this modern era. You need a constant supply of power just like you need oxygen for survival. We are living in a technology boon with everything is just a single touch away from us. Cafes, airports, subways or any public place you go, they allow you to stay connected.
No matter where you go, you are always connected to the world via your smartphones as long as you have a power supply to recharge it if it runs out of battery. But what if you suddenly get disconnected to the power supply? These days hurricanes, landslide, storms, earthquakes, etc have caught our attention.
In any chaotic situations, you need to have an alternate to power back your life again. With technology comes enhanced portability. The solution to your worries is a portable electric generator. You can think of all the good reasons for you to have one in your backyard. They are user-friendly and provide you power wherever you go. Here are top reasons to buy a portable electric generator:
Nowadays portable generators are very lightweight and have greater compatibility than ever before. So whether you are camping somewhere or in a caravan in the middle of nowhere, it is a top choice to have access to power. It is easy to carry and keep ensuring minimum fuss and maximum portability. It varies in size depending on your requirement. They usually have a small wheel at the bottom so it becomes easier to carry them almost anywhere.
One of the latest features of a portable electric generator is its inverter technology. It allows you to have a smooth access stable power free from any disruptions. This also makes you carefree about the risk of any damage to your electronic appliances. Portable inverter generators also come with increased fuel efficiency and reduced weight.
It is advisable to buy a portable electric generator because they are quiet and peaceful. You do not need to panic because of irritating noise disturbing your eardrums now. The portable electric generator is fit for use at home or at the workplace without worrying about any noise disturbance. This makes it more efficient and fit for use.
These generators help you cut down the fuel cost. The renowned brands provide effective engines which seep less fuel to save your money. In fact, portable inverter generators are even more fuel efficient. They are therefore preferable as a cost-effective source of power back up.
They have a longer running time of up to ten hours or more, providing a steady supply of power to your appliances. They also have a two or three years warranty from the manufacturer. Thus they are reliable.
The portable electric generator has a wide range of choices to choose from. Depending on your requirement, you can pick a portable generator type that best meets your demands. It depends on the power requirement. You need to find out how much power is a need for your house or office. You will require a bigger sized generator if you need a greater output. So you need to first figure out what features you are looking for and do some basic research to choose the best portable generator.
You need to have a portable generator to be prepared for any sort of sudden power breakdown. Hurricanes, storms, heavy snowfall or any such natural calamity can result in a power outage for days or even weeks. You cannot simply leave your household electronic devices in the hands of fluctuating power. You need a portable generator to provide a reliable power source to run your refrigerator, fans, lights, air conditioner, etc. Therefore you must have a portable generator as backup power source. It ensures comfort for your loved ones.
In case you owe a small business that can be badly affected if you have a power disruption. It is always beneficial to have an emergency power backup source to avoid any losses.
Conclusion
A portable electric generator has become a commodity and a life savior when it comes to an effective backup system. It is your safety measure in case of any natural disaster or emergency situations. Moreover, it can be a source of convenience whenever you plan a camping trip somewhere or any recreational activity. Make your expedition the most memorable and comfortable one.
You do not need to worry about a stable source of electricity when you have a portable electric generator. Plan parties outdoor and have all the perks of a portable electric source to light up the event and facilitate everyone. Enjoy the comfort and convenience!
Author Bio:
James Sullivan have bachelor's degree in electrical engineering from the Marquette University. He is currently associated with a best generator company in Pleasant Prairie, Wisconsin and he shares his passion for electrical engineering by writing handy content for their readers.