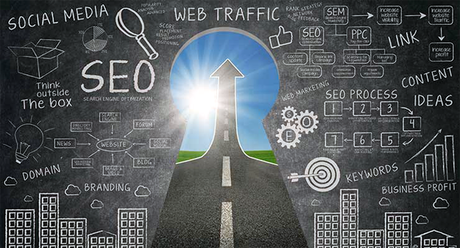 Author: Vijay Gaikwad
Why should entrepreneurs and business owners care about integrating search and social into a marketing plan? They can't afford not to. Let the statistics speak for themselves:
♦

72 percent of Internet users regularly use a social network and social media marketing budgets are projected to double in the next five years.
♦

Every month there are more than 10.3 billion Google searches, with 78 percent of U.S. internet users researching products and services online.
♦

33 percent of organic search clicks go to the first result.
♦

The top four positions, generally those considered to be "above the fold," receive 83 percent of first-page organic clicks.
Entrepreneurs, CMOs or business owners in start up mode or website redesign be aware; the digital landscape is changing and so are the latest best practices in search engine optimization and social media.
"Growing your online business is critical and most entrepreneurs are aware of the need for internet marketing, but most have not taken or attended anything that would set them along the correct path," said many Directors with survey.
Entrepreneurs fired off questions ranging from "How do you recover from a Google penalty?" to "Why is my domain not being indexed by the engines?" to just wanting some simple guidance on blogging. Below are the highlights shared by the search and social experts for business owners to add to the marketing to-do (and not to do) list.
♦
SEO is not an add-on or a last step of a website redesign:
SEO must be an integral part of the process and should be architected into the site during design.
♦
Invest in excellent content:
Hire talented writers verified with social influence and a working knowledge of SEO. Having an in-house team of brand journalists can be the secret sauce to growing an online business in both search and social.
♦
Do NOT buy links or try to grow social relationships through buying likes, friends or followers:
Never hire any agency selling links as that will lead to penalties. Links should happen because you earn them and never because you negotiate them.
♦
Understand the relationship between SEO and Social:
There are significant SEO benefits of using social amplification to proliferate content to highly targeted and per-qualified psycho graphic traffic. Put content in front of the right audience at the right time with the right message and they will be compelled to engage with and share it. Create content for your target audience. If the content engages them, your audience will influence the engines for you.
♦
Avoid the "all-or-nothing" approach:
I personally advices entrepreneurs not to follow the hype and the headlines and try a wide variety of tactics but focus on nothing. Also, don't avoid everything. If you're new to digital or not sure where to take your existing digital strategy, read, attend events, and then hire an expert for an assessment (in that order) so that you'll be empowered to make solid decisions about what will work best for your company.
♦
Ask for the reports that matter most and avoid getting caught up in too much data:
If you are new to Google Analytics, the simplest and most important information is your "referrers" data. "Find out which websites and which of your social media accounts send you the most traffic and how that traffic is behaving on your site.
Like in any business, it's not a sprint, it's a marathon and the results will not be reaped from attending one learning event, but that is the first step in getting started. SEO and social marketing isn't an overnight success story or a one-time effort. Like wealth-building, investing in SEO takes time and continued effort to earn full benefits.
Click Here
 for the latest articles by the Author.