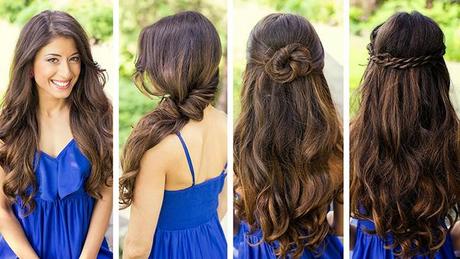 Hairstyling is an integral part of an individual's personality. Hairstyle contains hair cutting and getting new style. There is a great impact of society and culture on the hairstyling. When you are confident about your looks, you give your best at your work place, even at home you feel good about yourself. Pretty hairstylegives you classy look.
When you see any celebrity or your friend with beautiful hairstyle you give it a try, but sometimes, it so happens that the style looks perfect on others but not on you. Therefore, you need to know you own personal hairstyle depending on your face cut.
You can do pretty hairstyles like parlor at home very easily. If you have short hair, which is manageable for working ladies nowadays, you can give good style at home by using many beauty appliances like blow dryer and hair straightener. You can hold the hair in your palm and scrunch it and dry it with the dryer. You will get nice bouncy look in your hair.
If you have medium length of hair, you can go with nice trendy looking hair clutcher. A beautiful high pony tails also looks nice. You can even roll your hair with rollers to get the wavy look in your hair. You can keep the hair tied up or keep them loose, and it will give a nice elegant look.
Depending on the shape of your face you can decide your hairstyling. If you are having an oval shape face, then long and thick hair will give a nice look to your face. With the round shape face, you can cut the hair short into sharp splits.
For square shape face you can have long hair or short hair just above the shoulder. You must try the bouncy look rather than straight hairs. You can also give a wavy look to your hair. The diamond shape face has sharp cheek bones, therefore, long and curly hair will give a nice look to your face.
You will find many girls with perfect hairstyles every single day. The secret behind this is few simple hairstyles, which you can do at home. With medium sized or long hair you can try with pony tail with a knot. You can comb your hair properly, then split it into two parts from back and tie a knot with your hair. It gives a nice look and takes only five minutes to get ready
Similarly, nowadays, the most popular hairstyle is pompadour in the front portion of your head. You have to take a front portion of your hair and separate it from the remaining portion of the hair. Now you can raise the front portion of your hair and spray it with hair setting spray and give a slight raise and pin it up with the remaining hair. It is a simple hairstyle but gives you a whole new look which will be appreciated by your friends. The braid wrap is the most common hairstyle you can try.
If you are having a function in the evening and want to dress up really fast, then the most effective and elegant hairstyle is the bun. For this hairstyle, you can tie a pony tail of your hair, roll the hair upwards, and pin the hair into a bun. It gives a rich and classy look.
So, these are few easy-to-do pretty hairstyles which you can try at home. It gives you classy and elegant look which will prove to be head turners.