Best Celebrity Engagement Rings
Ready for some serious ring envy? It's no surprise that the most drool-worthy engagement rings in existence can be found gracing the fingers of some of the world's biggest stars and luminaries. Here are six of the best celebrity engagement rings of all time, as well as their ideal male counterparts.

Kate Middleton
The ring: Newly minted style icon Kate Middleton received a ring that is as meaningful as it is beautiful from her then fiancé, now husband Prince William of England. The same ring worn by his beloved late mother, Princess Diana, this memorable engagement ring features an 18 carat blue sapphire surrounded by diamonds on a white gold band.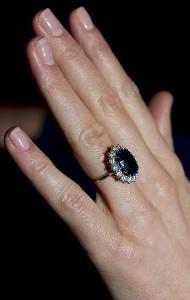 Its perfect match:
While Prince William does not wear a wedding ring, an appropriate match for Kate's vintage sparkler would be a similarly personally significant white gold or platinum men's band.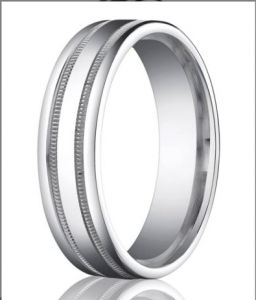 Elizabeth Taylor

The ring: Perhaps the ring to rule all other celebrity engagement rings, Elizabeth Taylor's diamond ring from Richard Burton was as infamous as their relationship. This 33.19 carat (you read that correctly) diamond ring was made from the Krupp Diamond, a stone with a cut somewhere between an emerald and an Asscher. Upon Taylor's death the Krupp Diamond was sold at auction for $8.8 million dollars.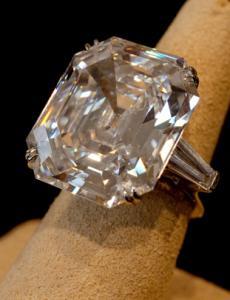 Its perfect match: For a couple this flamboyant, clearly only the showiest of bands will clearly do. An apt match to something like the Krupp would be a men's solitaire ring with its own considerable sparkler, or a diamond studded eternity band.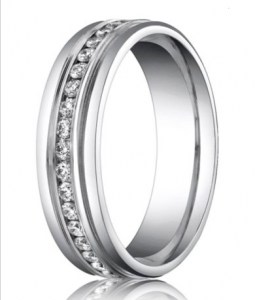 Angelina Jolie
The ring: For their long-awaited engagement, Brad Pitt presented Angelina Jolie with a celebrity engagement ring as stunning as the famous couple themselves. Pitt co-designed the Art Deco-inspired ring with jeweler Robert Procop, which features a 10 carat diamond that Pitt had cut to fit to the shape and size of his wife-to-be's hand.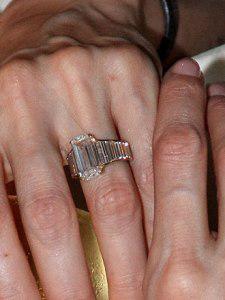 Its perfect match:
Though Pitt has yet to show his intended wedding ring, it will doubtlessly have the same retro modern appeal as Jolie's engagement ring. A men's platinum or white gold band with a similarly meticulous attention to design detail would be a must.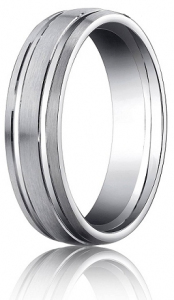 Beyoncé Knowles
The ring: While their engagement and subsequent marriage was kept super secret, there's certainly no hiding Beyoncé's viewable from outer space engagement ring. This Lorraine Schwartz designed celebrity engagement ring has a whopping 18 carat colorless diamond (flawless, no less) with an estimated value of $5 million dollars.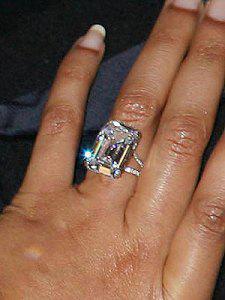 Its perfect match:
While Jay-Z seems to share Prince William's reluctance to don a wedding ring, he has been spotted wearing a gold band from time to time. Perhaps a better choice for these ring-phobic gentlemen would be a lightweight and contemporary option like titanium or ceramic.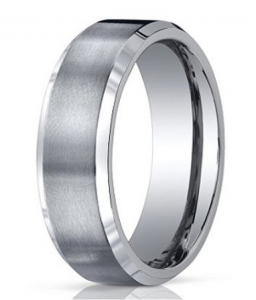 Katie Holmes

The ring:
Tom Cruise and Katie Holmes' whirlwind romance was capped off with a stunning engagement ring with a modern meets retro twist. This ultra-feminine band features a five carat diamond with two unique features: an oval cut and a platinum and rose gold setting.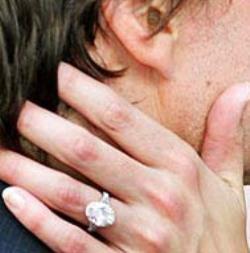 Its perfect match: For his band, Tom Cruise got a white gold Cartier ring to match his wife's wedding band – though it would have been nice if he had got a ring with a similar hint of rose gold.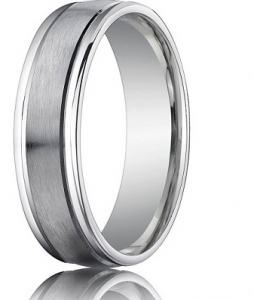 Halle Berry

The ring:
Perhaps the third time will be a charm! Halle Berry's unusual engagement ring from current fiancé Olivier Martinez was designed by Robert Mazlo and features a vibrant 4 carat green emerald accompanied by two diamonds in a rich yellow gold Phoenician inspired setting.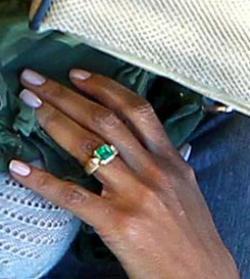 Its perfect match:
While the date hasn't yet been set, an appropriate companion to Berry's ring could be a similarly opulent yellow gold men's band with an intricate or exotic design.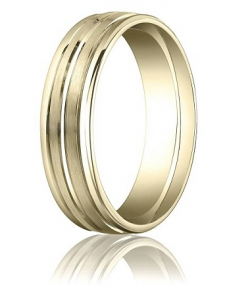 Mens Wedding Rings offers a wide selection of men's wedding rings.
Author Bio: Samantha writes for http://mens-wedding-rings.com/, an online shop that offers a wide selection of unique men's wedding bands, traditional rings and many alternative styles.