Data Recovery Tools - You may have experienced a problem with the hard drive because of sudden crash, undetected, formatted, partitioned, bad sectors or not known to the system. Though the necessary data still on the hard drive and have not backed up. 
Here are a few Tools For Recovery Data that may help you to restore your lost files or restore your disk if you have a bad sector.

1. Recuva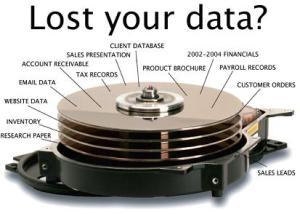 Recuva is a tool that is user-friendly Windows-based. 
When you run Recuva, you can find the missing file with the menu file-recovery wizard or the application's manual mode. 
File-recovery wizard is useful if you are sure your data is gone but you are not quite sure where the loss or how to get it back. 
Wizard can be used to narrow your search for the types of images, music, documents, videos, or all the files, and you can set the location search on your computer such as removable media, My Documents, Recycle Bin, or a specific location. 
Applicable for Windows operating systems.
2. Undelete Plus
Undelete Plus is a software that is used for commercial purposes. 
These file recovery tool works on all Windows versions and incarnations of the FAT and NTFS file systems. 
Such Recuva, Undelete Plus offers the possibility of recovery to find files based on file damaged. 
You can sort your files by type, set filters based on the timing and size and can generate a folder structure remains intact when you are finished making file recovery. 
Applicable for Windows operating systems.
3. TestDisk
TestDisk is a powerful tool to recover your data. Not only can TestDisk recovery as accidentally deleting files from FAT, NTFS, ext2 and file systems, but has additional functionality to another. 
With TestDisk you can recover your boot sector, rebuild your boot sector, fix FAT tables, fix MFT you, find the backup ext2/ext3 superblock, find lost partitions in multiple formats that can help you locate lost data. 
Can be used for the operating system Windows / Mac / Linux.
4. PhotoRec
TestDisk PhotoRec is a complementary program. As TestDisk, this app also without a GUI, but also strong enough to perform file recovery. 
Many users prefer PhotoRec as a safer alternative when the recovery disk is not required. 
Overall, PhotoRec is a powerful tool for fast and secure file copying that you remove to another disk. 
Can be used for the operating system Windows / Mac / Linux.
5. Restoration
Restoration is small, with no additional tools and is portable. 
You can use it on all versions of Windows and Windows file systems. 
Restoration has the ability to sort the file parameters such as size and file name. 
Applicable for Windows operating systems.
6. GetDataBack
GetDataBack will recover your data if the hard drive's partition table, boot record, FAT / MFT or root directory is lost or damaged, data was lost due to strike virus, the drive was formatted, the failure of a system crash, files were lost due to software failure and deleted files accidentally. 
Applicable for Windows operating systems.