Both home owners and builders in the 55+ housing market are showing increased confidence. Because of rising prices and increased home equity home owners are more confident in selling their homes and moving to a home for the next stage of their lives.
With more people in all age brackets more aware of universal housing to accommodate all stages of life and physical abilities there is a growing need for one-level housing... and what I have experienced as a shortage in our market as I work with buyers, especially those 55+ who are focusing on finding a home where they can age in place.
It's good news that builder confidence is also improving in the 55+ housing  market. Nationwide home builders in that market indicated considerable growth in confidence, according to the National Association of Home Builders.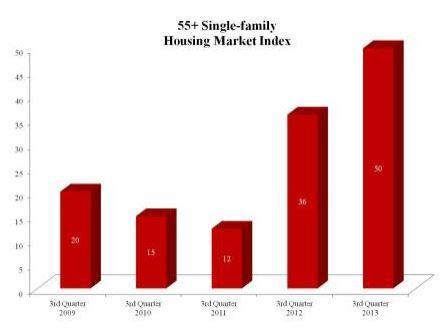 Locally, new home construction was up 40% over recent years in the Twin Cities through 3rd quarter 2013. If you are thinking about building, consider Award-winning Aging-in-Place House Plans designed by a local architect.
RELATED POSTS
Record surge in home equity means more options for homeowners
Universal Design Basics... good design for all, including aging in place
Award-winning Aging-in-Place House Plans