It's been awhile since I've posted a food diary- and to think I used to do this daily!- so I thought it might be fun to do this morning. I don't take photos of every little morsel I eat anymore, so it was a nice change for me yesterday.
Hot oatmeal for breakfast! The dining room was a little chilly, so the warm food kept me nice and toasty. I cooked the oats with chia, goji berries and almond milk, then topped them with ground flax, banana, sunflower butter and maple syrup. Ever since we've come back from Portland, I can't seem to get maple syrup out of my head!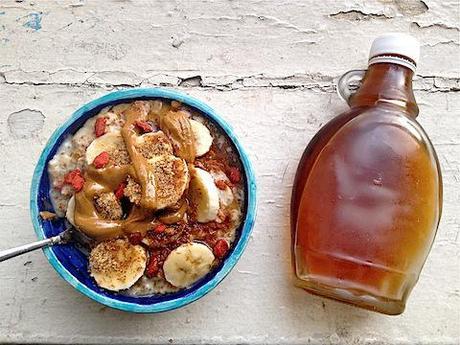 I spent the morning finishing my book, Cutting for Stone, which I loved. So many people have been trying to get me to read it, and it was finally my turn to check it out at the library!
My internal clock is still set to wake me up sometime between 6 and 7 (and sometimes even 5) so I've been eating more frequently lately. I had breakfast around 7 and wasn't meeting my lunch date until 2, so I knew I would be a starvin' marvin' if I didn't get a wholesome snack beforehand. So I ate a big bowl of lentil-bean chili, cold, and it hit the spot. Snacks don't always have to be "traditional" things like granola bars or trail mix… I've been enjoying mini versions of what I'd usually eat for lunch or dinner.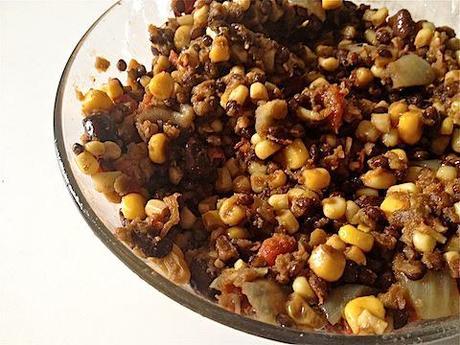 This chili recipe came to me in a totally old-fashioned sort of way: one of my neighbors, who went to culinary school and managed restaurants for years, heard I'd been sick . She knocked on my door with this recipe, a cup of lentils, and a baggie of smoked salt. Can you believe this is 2012, in a New York City apartment building of all places?!
I already had most of the other ingredients on hand (I try to keep a few cans of beans, tomatoes, and veggies around for emergencies) so dinner the night before was ready in a pinch.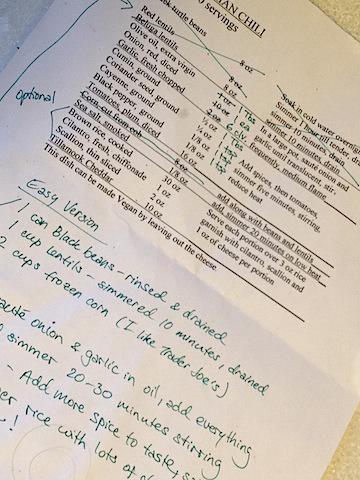 I met a friend for lunch and a movie. We decided to eat at Blossom du Jour, an offshoot of the popular Blossom restaurants around the city. I still haven't been to Blossom (although I've been to their sister, V-note), but it's on my list! BDJ makes "shrewd fast food" in an effort to positively impact the fast food industry by providing quickly made salads, sandwiches, wraps and more, many of which are healthier versions of their fast food counterpart.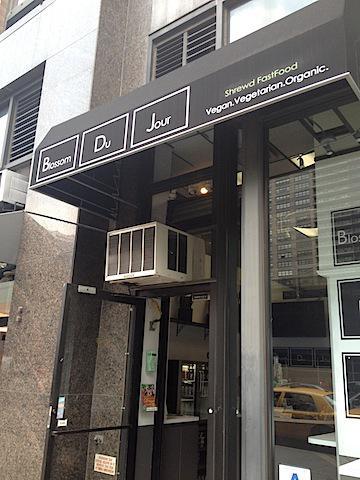 I ordered The Big Salad with field greens, matchstick carrots, sunflower seeds, chickpeas, cucumber, herbed mustard dressing, + smoked tempeh for $2 more. It was a nice, dense salad, but what really made it was the dressing. I have to find the recipe!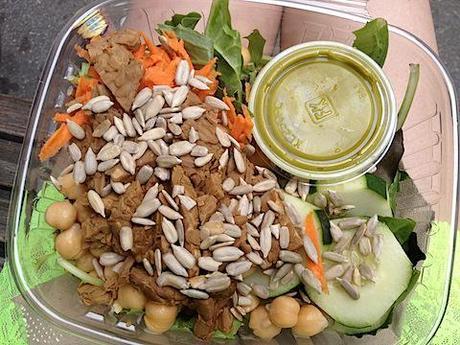 For dessert, I bought a chocolate chip cookie to eat in the theater. It was soft, chewy and chocolatey, and gets my seal of approval! (Of course, it's no Levain cookie, but few are…)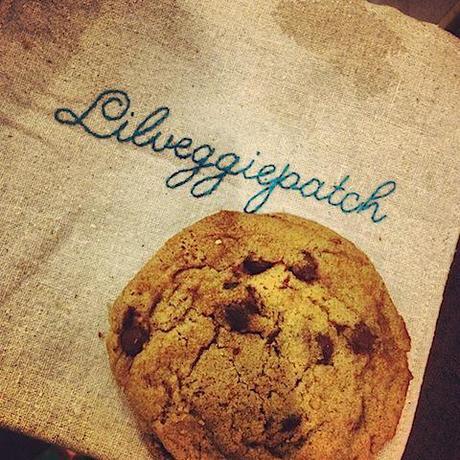 We saw The Avengers, which I've been dying to see. It was a little long, but overall pretty good! Give me a comic book story, spandex, Jeremy Renner and Robert Downey, Jr., and I'm good to go

.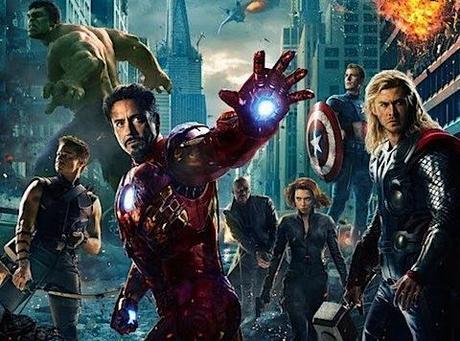 I tried to make it a double feature with my mom and see What To Expect When You're Expecting, but it wasn't showing until 10 PM and I am way too much of a grandpa to stay awake through that. Instead, we met for dinner at Ozu, a Japanese restaurant on the Upper West Side.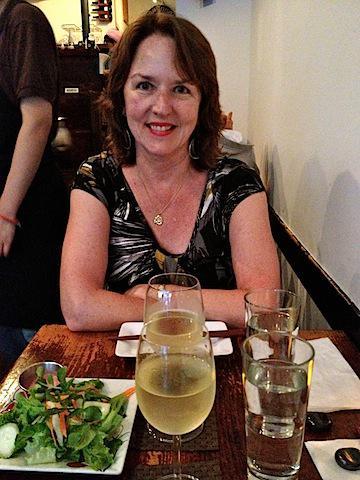 We sipped glasses of Sauvignon Blanc and split the Portobello Spring Rolls to start. The mushrooms are marinated in pesto and then steamed in wheat wrappers with a sweet chili dipping sauce. Great idea for an easy appetizer for a party!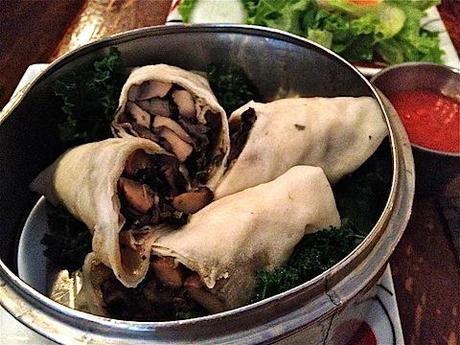 For my entrée, I ordered the Ozu Croquettes. These come broiled or fried and with a side of steamed root veggies or salad; I rolled with the broil and those gorgeous orange guys, as you can see. The croquettes are made with millet, cous cous, buckwheat, lentils and vegetables, and served with a delicious tangy white sauce. My mom picked these up for me the first week i was home from the hospital, and I haven't been able to stop thinking about them!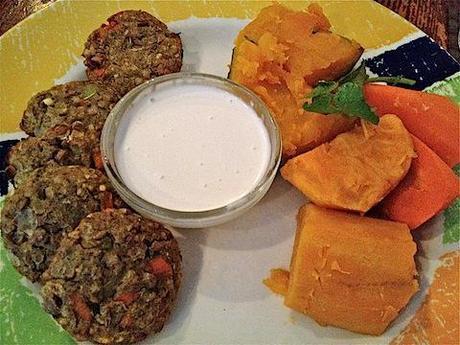 For dessert, we split the Tofu Coconut Pie topped with raspberry sauce. Unfortunately this definitely tasted like what a lot of people think "vegan desserts" will be: strange texture, tastes like "health food," and nothing at all like the non-vegan version. It wasn't bad, but it wasn't my favorite thing, either. The sauce, however, was really refreshing!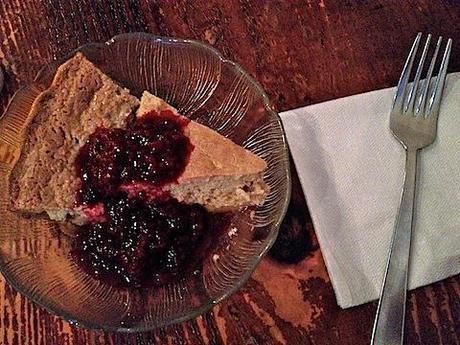 I'm a late-night snacker, so I grabbed a few magazines and a carton of raspberries and took them to bed with me. I didn't end up reading any of the magazines, though… getting up at 6 tells my brain that bedtime should be at 9:30!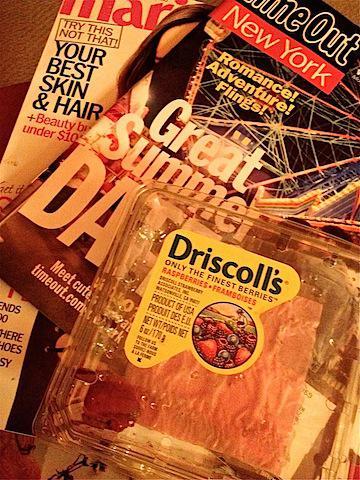 Hope you're having a lovely day, wherever this finds you.
Do you know your neighbors?