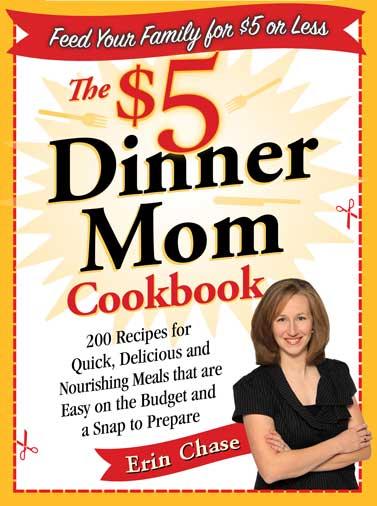 This book, in a lot of ways, is actually about challenges; the challenge of feeding four people for $5.00.
And guess what? Author, Erin Chase, of
www.5dollardinners.com
- interviewed on
The Rachael Ray Show
and
The Jean Chatzky Show on Oprah Sirius Radio
, honestly pulls it off.
I don't know about you, but I'm always looking for ways to save a few dollars, while still offering quality. This
cookbook
is right up my alley.
What's not to like? $5.00 recipes in a
cookbook
that

costs

$6.00 ... this is a serious deal hunter's dream!
In my estimation, this cookbook:
The $5 Dinner Mom Cookbook: 200 Recipes for Quick, Delicious, and Nourishing Meals That Are Easy on the Budget and a Snap to Prepare
, equates to a $5.00 Dinner Mom Cookbook:
Perfect for Party Menus.
What
makes these recipes so doable is the keyword that Chase uses more than once; the word, strategic
-
as in "strategic grocery shopping", "strategic couponing", and "strategic meal planning". I promise you, this is the perfect cookbook for a cost efficient, busy mom
or anyone who likes to save money. I mean
... without a strategy, you've got no cost-saving plan to speak of.
Chase has left no deal-getting shortcut undone; she breaks down how to be a successful shopper beautifully.
Who wouldn't want to make country ribs with oven fries for four people for only $4.77?
To further simplify the process of using this cookbook to create inexpensive, wonderful meals, Chase has made this an easy feat by listing her wonderfully priced menus perfectly, in categories; pasta and pizza dinners, chicken and turkey meals, beef meals, pork meals, fish and seafood, soups and stews, vegetarian meals, and homemade recipes. You know what that means don't you? All you have to do is to grab your local grocer's sale paper, take a look at the cookbook, and connect-the-dots on savings.
Brilliant. Chase hit the nail right on the head here; by creating such an efficient cookbook. This is the perfect gift for the newlywed bride who has just spent a small fortune on her wedding and honeymoon - that needs to save money as a result (cook for two, freeze the left-overs, and
really
extend your savings!), the single mother with three kids, and the party maven looking to feed only four people for a casual dinner; or, looking to double, triple, or quadruple the recipes and still save money.Pick up a few copies of
The $5 Dinner Mom Cookbook: 200 Recipes for Quick, Delicious, and Nourishing Meals That Are Easy on the Budget and a Snap to Prepare
now and give them away as
Christmas
and
Hanukkah
gifts. Smart move.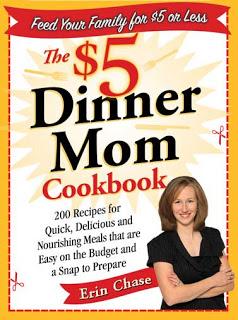 Click image to read reviews on Amazon!
Sponsor of the Month

*****
I do this... I write to help to create to opportunities for all of you who choose to pursue your passion to have parties, also taking into account today's economic constraints.
I think if we keep talking about the cost of parties (I write the blog posts, you write comments), together, maybe we can break down some of the party industry's price barriers and shame some of the people who've taken your money and delivered a poor quality product right into growing a conscious and treating you right (nice thought, huh?).
Opportunities to be inspired about parties are everywhere. Yet, people looking out for your wallet are few and far between. My goal is to inspire you, causing you to question the way things are that have been the status quo for too long. When we stand together and speak up, we can be a powerful force.

Let's keep the conversation of change going. Because in the sea of everyone talking, one voice is a whisper... several voices are a scream.
Leave a comment and share your thoughts, ideas and suggestions below. Remember to be as specific as possible because what you have to say helps us all.
Always... be encouraged and encourage others too,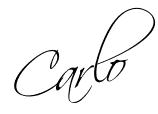 "Innovation is oxygen." - Hugh MacLeod
Image source: Google Images and Amazon
$5 dinner mom cookbook, 5 dinner mom, 5 dinner mom blog, 5 dinner mom cookbook reviews, 5 dinner mom recipes, 5 dinner, perfect for party, party city, party perfect blog, party perfect rentals, party perfect boca, sara's party perfect blog, my perfect party, party perfect dresses, perfect party costumes, perfect for party: Technorati Tags



>>Your Email Address... No Spam. I Promise." />
Special Offers for Cater-Hater Subscribers!
>>Your Email Address... No Spam. I Promise.';} " name="email" value=">>>Your Email Address... No Spam. I Promise." id="awf_field-35516496" onfocus=" if (this.value == '>>>Your Email Address... No Spam. I Promise.') { this.value = ''; }" type="text" class="text" tabindex="500" />