I'll probably do one of these posts every so often. The idea is to write a sentence or two about a movie I most likely won't review, or haven't reviewed yet, and to perhaps provoke some discussion to movies that aren't often talked about round here. There's very little else to it, so here's 50 very short movie reviews.
Autumn Sonata (1976)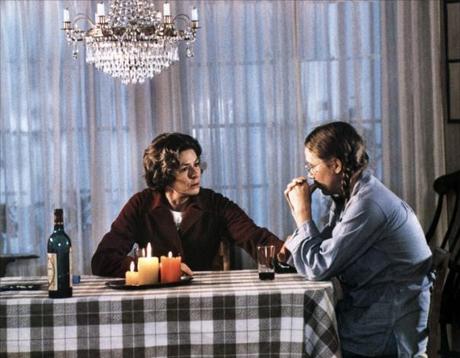 Disturbing, bleak and driven by powerful, well-written dialogue, Ingmar Bergman's collaboration with Ingrid Bergman is one of the most stunning of both careers. ★★★★★
Blind Chance (1981)
An early film from Krzysztof Kieslowski, Blind Chance tells the same story several times, but with one key difference. Echoes themes cemented in later work, with a shocking, abrupt ending that will make your mouth drop. ★★★★
Borat (2006)
Incredibly funny in so many amazing ways, this is a success for rule-breaking comedian Sacha Baron Cohen, delightfully disgusting and laugh-out-loud hilarious. I've seen it several times, and I just can't get enough. ★★★★1/2
The Box (2010)
Richard Kelly has made some weird movies, and The Box may be the one that has caused the most division amongst audiences. I personally thought it was clever, though maybe a little too clever. Many will be alienated by its complex plot, but it is effective. ★★★1/2
Brick (2005)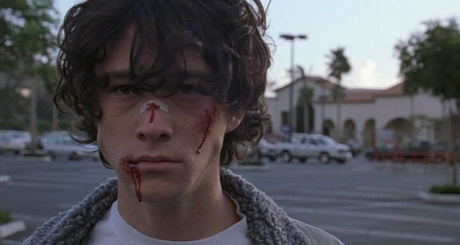 A popular cult indie favourite, Rian Johnson's Brick had me a little befuddled and I think it's safe to say I didn't like it as much as others. Still, a well-made independent production. ★★★1/2
Bruno (2009)
Cohen's follow-up to Borat, Bruno is even more daring, with countless gross-out gags involving sexual extremes that will make you squirm even while you're in fits of laughter. ★★★★
Camera Buff (1979)
Of Kieslowski's early films, Camera Buff is both the most accessible and the best, as well as the most well-known. The story of a man's obsession with photography that causes him to neglect his family, it is well acted and directed, unsurprisingly. ★★★★
Closely Watched Trains (1967)
At times funny, at times sad, this story of sexual frustration is a key staple of the Czech New Wave, one of cinema's most important movements. If nothing else, the film will inspire a need to experience the intense sexual pleasure of bodily stamping. ★★★★
The Crying Game (1993)
I am envious of those who had the chance to sit in the theater during the first ever screenings of this twist-ridden thriller, obviously to gauge the audience's reaction during the famous "revelation" scene. I won't spoil it here, but you probably already know there's a cock involved. ★★★1/2
Death and the Maiden (1994)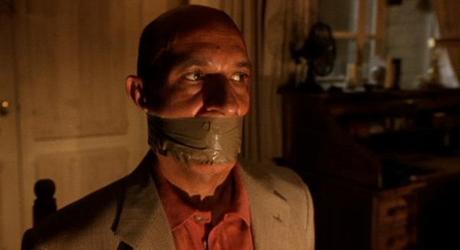 An underrated work by Roman Polanski, starring Sigourney Weaver and based on a one-act play, this film keeps the audience interested with its minimalist settings and well-written dialogue, proving inspiration for films like Richard Linklater's Tape. ★★★
El Topo (1970)
Alejandro Jodorowsky's disturbing, symbolic, puzzling and very, very bloody western, El Topo is an enigma with images powerful enough to speak for themselves individually. ★★★★★
Every Which Way But Loose (1978)
The "Clint and Clyde" craze of which lovers of animal movies will be well aware (or anyone who's seen Shaun of the Dead), this Eastwood comedy starring the beloved orangutan alongside the great gunslinger (slinging no weapons here) is weak but still enjoyable. ★★1/2
Extract (2009)
Mike Judge's follow-up to the enormously successful Office Space, Extract is almost as funny as the earlier film, retains some of its charm, but also fails to achieve the simplicity of what made its predecessor great. ★★★
Fear and Loathing in Las Vegas (1996)
If Alejandro Jodorowsky had made American movies, he'd probably have made something like this. A film which has gained a cult following, Fear and Loathing is lacking in the greatness of the novel from which it is based, and far too flawed to take seriously. ★★1/2
Glengarry Glen Ross (1993)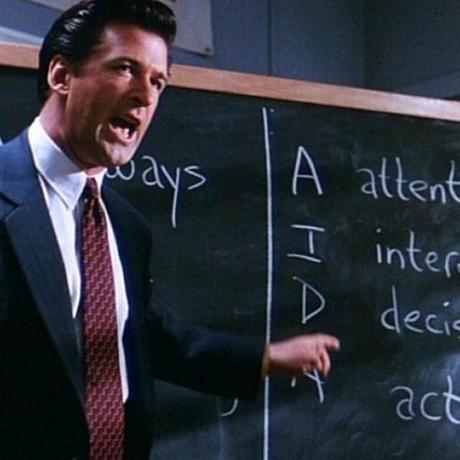 From Alec Baldwin's astonishingly well-written speech ("Coffee is for closers!") delivered with powerful vigour to the intense final confrontation, Glengarry Glen Ross contains one of the best screenplays ever written (based on a well-known play) and some equally phenomenal acting. ★★★★
The Greatest Movie Ever Sold (2011)
An interesting enough documentary from Morgan Spurlock, The Greatest Movie Ever Sold is however frustrating to watch and not as informative as I'd hoped. It's almost like a Making-Of documentary for a Making-Of documentary. ★★★
Grownups (2010)
Has there ever been a worse title? ★
The Holy Mountain (1973)
Very nearly a bad film, but so close to being a great one, The Holy Mountain is a little too overloaded with imagery that, at least based on one viewing, it is a film I struggle to make sense of, but still enjoy for its powerful moments, however rare they may be. ★★★
In the Realm of the Senses (1976)
Whether this is pornography or not doesn't really matter. To argue that it is is well backed up by the copious amounts of graphic sex, but I think, due heavily to the power of its final thirty minutes, it is much closer to horror movie than any other genre. ★★★★
In the Valley of Elah (2006)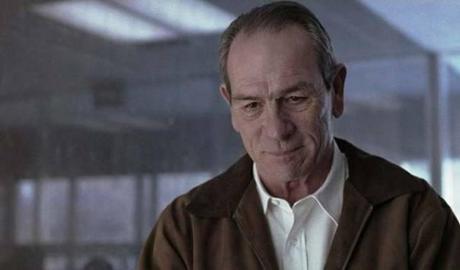 A huge improvement over the awful mess that was 2005's Crash, Paul Haggis' In the Valley of Elah is a haunting, bleak and suitably quiet story of Tommy Lee Jones (whom I like to joke is playing the same character as he would in No Country for Old Men a year later) and his search for the truth regarding his son's actions in wartime. ★★★1/2
The Joneses (2010)
Not so much underrated as underseen, this intriguing drama starring David Duchovny and Demi Moore has an interesting premise and does not let go of it. It keeps the viewer's attention and forces them to think in a way few recent films have managed to achieve. ★★★1/2
La Haine (1995)
One of the best French films of the 90s (and believe me, there were a lot of great ones in that decade), Mathieu Kassovitz's Hate opens with disturbing riot footage and maintains that grisly, sickening feeling up until its abrupt ending. ★★★★
Life of Brian (1979)
One of the greatest comedies of all time, Monty Python's Life of Brian controversially poked fun at religion in ways that might seem tame now. Still, it is a hilarious, classic film about a messiah naughty boy named Brian, who stumbles through a series of brilliantly sardonic sketches. ★★★★★
Memento (2000)
Christopher Nolan's Memento takes a gimmick and turns it into an original idea that develops itself, unraveling the many layers of its complex story and doing so fluidly and cleverly. Trouble is, it's laden with plot holes, and as clever as its ending may be, it still leaves something to be desired. ★★★1/2
Muriel's Wedding (1994)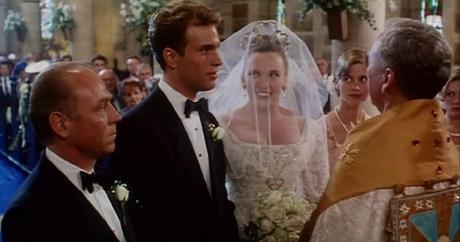 Of the many cult classic Australian comedies, Muriel's Wedding is perhaps the greatest, or more accurately, the most popular. Starring Toni Collette as the titular bride whose complicated life is at times hilarious, and often sad, Muriel's Wedding is a great romantic comedy if ever there was one. ★★★
My Best Fiend (1999)
Werner Herzog's powerful portrait of his good friend/enemy Klaus Kinski, who starred in five of his films, is informative and moving, as incredible stories of their relationship are retold. Certainly not the best of Herzog's documentaries, but an important one at least. ★★★
Natural Born Killers (1994)
Perhaps Oliver Stone's greatest and most controversial film in a career filled with great but controversial movies, Natural Born Killers gets terrific and terrifying performances out of its actors, and is directed in a style so dizzying that it makes you want to vomit. Effective, powerful and masterful. ★★★★★
9 Songs (2003)
Michael Winterbottom's most controversial film, 9 Songs deals with sexuality in a unique, powerful way, but sadly loses itself in ridiculous self-indulgence, excessive sex and tiresome artistic imitation. That said, the actors are excellent and Winterbottom's muddled direction proves to be in the film's favour. ★★
No End (1985)
The last – and best – of the "early" Kieslowski movies (he followed it with The Decalogue) and the first of his many fruitful collaborations with lawyer Krzysztof Piesiewicz, No End, like other early films, introduces themes that wouldn't be cemented until later work, but is in itself a powerful, brilliant sign of progress. ★★★★1/2
Nonfilm (2002)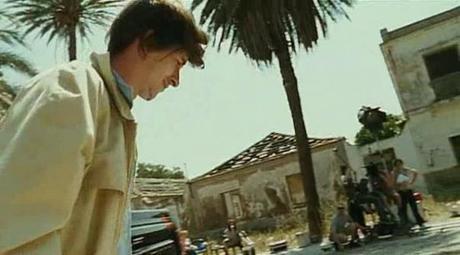 Almost completely unseen until director Quentin Dupieux uploaded it to Vimeo free of charge, the master of "No Reason"'s first film is a 45 minute short that, with its complex and difficult-to-follow plot and absolute meaninglessness, as well as weird cinematography and oddly suitable use of a shaky camera, is strangely thrilling and enjoyable. ★★★1/2
The Poseidon Adventure (1972)
My all-time favorite "disaster" movie, this fantastic, exciting, dramatic story of an overturned ship and the survivors who attempt to find freedom is thrilling and adventurous, soaring on the strength of its fantastic actors, most notably Gene Hackman, Ernest Borgnine and Shelley Winters. ★★★★★
Rango (2011)
I didn't see many animated movies in 2011, but Rango was certainly one of them, and it dripped with icy humour, clever originality, and countless references to films and genres past (did anyone else catch the Fear and Loathing in Las Vegas reference?). Delightful and enjoyable. ★★★★
The Scar (1976)
The earliest feature film of Krzysztof Kieslowski, The Scar is a minimalist, simple film sharply written, finely directed and sensibly acted. Though more historically symbolic than many will realize, The Scar is a quiet film that iches with the well-restrained screams of power Kieslowski knew well. ★★★1/2
The Silence (1963)
In discussions of Bergman (including those with myself involved), The Silence is rarely mentioned. I never understand why. It contains powerful dialog that resonates because it is juxtaposed with scenes of intense but inviting silence, phenomenal acting from regular Bergman collabs Ingrid Thulin and Gunnel Lindblom, and surprisingly explicit sex and nudity. ★★★★★
A Single Man (2009)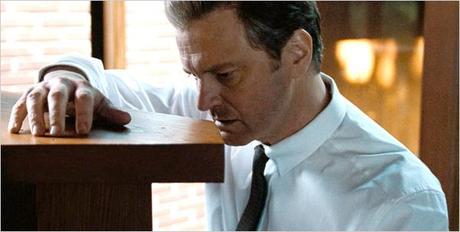 Even the superb colouring of the gracious frames of this intriguing movie cannot save it from being disliked by me. Colin Firth, while giving a powerful performance, is not as moving and expressive as the film's tone hints he should be, and the fact that the same story was better told by Louis Malle in 1963's The Fire Within doesn't help much either. ★★1/2
Somewhere (2010)
Even in its silent moments – and there are many – Sofia Coppola's Somewhere still has the effect of even the most powerful movies in cinema. It is a startling wake-up to the powers of the arthouse genre, and an incredible movie I have seen several times. It contains such hauntingly superb imagery and emphatic themes of isolation and degradation that it is as stunning as it is subtle. ★★★★★
Smash Palace (1982)
A little-known indie film from God's own (that's New Zealand, for all those who don't know), Smash Palace is one of the best of the surge of Kiwi films in the 80s. Bruno Lawrence as fantastic as a father who kidnaps his daughter as a result of domestic strife and takes her with him to live in a caravan in the jungle. ★★★
Snowtown (2011)
At times excessively violent but generally more suggestively creepy, this Australian indie film soars above the recent fare of violent Australian horror films such as Wolf Creek, into a new level of terrifying dread. Based on the true story of a notorious serial killer who preyed initially on paedophiles but then expanded to the more general populae, storing their corpses in barrels. ★★★1/2
Storytelling (2001)
Easily Todd Solondz's most underrated film, Storytelling is a dark, comic and unsurprisingly sexually explicit (initially rated NC-17 by the MPAA, for a particularly nasty scene) social drama is split into two parts: FICTION and FACT. The first 30 minute segment of the film alone is as brilliant as anything Solondz has ever done. ★★★★
Sunshine Cleaning (2008)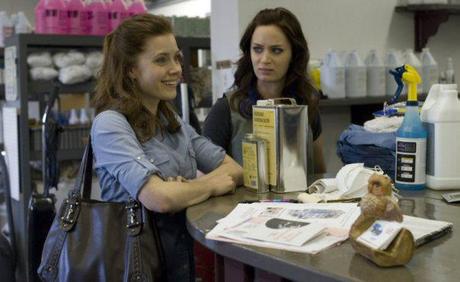 Another underrated indie gem, this black comedy starring Amy Adams and Emily Blunt is well-written and acted, drawing comedy from small things rather than outrageous scenarios. The terrific acting is a particular highlight. ★★★★
Synecdoche, New York (2009)
Some hate it. Some love it. Roger Ebert thinks it's one of the best films of the decade. I agree. Surpassing the brilliance of previous Charlie Kaufman screenplays (including Being John Malkovich and Adaptation.), perhaps because Kaufman also directed it, Synecdoche New York is a stunning, highly original and well-crafted masterwork, the highlight of Kaufman's illustrious career. ★★★★★
Timecop (1994)
Jean-Claude Van Damme plays… well, Jean-Claude Van Damme in this absolutely atrocious trash, directed by Peter Hyams, well known for his awful science fiction/action movies (including the unnecessary sequel to 2001, 2010). What a waste. ★1/2
The Towering Inferno (1974)
Irwin Allen, producer of many great (and some terrible) disaster movies, made two absolutely brilliant timeless classics in a row. First, The Poseidon Adventure, then this, the stunning, enthralling story of a skyscraper set alight starring Paul Newman, Steve McQueen, William Holden, Faye Dunaway, Fred Astaire and O.J. Simpson! The great cast is only one of the many highlights. ★★★★
21 Grams (2003)
Alejandro Gonzales Inarritu's stunning follow-up to the all-time great Amores perros, 21 Grams elicits amazing performances out of a powerful cast that includes Naomi Watts, Sean Penn and Benecio Del Toro. One of the best films of 2003, and a subtly effective, powerful experience. ★★★★1/2
The Usual Suspects (1995)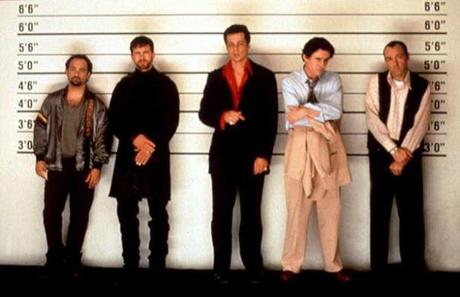 Just because this film has a superb ending does not make it automatically great. The Usual Suspects is in general empty and nothing special, a sour, dried up action film that redeems itself from squalor only in its final moments. Even then, to stay awake to reach that ending is a challenge in itself. ★★
Utu (1983)
Another interesting but far from great New Zealand film from the bustling early 80s period, Utu (Maori for 'revenge') tells an old story in a modern way, incorporating historical elements of tribal battles and segregation in the 19th century. The plot elements become a little confusing after a while, but the terrific lead performance by Anzac Wallace is truly exceptional. ★★1/2
Winter's Bone (2010)
Another terrific indie film nominated for Best Picture, Debra Granik's Winter's Bone was a breakthrough for the terrific young actress Jennifer Lawrence, and one of the best films of 2010 (possibly even the best). Superbly written, directed and especially acted, it is moving, powerful and very important. ★★★★1/2
Withnail & I (1987)
"Get me some booze! I demand to have some booze!" Bruce Robinson's Withnail & I is, beyond a shadow of a doubt, one of the funniest movies ever made. Richard E. Grant is phenomenal in his stunning performance as Withnail, a charismatic alcoholic who spits out one liners rhythmically and poetically. An absolutely ingenious comedy great. ★★★★★
Yi Yi (2000)
The only one of Taiwanese cinematic godfather Edward Yang's films to be made publically available on home DVD (courtesy of the Criterion Collection), Yi Yi is one of the most emotional, beautiful and masterful movies ever made. Reminiscent of the early films of the great director Yasujiro Ozu, Yang's film is one of the most recent movies to truly earn the term "classic." A must-see for certain. ★★★★★
Zazie dans le Metro (1960)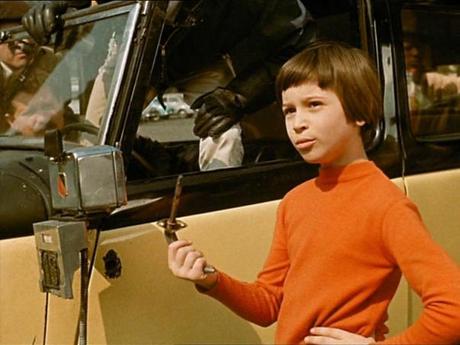 Ugh. How exhausting. ★★
–
What do you think of all these good and bad films? Do you agree with my ratings, or disagree? Which ones have you seen, and which would you like to see? Leave a comment below.