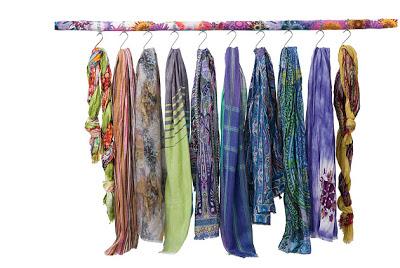 We all know that accessorizing is an essential part of styling for every woman who loves fashion.  That doesn't just mean jewelry; it is also handbags, belts, and scarves.  Well, the latter plays a big part of how your outfit looks in general.They add style to your outfit; some types give that warmth and coziness, while others bring elegance in your look.There are several types of scarves that, I think, every woman absolutely has to have.  Now, you can have more, if you want, but these are the basic ones that will go with many different outfits.






1.  Leopard Scarf.  Today it's the most trendy scarf in the fashion world.  This is especially a must if you have a lot of red, yellow, brown, black or white tops.  They were popular in the 50s, but now they've come back for good.  I don't think anyone would give them up anytime soon.


More Dorothy Perkins...



2.  Infinity Scarf.  Now, they can be any color, really.  I would stick to solid colors with this type of scarf though, just because you can wear it with anything.  Infinity scarves especially look really good with layers.


More Topshop...



3.  Floral Scarf.  These are good for summer, but not only.  If you want to brighten your outfit in fall or winter - this is the scarf to go to.  This type of scarf would look good with solid color tops or dresses.  However, not many people know that it also looks super cute with stripes!  It's two different patterns, but that's what makes it look great together.


More Brooks Brothers...



4.  Shawls - Shawls are great for when yo want a coverup for chilly days.  I love them, because it's so easy to carry around when you don't need to use them, instead of a jacket or coat.  They come in different textures, some are warmer, while others are just for looking chic.  Another thing I love about shawls is when you wear a dress, they can add elegance to it.


More Free People...



5.  Bandana Scarf - Bandana scarves are great if you want to add a bit of an edge to your outfit.  These are amazing in the summer, because most of them are lightweight, so it's not too hot around your neck.


More Obey...

Which one is your favorite?
These are just 5 types out of many, 
but you will get the most use out of these ones, for sure.
Thank you so much for reading, 
and have a great rest of the day!
K.H.