We celebrate Navratri twice a year some of us observe fast entirely or only partially and most of us avoid animal protein. If you are looking forward to attract everyone in social gatherings and upcoming festive season or just want to reduce/detoxify your body for any good reason this is the best time to do it. Since we are about to transition from fall to winter, it gives us an opportunity to give our bodies little break from routine eating habits and get ready for the upcoming festive season. Needless to say, no weight loss is healthy and permanent without moving your body to sweat.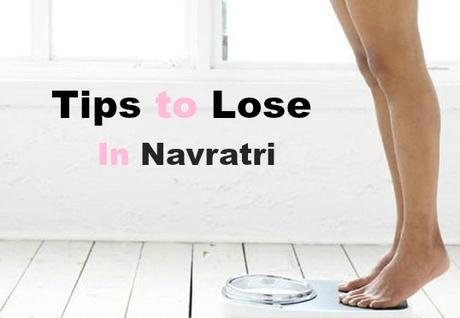 5 Tips to Lose Weight While Fasting In Navratri
1. Eat Smart
Of course we don't munch all day long during fasting period and as a result, we get so hungry at meal time that we eat a lot. This slows down our metabolism and keeps us away from our weight loss goal. Here is a smart tip, foods eaten must be packed with full of energy and nutrition, while keeping calorie count in mind. Eating mindfully, chewing your food properly and keeping an eye on calories are sure shot ways to reduce your weight without losing your sanity. Please remember going into starvation mode our bodies start storing more than required and blood glucose level spikes up all of a sudden. Most dietitians recommend to eat full balanced diet (especially protein) during the day. Skipping protein entirely from your diet may lead to muscle wastage!
Here are some examples of power packed foods that one can eat during fasting. Nuts, makahana, raisins, fruits and everyone's favorite starchy foods like sago and potato (remember moderation is the key) alternatives are sweet potato, yam, pumpkin, varai.
2. Drink Well
While fasting it's a good idea to stay hydrated. Drinking empty calories like sugar rich juices or other energy drinks may provide instant energy but they will not help in weight reduction. Drinking plain lukewarm water just 30 to 40 minutes before and after the meal will help flushing out toxins. Some people make various combinations for detox water but it's totally your choice. Water will not only improve your digestion or detoxification but also reduce acidity and controls blood pressure. Well hydrated skin glows like a new flower in the garden.
3. Sweat it out
As said before no weight reduction is permanent or healthy if you cheat and won't workout. With diet chart (if your body allows) you will be able to reduce some weight and few inches also but to be honest they can actually bounce back to where you were or even more!!! If you're seriously looking forward to reducing weight in a healthy way move your body to sweat, keep it moving till your heart start pumping faster, keep on running, dancing, stepping, skipping any thing that makes you feel motivated and full of energy till you feel tired take a break and move again. Keep moving all nine days, here I have made simple 9 days workout plan.
4. Cool it off
Calm your inner self, meditate or do yoga. This helps in blood circulation giving your skin natural glow. Take good rest and enjoy this season of festivals.
5. Mind the calorie with quantity
Below is list of foods that are normally consumed during fast with calories and a suggested healthy foods. It is recommended to add protein to your diet and not to remain hungry for long. You can mix and match things as per your calorie requirements.
Last but not the least If you a observing this fast due to spiritual reasons think, Matarani in all her nine forms is coming each day to take impurities out from your body. Imagine while following this workout and healthy lifestyle she will 7 take every nasty toxin from your body and bless you with clean and clear, bold and beautiful body. May Matarani bring joy and happiness to you and your kin.
Contributed by Kianvi