5 Things to Remember for Valentine's Day
Once again the day of love is here! The day that produces 2 hour restaurant waits, and Millions of red roses passed along with assorted chocolates. Last but not least, this is the day cupid supposedly shoots people in the ass. Before I go any further, let me take a moment to wish all of you a Happy Valentine's Day; whether you're happily attached or happily single we all deserve some love.
I honestly haven't given a damn about Valentine's Day since I was in grammar school. I use to love passing out my little cards with the little heart shape candies. I loved coming home and reading all of the cute cards I would receive that day. During my teen years, I loved the teddy bears and the cute high school balloons that I know came straight from Walgreens, but I was happy to get my little gifts. Now that I'm almost 40, I could care less (single or not) about Valentine's. However, there are 5 things I think we should keep in mind about this day.
Love should be shown on More than One Day a Year
In my eyes, Mr. Right would do little things for me when it's not expected. Most of us expect gifts on special occasions but it's the out of the blue gifts that have more meaning and value to me.
Assorted Chocolates Suck
I love chocolate! Who doesn't? But I'll be the first to admit that I don't have time to read the labels to find out what's inside the chocolate. I want to open the box and dig right in!
Just Because Someone Buys You a Gift Doesn't Mean She/he is a Good Person
If your mate is an ass*ole but still buys you a gift, it doesn't mean anything. After February 14th he/she/he is still an ass*ole. I've gotten plenty of gifts from the not so nice.
The Little Things Still Count
I posted an informational graphic below that states 53% will dump their mates if they don't get a gift for Valentine's Day. But what if your mate got you an extravagant gift for the holiday or some other big occasion that just passed. Shouldn't that count for something? Sometimes the little things still make a big impression on the heart. At this point, if my boo would come and shovel all this snow for me it would mean the world to me. I can seriously miss a few boxes of chocolates!
It is Still OK to be Single
I will continue to stand behind the phrase "can't nobody love you like you". There's nothing wrong with treating yourself to something special for Valentine's Day. A spa day or something special you've been eyeing would work well.
What are your plans on this very special day of love?
Check out this cool info graph from Visual.ly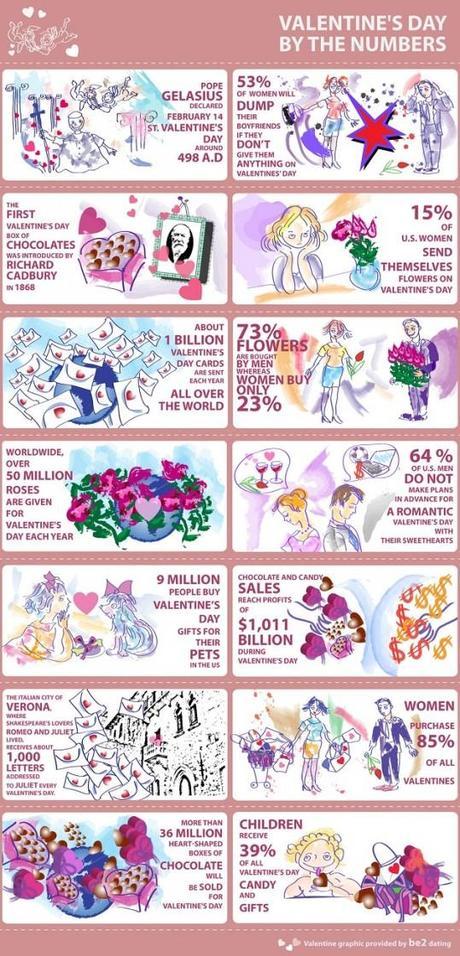 Explore more
infographics
like this one on the web's largest information design community –
Visually
.