Chicago is not just known for the deep-dish pizzas and hot dogs. In fact, there are quite a few dishes in Chicago that every traveler should indulge in, and at least one of those dishes should be something sweet. There are tons of desserteries, bakeries, chocolatiers and ice cream parlors in this city that are hard to resist.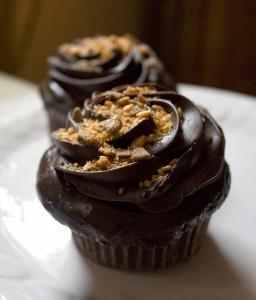 Molly's Cupcakes
is one of the most well known bakery to satisfy your sugar cravings. This cupcake shop in Lincoln Park makes even the most gourmet and refined palates hungry for more and can leave you craving another red velvet cupcake with cream cheese icing for weeks. One thing that makes them so desirable, other than the divine tastes, is that they're open for breakfast, lunch, dinner and late-night snacks. ON the weekends, they're open from 8am to 12am, leaving very few hours a day without the chance to get a cavity. But don't worry, you can always stock up for the 8 hours a day they aren't open and hold your stash holds you over until the next morning. They have a wide variety of flavors, including center-filled flavors, and they're convenient to many other great [link: http://www.chicagotraveler.com/things-to-do.htm] things to do in Chicago [/link] like the Lincoln Park Zoo, the Apollo Theatre, Lincoln Park Conservatory and Lincoln Hall, so you have an excuse to head over any time of day.
Sweet Mandy B's is another Lincoln Park treasure that specializes in more than just cupcakes. They do serve award-winning cupcakes though, along with their cakes, pies, pastries and what many people call "the best cookies I've ever had in my life." The prices are just right, you can go in and get something for under $2, and the service is always friendly. If you're having a hard time choosing between these two places, this is the one to go for cookies and pies, but it's a tough call when the cupcakes enter the mix.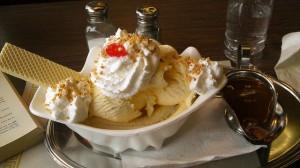 Eli's Cheesecake World is a little farther inland, so if you want to stay near all the attractions Downtown, you'll have plenty of other options, but you're surely missing out on this little gem. You can get cheesecake by the slice, or by the whole pie, nobody would blame you for springing for extra on these delicious wonders. If you don't want to head all the way out here, you can catch them every year at Taste of Chicago, or order online.
Vanille Patisserie is a little more gourmet, and serves authentic French pastries of all kinds. From the flakey croissants to the macaroons, many people make this a destination when they come to Chicago. Actually, most people make is a destination specifically for the macaroons, which have been called the best (in both quality and wide selection) in the city.
Margie's Candies is one of the dessert shops that understands that most desserts should be enjoyed with ice cream. For good, old fashioned banana splits, hot fudge or a delicious Grandpa's turtle sundae, this is your spot. The ice cream is homemade and fresh, and it's almost like you can taste the loving family tradition Of course, they also have homemade candy, which you can get and take home with you after eating tons of ice cream while you're here. That's the best way to do it.
There's clearly no lack of delicious food in the Windy City, and walking around, sightseeing in Chicago surely works up an appetite. There's no better way to end a day, or start one, than with a delicious cupcake, pie or ice cream sundae!
This article was written by Lizz Riggs, editor of ChicagoTraveler.com.