Worst Quotes On Women's Health and Birth Control.  If Hell Does Exist These Five People Are Already Packed. 
TEAM,"I am not even going to pretend to give a shit," Is below.
Click here - women are watching through the Planned Parenthood Website to Vote Who you think is the biggest dumb ass? Vote!  I know they are all equally going to Hell, but try to narrow it down to one. 
"If there is any justice in the universe these men will all have pregnant daughters by Christmas." Rep. One Pissed Off Bitch.
VOTE NOW! 5WORST QUOTES ON WOMEN'S HEALTH AND BIRTH CONTROL
It's gotten hard to keep track of all the extreme, offensive, out of touchstatements from birth control opponents — so we've selected the top five mostshocking comments we've heard in the past two weeks. We want 
you
 tohelp us pick the most outrageous one!
Check out the videos below and vote for the worst of the worst. Theseanti-birth control voices need to know that women are watching — and we're notgoing to let them get away with attacking our access to basic health care.
Top of Form
Rep. Darrell Issa (R-CA): Women's voices are "not relevant"
to the debate over birth control.
Rick Santorum Super PAC supporter Foster Friess suggests
"aspirin between the knees" as contraception.
Visit msnbc.com for 
breaking news
, 
world news
, and 
news about the economy
Freshman Illinois Rep. Joe Walsh: "This is not about women."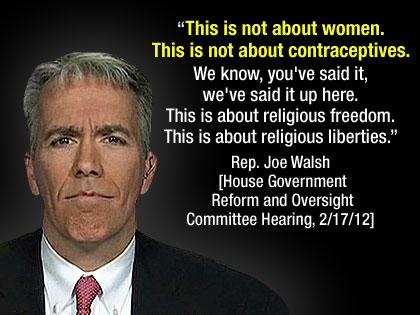 Rick Santorum's baseless attack on prenatal testing.
Mitt Romney's false claims about the Birth Control Rule.